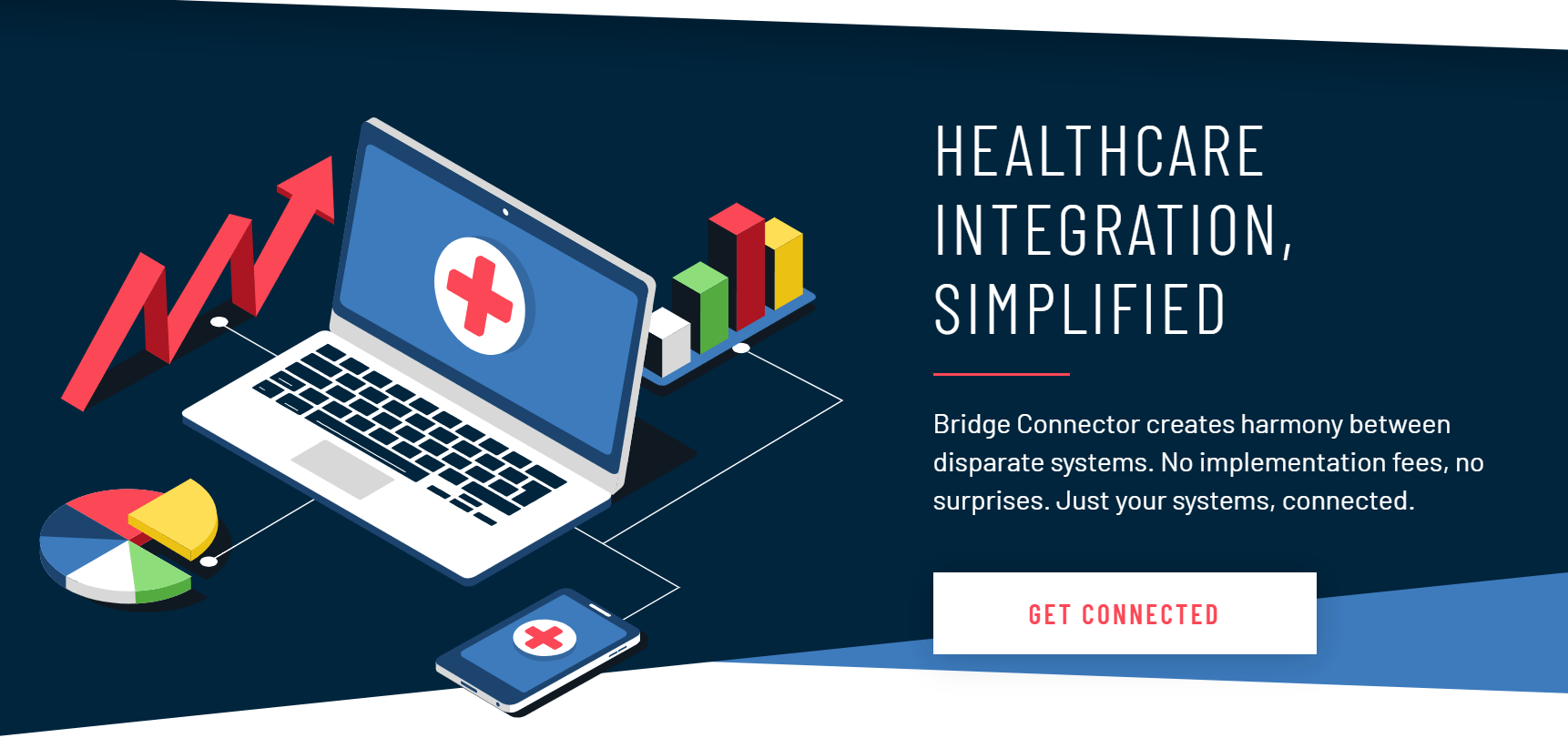 – Bridge Connector raises an additional $5M reaching a total of $25M in funding for its data-driven workflow automation to solve health IT interoperability challenges.
– The additional financing will support Bridge Connector's continued scalability and its upcoming launch of Destinations, a new "no-code" integration platform as a service (iPaaS) that connects health data systems without the need for code.
– The company plans to close on Series B funding in the second quarter of 2020, further supporting a business model that creates an ecosystem where all health care organizations, regardless of size, can equitably reap the benefits of connected data systems.
Bridge Connector, a Nashville, TN-based technology company offering data-driven workflow automation to solve health IT interoperability challenges, today announced it has raised $25 million in total financing after an additional $5 million investment led by the private investment office of billionaire and sports mogul Jeff Vinik, with additional funds coming from existing investor Axioma Ventures.
"The last decade in health care has been marked by an explosion of technological advancements and new medical devices that gather an unprecedented amount of patient health data, but the ecosystem of available solutions to collect and connect that data has not advanced at the same pace," said Vinik. "Solutions like the Bridge Connector platform will prove crucial in improving patient care by allowing us to leverage these data points to unearth and act upon previously unknown insights about our health and wellbeing."
Impact of New Strategic Investor
This new strategic investor further marks the company's commitment and progress to solving data interoperability in the health care space, having made significant improvements for healthcare providers already, like multi-specialty group MIMIT Health, which used Bridge Connector to automate patient data sharing between their EMR and CRM and saved 2 HOURS of data entry time per patient per day.
Additional Funding Will Support the No-Code Health Integration Platform
With plans to close on their Series B funding in Q2 2020, Bridge Connector continues to attract support for its business model that was built to enable easy and efficient data-sharing for the entire health care system. The additional financing will support key initiatives for Bridge Connector:
Drive continued growth and scalability for the company, and its ability to expand product capabilities to build a cohesive health care system that provides more efficient care.
Provide additional support for Destinations, a new integration platform as a service (iPaaS) that connects health data systems without the need for code and saves healthcare providers and digital health companies the expense of a dedicated IT team or costly consultants to execute integrations. Destinations' no code, the point-and-click solution will enable many smaller organizations to integrate healthcare data systems for the first time and will help larger organizations reduce the cost of integration.
Destination's unique, no-code user interface allows users to automate healthcare workflows across disparate systems such as electronic health record (EHR) and customer relationship management (CRM) platforms, patient engagement platforms, and other systems.
Any Destinations user may select from menus and suggested, pre-built, workflow-based templates to connect data — using clicks, not code — eliminating the time-consuming and error-prone process of dual, manual data entry. More notable to technically skilled users is the behind-the-scenes automation. From setting up a complex webhook to polling a system for new updates, Destinations puts these capabilities directly in the hands of users, empowering a broader spectrum of "citizen integrators" across the continuum of care.
"We feel fortunate to have the support of an experienced investor in Jeffrey Vinik, who shares our belief in the power of data and its potential to solve an array of shortcomings in our health care system," said Bridge Connector founder and CEO, David Wenger. "Mr. Vinik's investment will play a significant role in our company's growth, our ability to expand the capabilities of our products, and it will help us build a more cohesive health care system that treats patients more effectively."