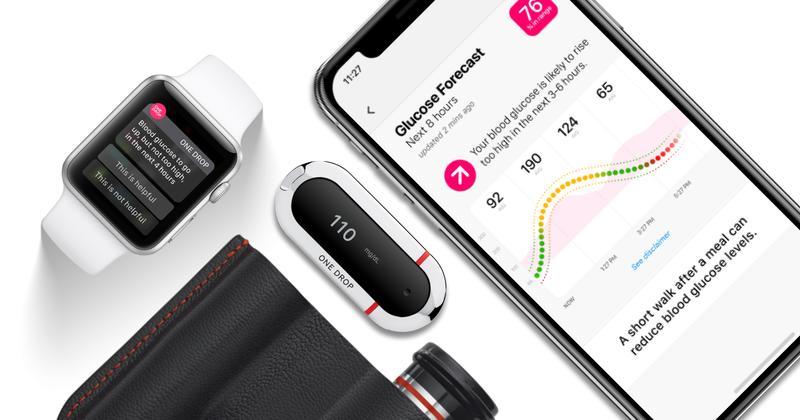 – One Drop's wireless glucose meter kit and supplies for diabetes management are now available at hundreds of Walmart stores in the United States.
– Retail expansion increases accessibility of healthcare technology and support for people with chronic conditions such as diabetes and hypertension.
One Drop, a New York City-based provider of digital therapeutic solutions for diabetes and other chronic conditions, today announced that its wireless glucose meter kit and supplies are now available at hundreds of Walmart stores in the United States. Each kit includes a Bluetooth glucose meter, lancing device, carry case, test strips, and lancets, as well as one year of free access to One Drop's certified diabetes coaches for 24/7 support.
In addition to being sold at US Walmart stores and on walmart.com, One Drop's wireless glucose meter is currently available at select Apple retail locations, and on getonedrop.com, amazon.com, bestbuy.com, and apple.com.
Automated Decision Support: One Drop Can Predict Blood Glucose
One Drop's integrated platform offers an easy and effective way for people to track and manage a variety of health conditions. With A.I.-powered behavioral recommendations, dedicated one-on-one coaching recognized by the American Diabetes Association, and thousands of app and device integrations, One Drop provides personalized health programs to drive sustainable behavior change as part of a diabetes management plan.
One Drop's efficacy has been established in more than 20 peer-reviewed studies, which show that people with diabetes using One Drop decreased their A1c (average blood glucose levels) in as little as one month. Ninety-two percent of people using One Drop's AI-powered Predictive Insights report that they find the information helpful in their diabetes management.
Impact of Inadequate Diabetes Care
In the current healthcare climate, nearly 4 billion people lack access to medical care. In the United States alone, more than 10% of the population lives without health insurance. Where medical intervention is available, access to treatment options is stratified by wealth and income inequality. As a result, the majority of low-income individuals have limited, if any, access to life-sustaining insulin, oral hypoglycemic agents, and other medications critical to gaining control of diabetes, including blood pressure and cholesterol medicines. According to research, worldwide losses in GDP from 2011 to 2030, including direct and indirect costs of diabetes totaled $1.7 trillion dollars.
"When I was diagnosed with diabetes more than ten years ago, my high-deductible health plan — and the fact that I lived more than 100 miles away from the closest endocrinologist — left me feeling like I was on my own," said One Drop user Julie Beck. "Now, I have instant access to my certified coach, who can answer questions like whether I should consider talking to my doctor about adjusting my meds. And with the predictive insights, I no longer worry that I might experience a sudden blood sugar low while driving and cause an accident. I'm thrilled that One Drop is now available at Walmart stores so that more people living in remote areas like me can get the help they need to take control of their health."