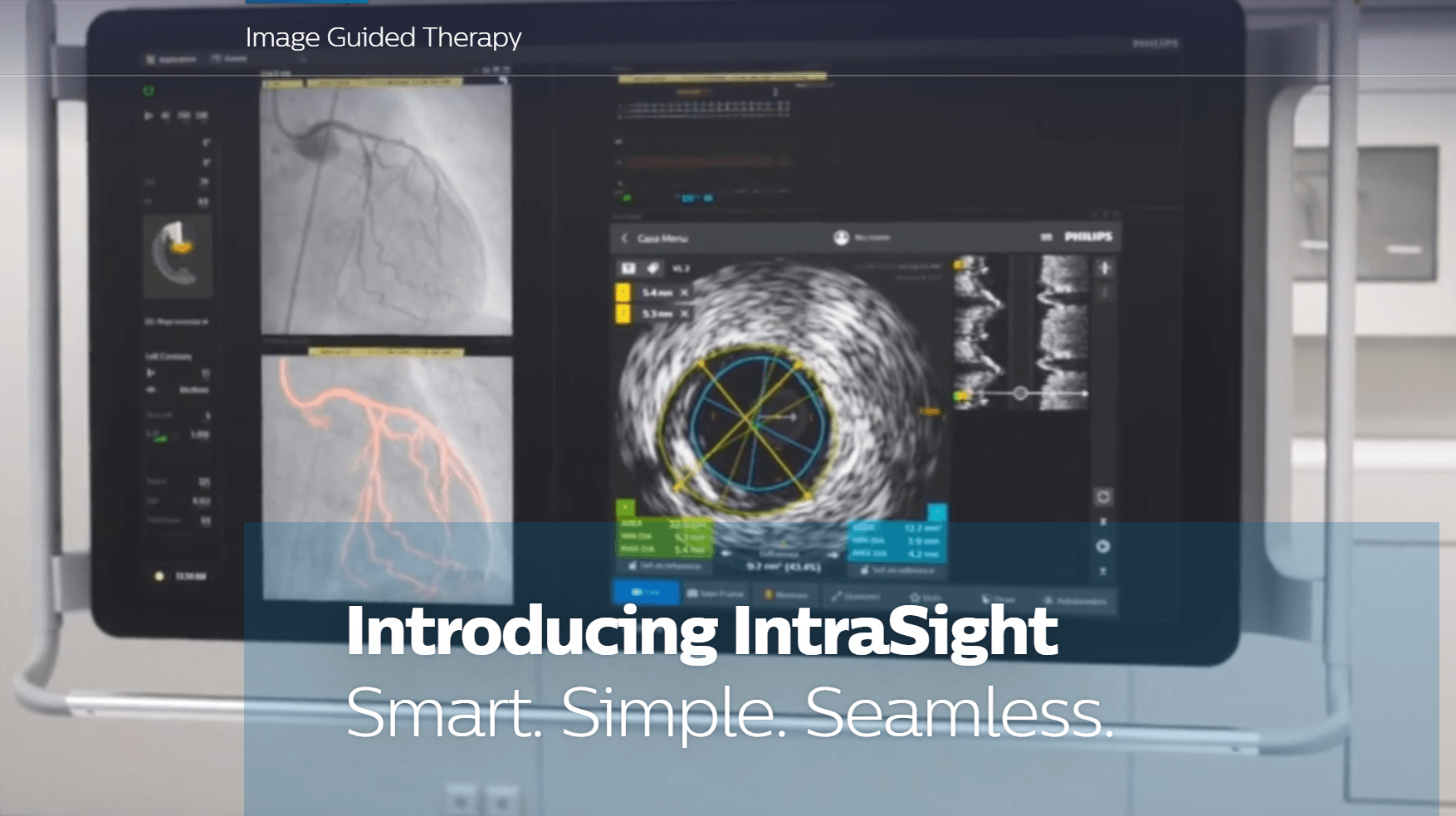 Philips launches new IntraSight interventional applications platform to seamlessly integrate intravascular imaging and physiology applications for image-guided procedures
Today, Philips announced the launch of the new IntraSight interventional applications platform, a comprehensive suite of clinically proven iFR, FFR, IVUS and co-registration modalities that help support physicians in improving care for their cardiac and peripheral vascular patients.
Growing Need for Image Guided Therapies
In image-guided treatments of the heart and peripheral blood vessels, there is an increasing trend to use advanced catheters and pressure wires that are capable of producing ultrasound images of the interior of blood vessels (intravascular ultrasound or IVUS) and perform blood pressure measurements (fractional flow reserve or FFR and instant wave-free ratio or iFR). There is a growing body of clinical evidence that the use of such technologies in conjunction with interventional X-ray improves patient outcomes.
IntraSight Platform Overview
IntraSight is a significant advance in Philips' portfolio of systems, smart devices, software and services for image-guided therapy. By simplifying workflow in the lab, IntraSight allows physicians to put more focus on their patients, allowing for more efficient procedures, more confident diagnoses and potentially, reduced follow-up visits. IntraSight delivers an outstanding user experience with a modern, intuitive interface that minimizes learning curves and increases workflow confidence.
Why It Matters
"The range and complexity of cardiovascular diseases that can be treated with minimally invasive procedures continues to expand," said Bert van Meurs, Chief Business Leader Image Guided Therapy at Royal Philips. "Correspondingly, the procedures themselves are also becoming more complex, increasing the demands on physicians to integrate different sources of information, decide on the best course of treatment for each patient, act on that decision and confirm the treatment's effectiveness. IntraSight is an important step forward in integrating intravascular diagnostic applications into a smart, simple and seamless workflow in the interventional lab."
iFR is an innovative pressure-derived index proprietary to Philips, allowing a simplified hyperemia-free physiological assessment of coronary blockages. It continues to be adopted into clinical practice, with mounting evidence that this innovative technology contributes to reducing costs, improving outcomes and enhancing the patient experience. IntraSight, SyncVision and iFR are part of Philips' unique portfolio in image-guided therapy, delivering sophisticated, procedure-oriented solutions to healthcare providers.