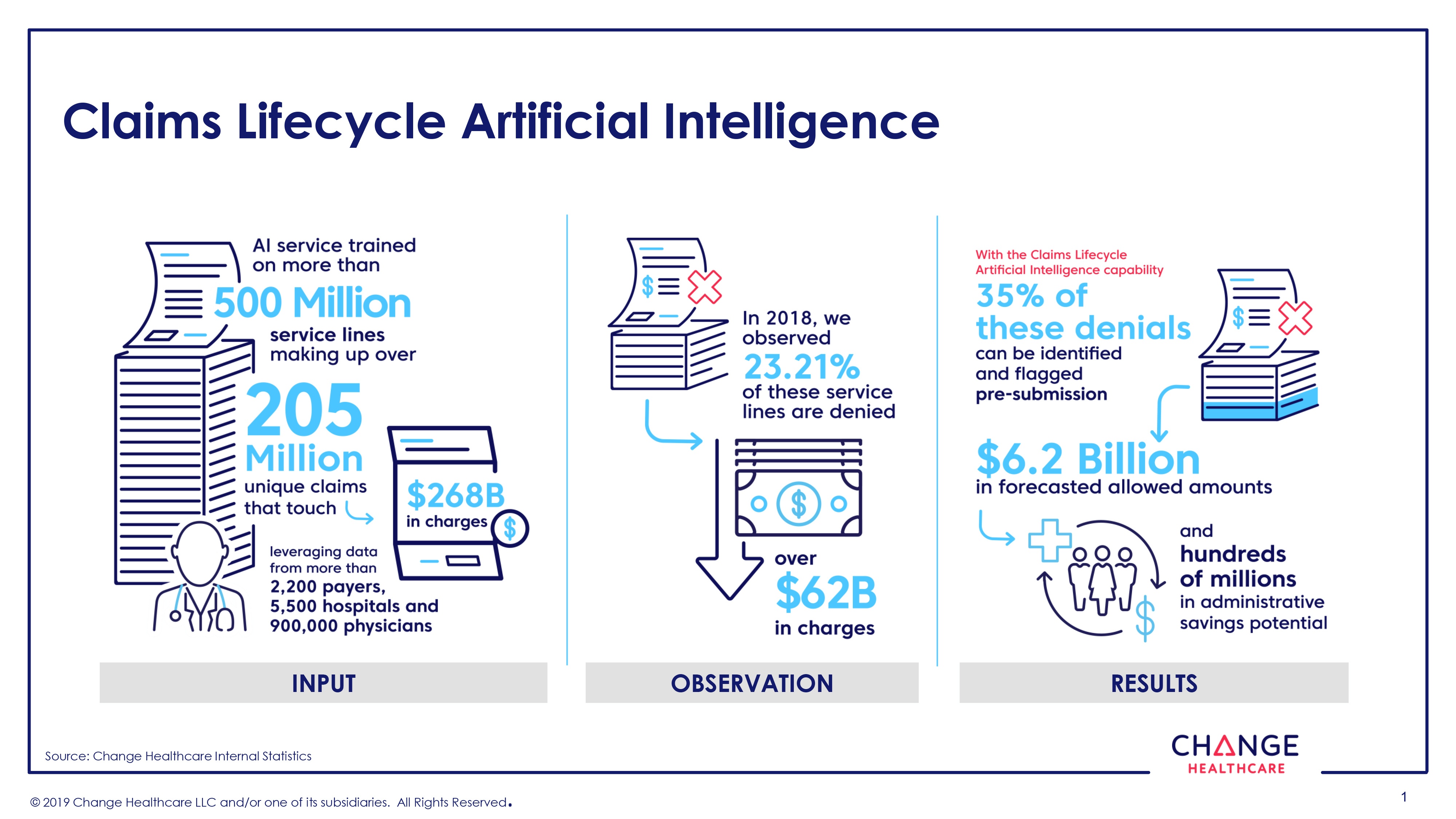 Change Healthcare today announced Claims Lifecycle Artificial Intelligence, a new capability being integrated into the company's Intelligent Healthcare Network and financial solutions, to help providers and payers optimize the entire claims processing lifecycle.
Claims Lifecycle AI Overview
This Change Healthcare Claims Lifecycle AI service is trained on more than 500 million service lines making up over 205 million unique claims that touch $268 billion in charges. The service leverages the company's Intelligent Healthcare Network data from more than 2,200 payers, 5,500 hospitals/health systems, and across 900,000 physicians. Solutions and services across the Change Healthcare portfolio are using artificial intelligence (AI) to help customers with improving payment accuracy, reducing denials, enhancing payment forecasting, and reducing administrative overhead.
Claims Lifecycle Artificial Intelligence Clients
The first three customer applications enhanced by Claims Lifecycle Artificial Intelligence are Change Healthcare's Assurance Reimbursement Management™, Revenue Performance Advisor and Medical Network Solutions. The AI embedded in these applications helps customers predict denials, optimize claims submissions, and provide actionable recommendations that enable providers to better mitigate denials prior to claim submission. Additionally, customers using the Change Healthcare Intelligent Healthcare Network will be able to access selected AI capabilities via the Change Healthcare API Marketplace.
From 2018 data, Change Healthcare observed that 23% of claims across more than 500 million service lines were denied—accounting for over $62 billion in charges. With the Claims Lifecycle Artificial Intelligence capability, 35% of these denials can be identified and flagged prior to submission—representing $6.2 billion in forecasted allowed amounts and millions in potential administrative savings for the U.S. healthcare system from reduced re-work and appeals.
This initiative is backed by Change Healthcare's team of data scientists, adoption of open source technology, and investments in the cloud. AWS provides the secure, scalable, and agile infrastructure to enable feature engineering, training of deep learning models, and delivery through an API. By using AWS Lambda, which integrates Claims Lifecycle Artificial Intelligence with network applications, and Amazon SageMaker, to decrease the development time to build, train, and deploy deep learning models, the Change Healthcare team was able to create the solution in a rapid and iterative fashion.
Value Proposition for Payers
For payers, Change Healthcare's expanded AI capabilities analyze incoming claims to flag missing or incorrect diagnosis codes and help lower the administrative burden by predicting claim outcomes early, thereby reducing overhead, increasing savings by identifying errors, and optimizing workflows. AI can also help payers analyze claims data to better understand cross-industry appropriateness of care and address pre-authorization to reduce claim denials. Ultimately, this AI capability can help payers and providers ensure the accuracy of claims to make and get the right payment at the right time for the right service.