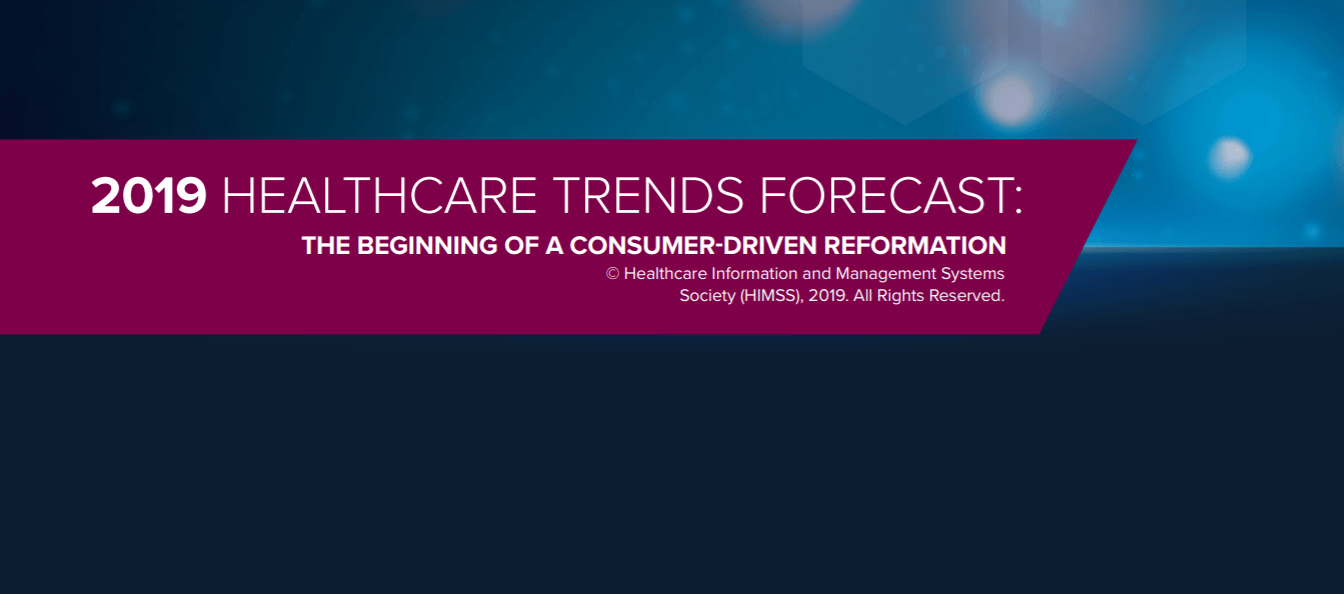 Less than two weeks ahead of the annual HIMSS19 conference, HIMSS announced the availability of a new annual report, "2019 Healthcare Trends Forecast: The Beginning of a Consumer-Driven Reformation." The white paper details what the industry can expect in 2019, including how digital health innovators and policymakers will be held accountable now that the hype cycle has peaked, why consumer pressures will drive healthcare toward a value-based model, new care delivery methods spurred by growing demographic and financial challenges, and more.
Report Background
Featuring commentary and analysis from leaders across HIMSS, Healthbox, Health 2.0, and PCHAlliance, HIMSS believes healthcare is currently undergoing a period of consumer-driven reformation on a scope and scale that is unmatched. This reformation is being driven by a perfect storm of factors including:
· the shift toward value-based care
· rising healthcare costs
· health system consolidation
· the approaching silver tsunami
· regulatory pressures,
· increased consumerization,
· major technology players entering the market
· expansion of emerging digital health tools that are fundamentally disrupting business models
2019 Consumer-Driven Reformation Trends
The report identifies four key trends driving the rise of consumer-driven reform in 2019 that will illuminate the path to clinical and financial health.
1. Digital health innovators will need to demonstrate greater tangible results. 
Digital health tools have been riding the peak of the hype cycle for several years now, but 2019 will be the year that digital health will need to answer for the way technology will increase access to care and narrow gaps in care and coverage.
2. Consumer pressure will accelerate global reformation, value-based care. 
Consumer demand for greater access to personalized and patient-centered care will increasingly favor those offering convenience, choice and, most importantly, cost transparency.
3. Financial and demographic challenges will inspire new methods of care delivery. 
In 2018 it became clear traditional healthcare alone won't bend the cost curve, and social determinants of health must be at the forefront of care. In 2019, companies focusing on the social determinants of health and how to integrate mechanisms for providers to play a bigger role in triage, data-driven care, continuity of care and personalized action plans will find a more receptive environment.
4. Escalating data debates will drive policy changes
In 2019, privacy and security will be top of mind, with policymakers looking to the private sector and their policy counterparts in other countries to figure out what policy changes need to be put into place to protect information sharing.
"Consumer pressure is driving a disruptive technology-enabled shift in healthcare today. Digital health technologies are beginning to deliver on their promise to help providers understand individual consumer preferences and provide personalized care that effectively coordinates care throughout the broader health ecosystem. By fully realizing the potential of information and technology, we can create an ever increasingly informed and empowered global community of innovators, care providers, and patients," said Hal Wolf, HIMSS President & CEO.