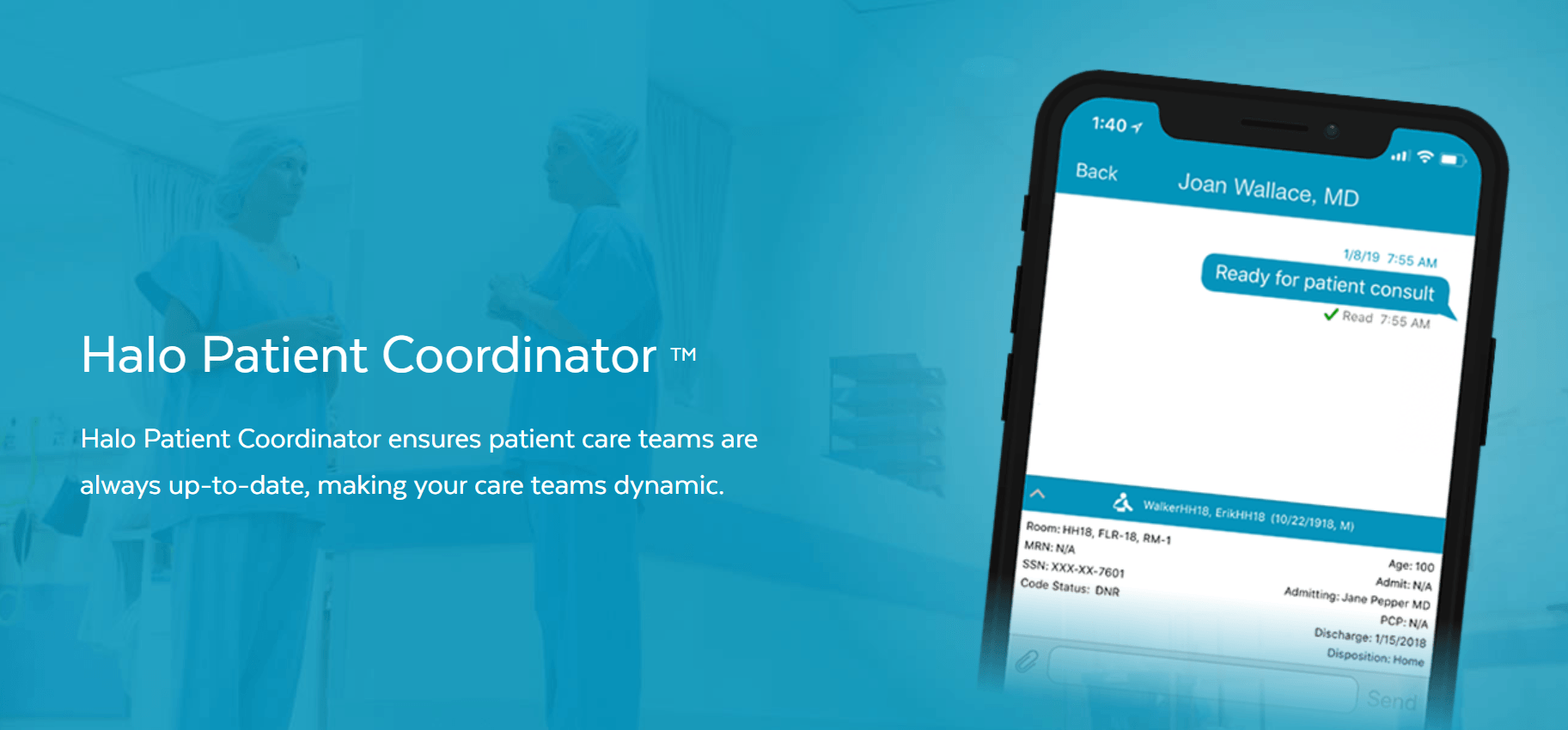 Halo Communications (formerly known as DocHalo), today announced the launch of Halo Patient Coordinator will give doctors and nurses the ability to focus mobile and collaborative care around individual patients by allowing teams to be created, managed and adjusted automatically — providing real-time updates, case-by-case EMR syncing, and much more.
A product offering available within Halo's Clinical Communication Platform, Halo Patient Coordinator allows patient care teams to be created, managed and adjusted automatically through Halo's native scheduling product and integration with a health system's existing clinical applications. Care teams can also be updated manually, giving clinicians the flexibility to adjust teams in real-time settings.
Key features of the product include:
– Patient-focused messaging: With one tap, clinicians can pull up patient-specific critical information right on a mobile device. Using the secure messaging capabilities on Halo's platform, each message can thread down to a single patient, eliminating ambiguity and miscommunications.
– Simple handoffs: With Halo Patient Coordinator, handoffs can be initiated automatically, and the patient's care team members are adjusted instantly as shifts rotate.
– One-way updates: Patient's family members can receive one-way messages from members of the care team, providing instant updates throughout their loved one's care.
– Case-by-case syncing with EMR: Notably, messages through Halo Patient Coordinator can be optionally synced back to the patient's EMR for documentation purposes.
"Our full platform provides clinicians with all of their mobile collaboration needs – whether it's sending and receiving HIPAA-compliant text messages, mobilizing critical alerts, calling colleagues over VoIP, or adjusting and responding to real-time scheduling needs," added Barreau." With the addition of Halo Patient Coordinator, clinicians will now be spending less time navigating a flood of irrelevant messages and more time interacting with their individual teams."