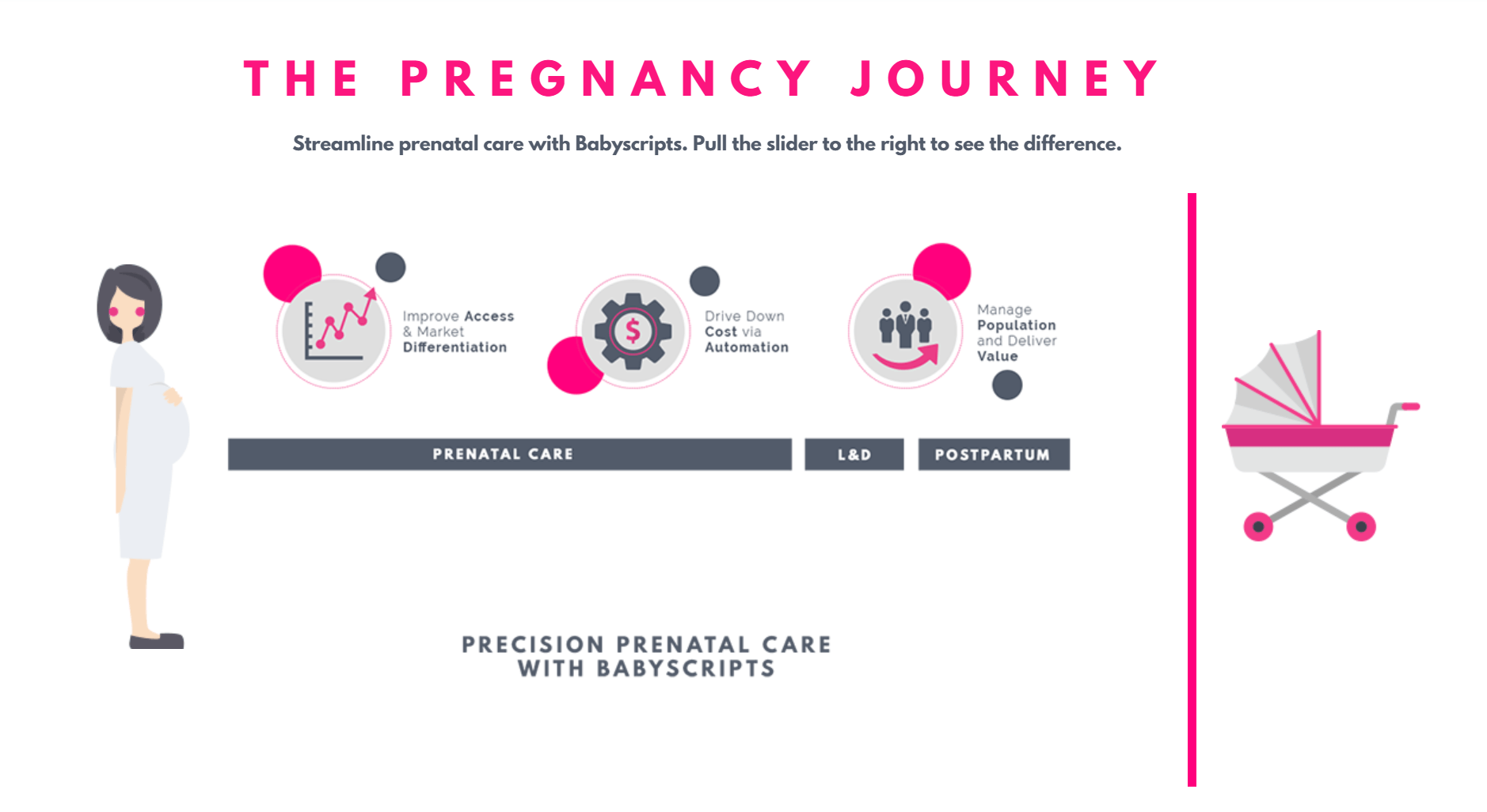 Babyscripts, Inc., a Washington D.C.-based virtual care platform for managing obstetrics, announced today that Philips has taken a minority position in the company by leading a $6 million round of financing. The round also included participation from investors StartUp Health and NueCura Partners.
Founded in 2013, Babyscripts has spent the last four years building a clinically-validated, virtual care platform to allow OBGYNs to deliver a new model of prenatal care. Using Internet-connected devices for remote monitoring, Babyscripts offers risk-specific experiences to allow providers to manage up to 90% of pregnancies virtually, allowing doctors to detect risk more quickly and automate elements of care.
Recent Traction and Milestones
Babyscripts has leveraged their established success in prenatal care to support expansion into the postpartum space. With the recent acquisition of iBirth, one of the first provider-delivered, co-branded pregnancy apps in the marketplace, Babyscripts now offers the most holistic and engaging technology program to manage pregnancy and postpartum. To date, Babyscripts is now managing more than 150,000 pregnancies across 20 states.
Impact of Philips' Minority Stake in Babyscripts
With the strategic investment from Philips, Babyscripts intends to partner with the Mother/Baby unit of Philips Healthcare to build the market's most extensive, clinically-validated virtual care obstetrics and pediatrics platform to support holistic care for mothers in pregnancy and postpartum care.
The intended collaboration aims to expand Babyscripts' footprint in the United States through Philips' established a customer base in mother and child care and extend the ability to engage patients over the first three years of life after birth. Babyscripts complements Philips' current digital offerings in the clinical pregnancy sphere, while Babyscripts will leverage the expansion to extend its reach into the consumer and pediatric space through Philips' Pregnancy + app and service.
From developmental care solutions to educational materials, and through a wide range of remote and proximate monitoring devices, Babyscripts and Philips will continue their commitment to providing better health outcomes for mothers and babies at every step of their journey, from prenatal to postpartum; NICU to nursery; and beyond.
"Babyscripts historically has focused all of its efforts in creating a trusted channel between the patient and OBGYN throughout the pregnancy," says Juan Pablo Segura, President, and Co-founder of Babyscripts. "It's only natural that we begin to expand that relationship through postpartum care and early stage pediatrics. On average, our patients use our app and remote monitoring service 6 times a week. Think of how exponentially more valuable a continued relationship will be for our customers, health systems, and plans if we continue the relationship post the 9 months of pregnancy. This investment and intended partnership is a true testament to the fact that Philips and Babyscripts are both committed to rethinking the Mother/Baby patient journey in healthcare."