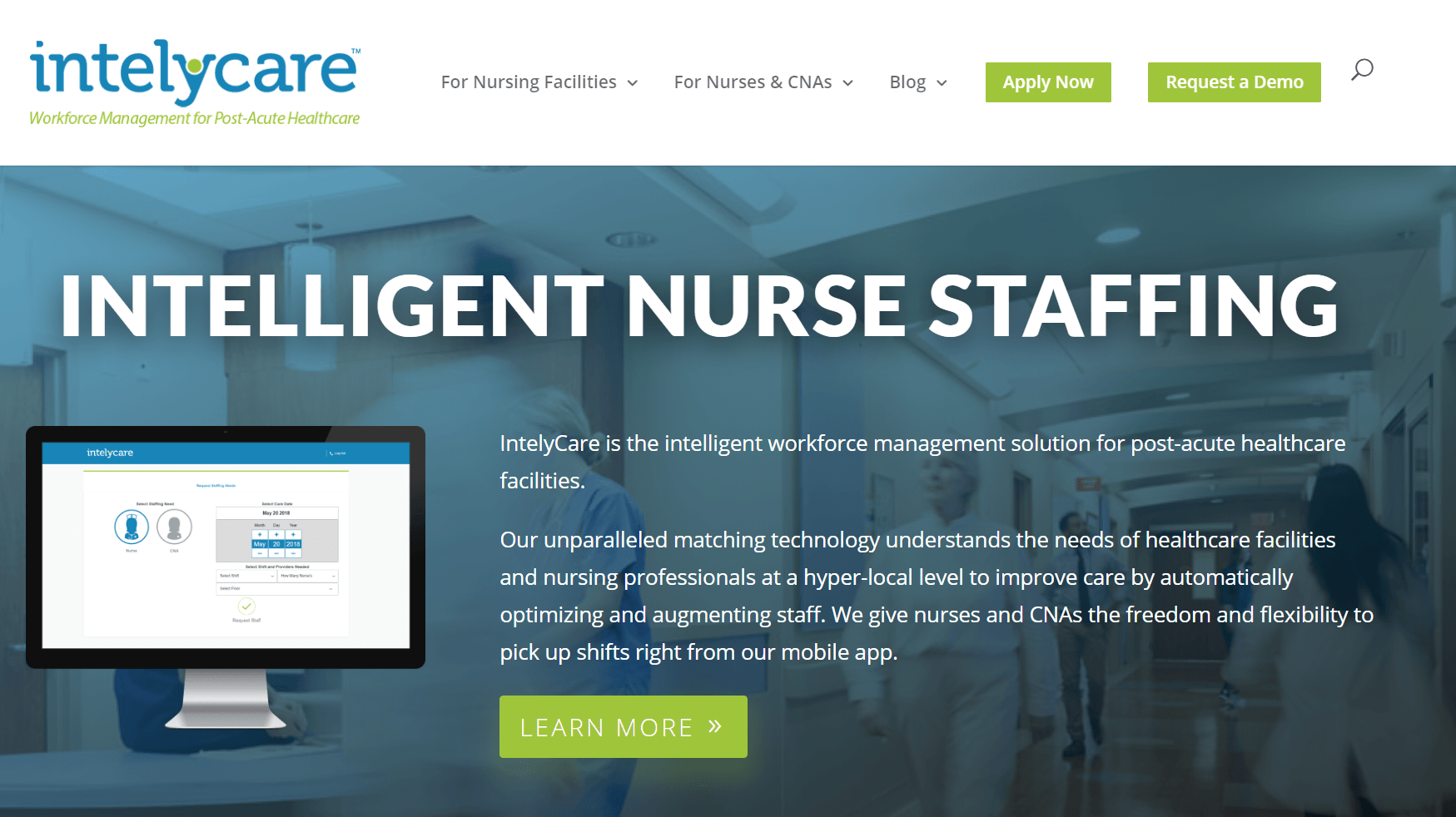 IntelyCare raises $10.8M to cure nationwide nursing shortage with Intelligent Workforce Management to streamline administration and improve care.
Solving the nursing shortage that's expected to reach 1.2 million RN vacancies by 2022 (according to the Bureau of Labor Statistics) will take a multi-faceted approach. Part of the solution will be better allocating nursing professionals in a way that considers the needs of both nurses and local facilities. IntelyCare, a digital health startup announced that is has raised $10.8 million in funding to expand the development and adoption of its workforce management solution for post-acute healthcare facilities.
The Series A round was led by  Leerink Revelation Partners with participation from Longmeadow Capital, previous investor LRVHealth and Bill Mantzoukas, an entrepreneur who has owned and operated a series of skilled nursing facilities. This investment brings IntelyCare's total funding to $14 million.
Addressing Nationwide Nursing Storage with Intelligence Workforce Management
Founded in 2014, IntelyCare removes the tedious and manual process of scheduling shifts at post-acute healthcare facilities utilizing artificial intelligence (AI). The company's nurse staffing application helps discover and hire professionally qualified care relief staff as well as offers a proprietary system to automatically check the status of nurses' and CNAs' state licenses, offers a series of interactive training modules for them as well as gives predictive staffing insights, enabling hospitals and clinics to hire nurses more comfortably.
With mandated staffing levels and a lack of nurses needed for required shifts, filling a schedule is a daily struggle for healthcare facilities. Administrators and schedulers constantly plead with employees to take extra hours and fill empty shifts, and then enlist multiple staffing agencies to fill the remaining gaps in coverage.
"Already overworked nurses are asked to cover multiple weekends per month or pull double-shifts, even at a moment's notice, and that takes a toll," said Chris Caulfield, RN, IntelyCare's co-founder and Chief Nursing Officer. "I've seen industry-standard practices constantly lead to burnout and high turnover, especially in post-acute settings, and knew there was a better way."
IntelyCare's On-Demand Business Model & Approach
IntelyCare enables a healthcare facility to optimize its existing nursing staff and augment it when needed. The company's deep understanding of nurse and facility needs at a local level – driven by its intelligent matching and pricing engine – provides a seamless solution to staffing challenges with minimal manual involvement. Shifts can be filled in as little as 6 hours in advance, and predictive analytics help forecast potential openings weeks in advance, making it easier to immediately fill shifts once they're officially posted.
Healthcare facilities pay a flat rate to help them simplify planning and budgeting, and the wages that nurses earn are dynamically priced based on the ease or difficulty of filling a shift – a key component to IntelyCare's industry-leading fill rates. IntelyCare considers dozens of data elements and more than 600,000 observations – such as past behavior, time or day of the shift, medical specialties and certifications, geography, pay rates and familiarity with a facility – to present nurses with the shifts they're most likely to accept.
Pick up shifts with ease using IntelyCare's mobile app
IntelyCare gives nursing professionals freedom and flexibility to pick up extra shifts and augment their income when it's convenient for them, without the prerequisites that staffing firms mandate, such as the number of days or weekends worked per month. They can quickly view a list of open shifts – tailored to their needs, preferences, and abilities – on an easy-to-use mobile app. On average, nurses who use IntelyCare open the app on their phone five times per day.
Additional features and benefits that IntelyCare provides include:
– Automated billing. Nurses check in and out of their shifts on the IntelyCare app, which uses geofencing technology to validate hours worked, and are paid directly from IntelyCare.
– Worry-free audits. Healthcare facilities are regularly required to provide governing bodies with full profiles and credentials of every nursing professional that has worked at their location. IntelyCare's online dashboard, with real-time workforce insights and downloadable profiles, makes this task quick and accurate.
– Higher quality nurses. IntelyCare learns about each nurse and facility's preferences through every interaction and proactively seeks feedback through a rating system, enabling it to improve matching over time. Nurses get to work where they want and facilities get the nurses they value most.
"The staffing shortage is a real challenge, and better allocation of nursing professionals – which can be done by giving them more freedom and flexibility to work where and when they want – needs to be part of the solution," said David Coppins, co-founder and CEO of IntelyCare. "As a company that brings nursing professionals and healthcare facilities together to align their mutual interests, IntelyCare is a true partner for both sides that can ease administrative burdens, create a better work-life balance and, ultimately, improve patient care."