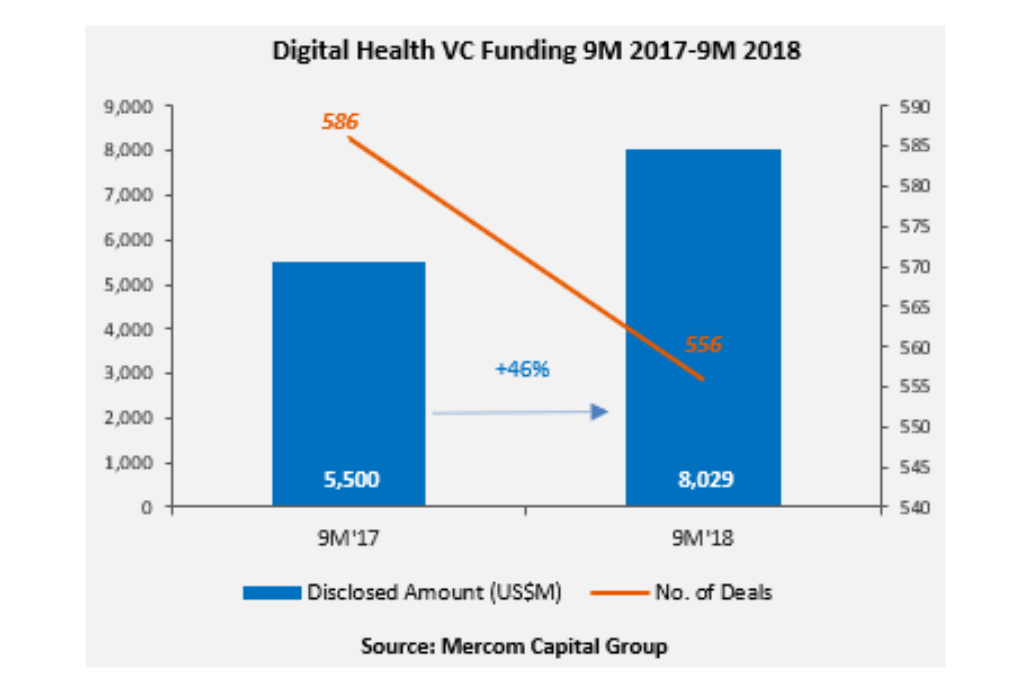 Global digital health venture capital (VC) funding has already reached $9 billion in 2018, up 46 percent year-over-year (YoY) with a record $8B across 556 deals, according to market research firm Mercom Capital. The latest report reveals global digital health VC funding reached $3.1B across 173 deals, versus Q2 2018's $2.4B in 196 deals.
To date, digital health companies have raised ~$34B in 4,006 VC funding deals since 2010. Total corporate funding – including VC, debt, and public market financing – came to $3.5B in Q32018 versus $4.4B in Q22018. Other key findings of the report include:
– Healthcare Practice-focused companies raised $1.3B in 62 deals in Q32018 versus Q2 2018's $702 million (M) in 58 deals. Healthcare Consumer-centric companies raised $1.9B in 111 deals in Q32018 versus $1.7B in 138 deals in Q22018.
– Top funded areas in 2018: Data Analytics $1.8B, Telemedicine $1.1B, mHealth Apps $1B, Mobile Wireless $728M, Clinical Decision Support $655M, Wearables $457M, Wellness $318M.
– Q32018 top funded categories: Data Analytics $889M, mHealth Apps $504M, Mobile Wireless $456M, Telemedicine $374M, Wearables $149M, Social Health Networks $148M, Wellness $117M.
– Top VC deals: $300M 23andMe, $291M American Well, $250M Butterfly Health Network, $240M Heartflow, $200M Helix, $200M SomaLogic.
– 2018 had 1,132 digital health funding investors.
– In 2018, there were 172 Digital Health M&A transactions versus 146 in 9M2017. Q32018 had 56 M&A transactions (nine disclosed) versus 68 M&A transactions (13 disclosed) in Q22018.
– Top M&A transactions: Platinum Equity's $2.1B acquisition of LifeScan, Roche's $1.9B acquisition of Flatiron Health, Inovalon's $1.2B acquisition of ABILITY Network, Veritas Capital's $1B acquisition of GE's Healthcare IT division, Best Buy's $800M acquisition of Greatcall.
"For the first time, we saw funding cross $3 billion in a single quarter in digital health and funding raised year-to-date has already surpassed all of 2017 with a realistic chance of hitting $10 billion this year. The sector has significant momentum and substance behind this record funding, from regulatory support to entry of large tech and healthcare companies – including a slew of intellectual property applications and FDA approvals," said Raj Prabhu, CEO of Mercom Capital Group.