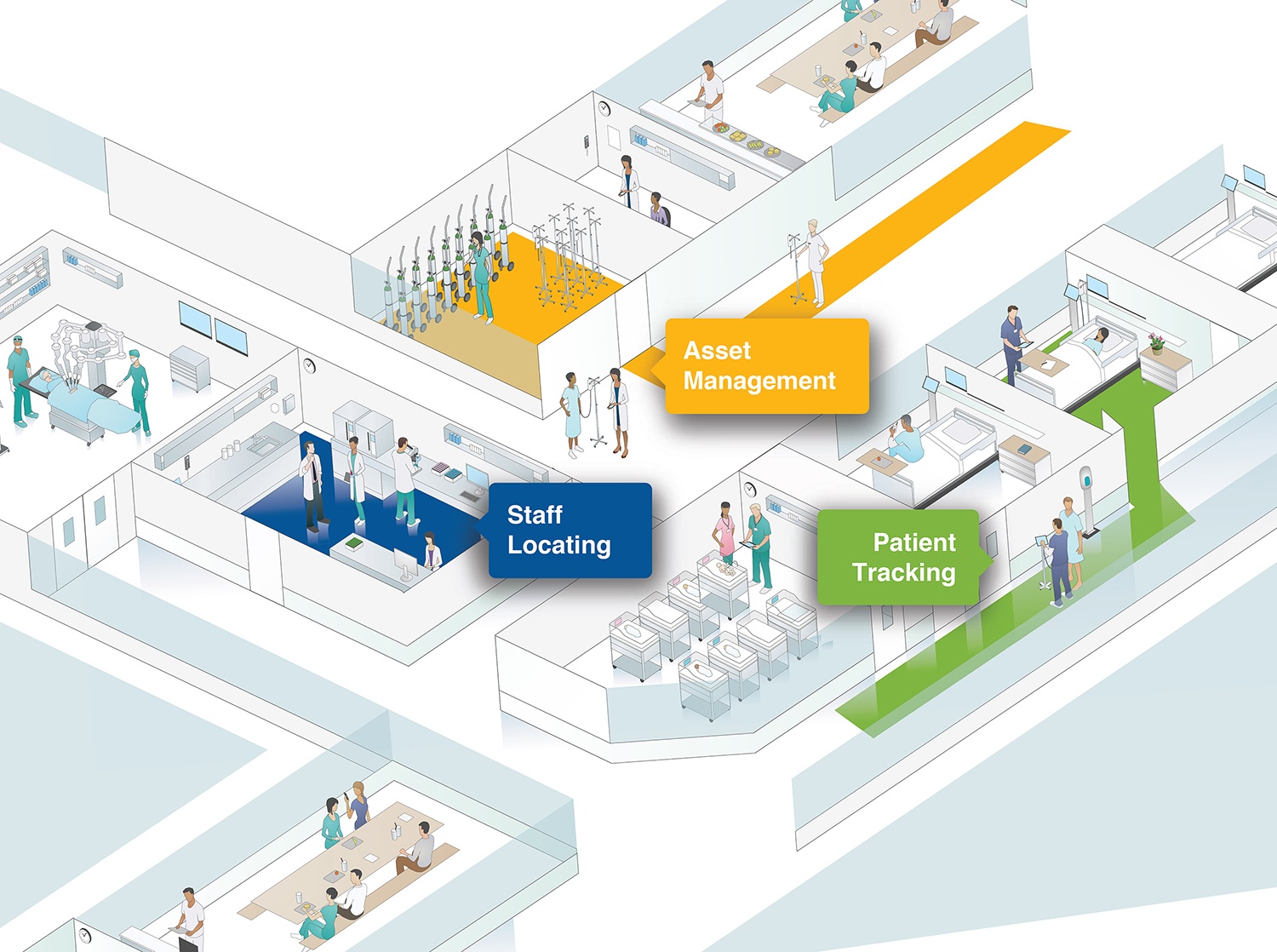 The healthcare industry is one where inefficiency leads to significant productivity losses and could contribute to loss of life.
That's why a system that keeps track of people, medicines and other essentials is exceptionally advantageous in that sector. Besides boosting productivity, real-time location systems (RTLS) could increase patient satisfaction and more.
RTLS Adoption in Healthcare Is On the Rise
A forecast showing the state of the RTLS healthcare industry predicts the total worth will reach $2,941.2 million by 2023. There are also cases where health systems deploy RTLS in multiple locations. In 2016, Piedmont Healthcare, a hospital network in Georgia, expanded its use of RTLS to six hospitals after installing the technology in a single location several years earlier.
If other facilities take the same approach, it's not hard to see why the projected worth of the market will likely be so high in a short period.
Keeping Incidences of Infection Down
Healthcare-acquired infections (HAIs) are prevalent in today's facilities and can be particularly dangerous due to the number of individuals an infected person could come in contact with during a single day. Also, statistics from the Centers for Disease Control and Prevention (CDC) say that at any given time in a hospital environment, about one in 25 people have HAIs.
The initial motivation that facilities often have for using RTLS is the desire to reduce the number of medical devices that get lost or stolen each year. And that is a valid reason for using RTLS. Some such systems show equipment location data, plus give staff alerts about necessary replenishments. But some hospitals are also using the technology to fight infections.
There are several ways to apply RTLS that way. For example, once a facility becomes aware that a patient has a dangerous infection, the tracking system could monitor where that person goes in the hospital and which equipment or rooms are potentially contaminated.
Also, RTLS help reduces the spread of infection by providing more transparency about which patients have infections and therefore require staff members to take extra precautions for protection. In facilities without RTLS, such information is often manually prepared and may not reach all the people who enter the room of an infected person.
Since RTLS track patient locations, it's easy for people to see exactly where infected patients are before going into their rooms, giving them the knowledge needed to stay maximally protected from possible exposure.
The Use of RTLS to Improve Satisfaction
When patients aren't satisfied with the quality of care given at a hospital, they might decide to go to another facility next time. If they are exceptionally grieved, they might recommend that friends and family members go elsewhere, too. A bad reputation could lead to a high turnover rate among the staff and make it difficult to fill positions.
When health care professionals learn about the advantages of RTLS, they typically realize that the benefits extend to satisfaction as well as patient and staff safety. One of the reasons for that is because a hospital is characterized by so much motion. During their time at a facility, it's not uncommon for patients to get shuttled between several departments.
Without RTLS, those people could experience especially long waits due to bottlenecks and inadequate staff numbers. Then workers get frustrated too, knowing that the patients could believe they're at fault for delays.
There are other ways RTLS boost satisfaction, too. Specifically, the technology could tackle many of the most pressing complaints patients have, ranging from sleep deprivation while in the hospital to a lack of engagement shown by their care teams.
Taking those two examples, RTLS could reduce the need for walkie-talkies while communicating and facilitate methods that don't disturb people who are trying to sleep. Also, the automation and data pooling features that are part of many RTLS mean that caregivers have fewer distractions when engaging with patients or family members.
Wearable Technology for Better Long-Term Patient Care
RTLS also have benefits for people who do not require treatment in hospitals but still need monitoring. For example, a wearable that tracks location could help caregivers verify that a recovering knee surgery patient is taking part in the prescribed number of minutes walking around the house or neighborhood to promote healing.
Or a person in an assisted living facility who is at risk of wandering off due to dementia could enjoy more freedom with RTLS to show nurses where they are at any moment. In that scenario, the technology gives family members peace of mind, too.
A study of dementia patients getting lost in a region of the United Kingdom found that of the 281 incidents that happened during the investigation, 29 percent of the cases originated from care homes. Moreover, 12 percent of the cases occurred when people with dementia wandered away from home.
RTLS could bring down the prevalence of such issues. Even the most dedicated caregivers cannot be everywhere at once, and there will inevitably be times when they cannot devote their full attention to a dementia patient. During those times, RTLS could fill the void by letting a worried person know exactly where someone strayed.
One researcher even collected 43 million pieces of data from elderly patients with an RTLS. He wanted to monitor the movements of people in assisted living facilities, then used the information to build a system that could prevent them from falling. It's not difficult to imagine the added benefits of RTLS that also monitor vital signs or other characteristics that could show signs of trouble.
RTLS Meet Patient and Staff Needs
This overview emphasizes some of the fascinating ways facilities can use RTLS for the good of patients and staff members.
More potential use cases will likely arise as technologies become even more advanced and health professionals figure out the most effective ways to utilize them.
Image credit: Centrak
Kayla Matthews is a health IT and MedTech writer whose work has appeared on VentureBeat, The Week, Contagion Live and BioMed Central.