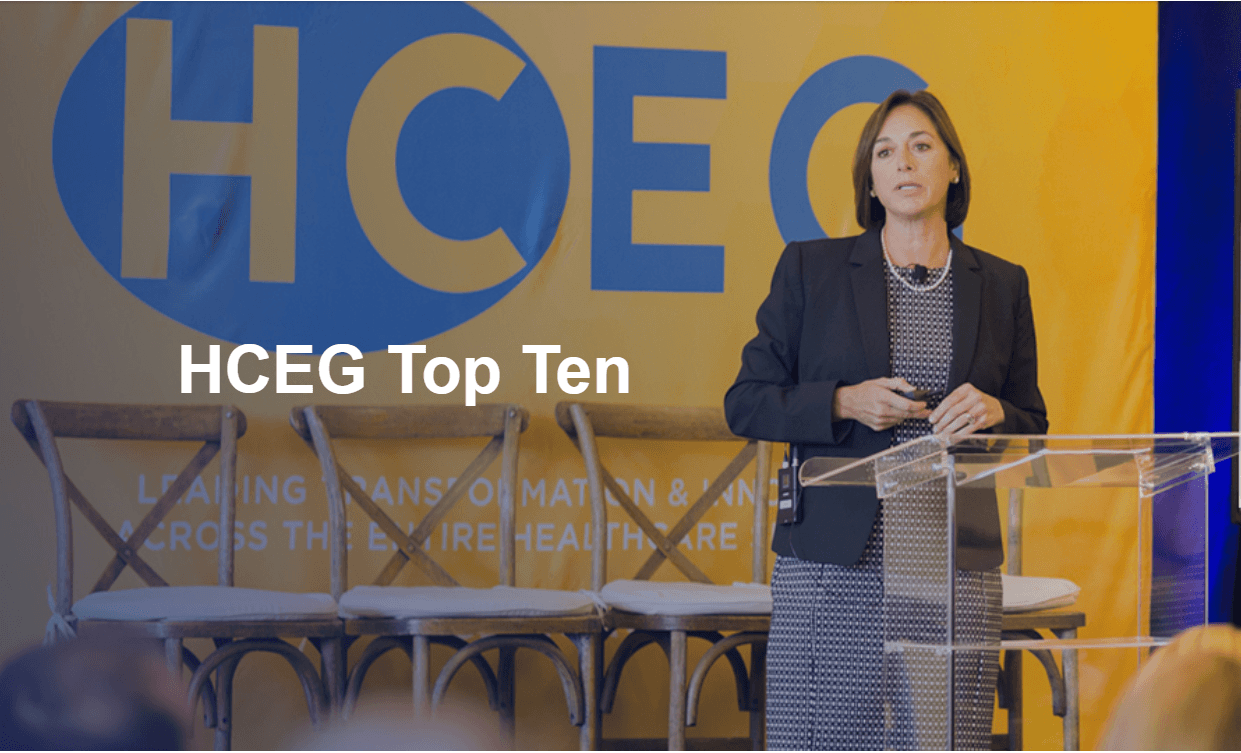 After 2.5 days of thought leadership discussions during its 30th Anniversary Annual Forum, executive participants of the HealthCare Executive Group (HCEG) voted on and ranked the 2019 HCEG Top 10 critical challenges, issues and opportunities they expect to face in their organizations in the coming year. 
Background/Methodology
The rankings were developed in partnership with Change Healthcare and have been published for the last seven years. Executives from the payer, provider, and technology partner organizations were presented with a list of over 25 topics selected by the HCEG Board of Directors and other thought leaders. The list was augmented by the 2018 Industry Pulse Survey.
Roundtable discussions hosted during the Forum amongst the 100+ attendees and invited industry experts allowed the topics to be explored and expounded upon, prior to a digital ranking that culminated in the 2019 HCEG Top 10.
Here are the 2019 HCEG Top 10 Challenges, Issues, and Opportunities for healthcare executives:
1. Data & Analytics:  Leveraging data (especially clinical) to manage health and drive individual, provider and payer decisions.
2. Total Consumer Health:  Improving members' overall medical, social, financial, and environmental well-being.
3. Population Health Services: Operationalizing community-based health strategy, chronic care management, driving clinical integration and addressing barriers to health such as social determinants.
4. Value-based Payments: Transitioning to and targeting specific medical conditions to manage cost and improve quality of care.
5. The Digital Healthcare Organization:  HSAs, portals, patient literacy, cost transparency, digital payments, CRM, wearables, and other patient-generated data, health monitoring, and omnichannel access/distribution.
6. Rising Pharmacy Costs:  Implementing strategies to address the growth of pharma costs along with benefits to quality of care and total healthcare costs.
7. External Market Disruption:  New players like Amazon, Chase, Apple, Walmart, and Google.
8. Operational Effectiveness:  Implementing lean quality programs, process efficiency (with new core business models), robotics automation, revenue cycle management, the real-time/near-time point of sales transactions, etc.
9. Opioid Management:  Developing strategies for identifying and supporting individuals and populations struggling with substance abuse/addiction or at risk of addiction.
10. Cybersecurity:  Protecting the privacy and security of consumer information to maintain consumer trust in sharing data.
"Selecting and ranking healthcare issues is always a challenge as we are in a very critical and dynamic stage in healthcare," states Ferris W. Taylor, Executive Director of HCEG. " Everything seems important.
Particularly issue #11 Healthcare Policy Reform and issue #12 Precision/Personalized Medicine. More than a handful of HCEG members were surprised that these topics did not make the Top 10. HCEG plans to further explore the reasoning through facilitated discussions at upcoming events and within the HCEG digital community. It's a compliment to the HCEG members that we reached an agreement on these 10 critical and actionable issues."