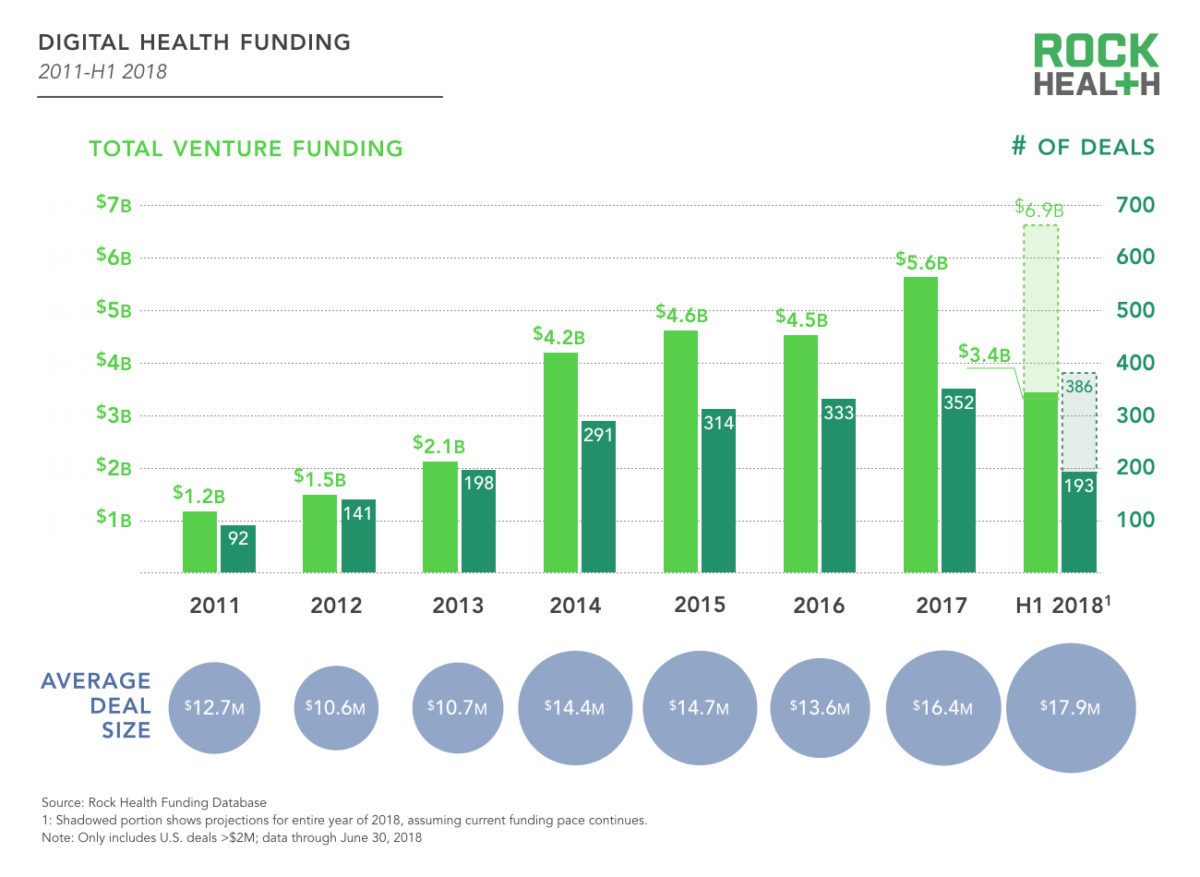 Digital health funding reached a new record of $3.4 billion across 193 deals in the first half of 2018, according to Rock Health, a full-service venture fund dedicated to digital health.
The 2018 Midyear Funding Review reveals a maturing market with an increasing number of digital health companies are hitting key validation milestones, creating a stable funding environment based on proven outcomes;investors are taking notice and rewarding companies with larger deals. The average deal size significantly increased to a record $17.9M.
The report produced by Megan Zweig, Halle Tecco and Michelle Huang with help from Bill Evans, Danielle McGuinness and Mollie McDowell sources data from Capital IQ, SEC company websites, Crunchbase, NVCA, press releases and the Rock Health funding database.
Other key findings from the Rock Health report include:
– Large Digital Health Deals
Four companies raised over $100M in funding, representing about one-fifth of total funding so far in 2018, and were all raised by companies in the Bay Area: Heart Flow ($240M), Helix ($200M), Collective Health ($110M), Livongo ($105M).
– Seed Stage Deal Funding
The percentage of seed stage deals contracted from 23% in 2017 to 21% in H1 2018, while the number of B rounds grew.
– Back to Basics Mentality Returns: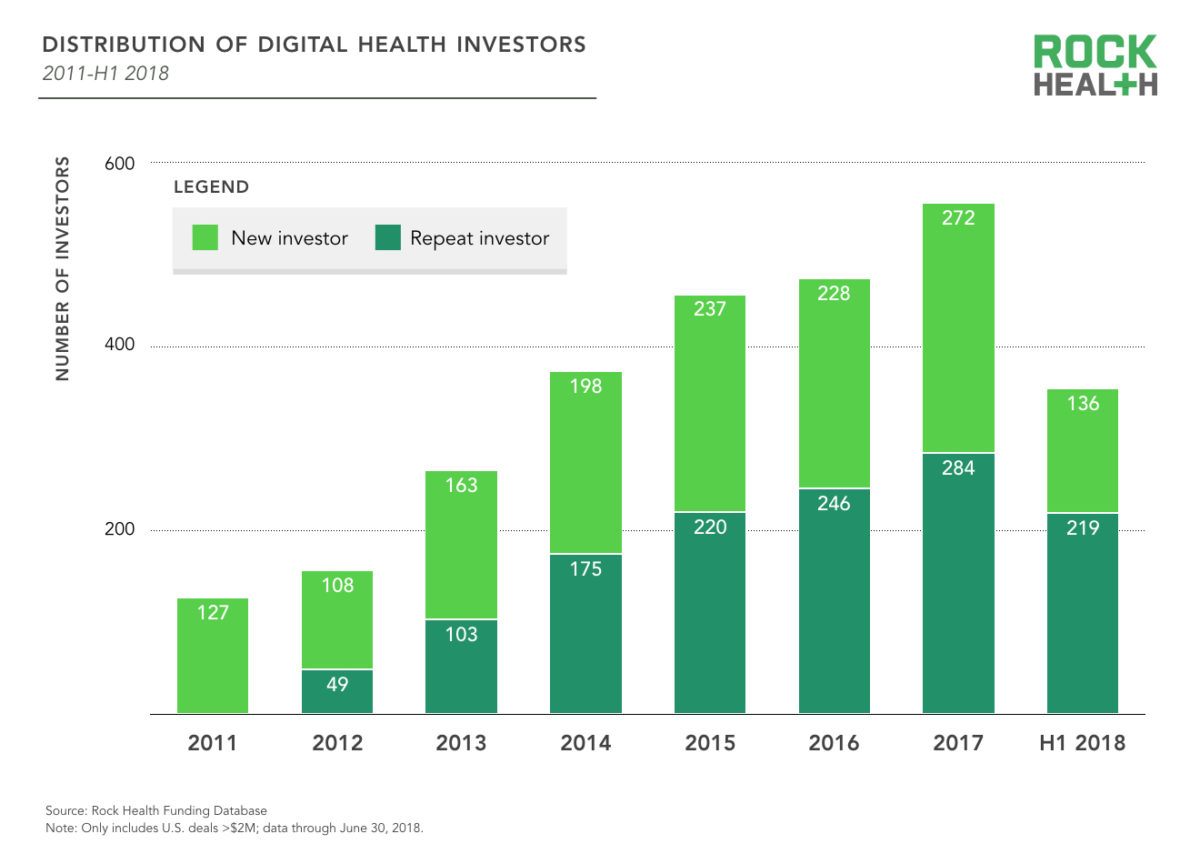 The recent downfall of Theranos and Elizabeth Holmes has instilled a back to basic mentality, according to David Shaywitz. As a result, more companies are pursuing validation at an earlier stage and investors have elevated their expectations, creating a competitive environment based not on hype, but on proven outcomes.
– Investors Sustained Commitment to Digital Health
Sixty-two percent of investors in H1 2018 had already participated in at least one digital health deal since 2011; last year, repeat investors represented 51% of total investors. This commitment likely contributed to the later-stage, larger deals completed this half as investors participate in follow-on rounds for their earlier investments.
– Sluggish Digital Health M&A Activity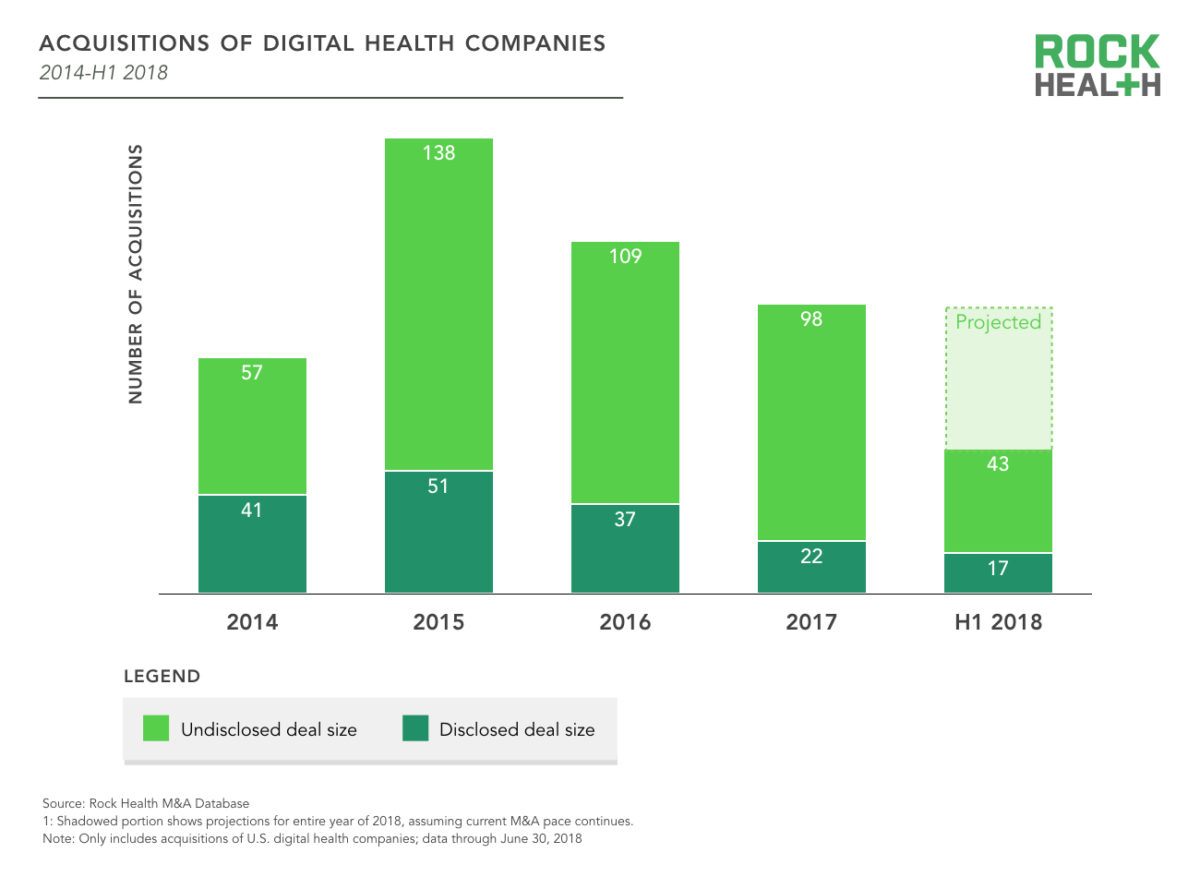 With 60 disclosed digital health acquisitions in H1 2018, the sector is down from the height of 2015. Digital health startups are most likely to be acquired by other digital health companies, which make up half the acquirers in 2018 M&A transactions. The top three digital acquisitions in H1 2018 include Flatiron Health (Acquired by Roche for $1.9B), ABILITY Network (Acquired by Inovalon for $1.2B) and PillPack (Acquired by Amazon for $1B).
– Behavioral Health Startups Funding Increase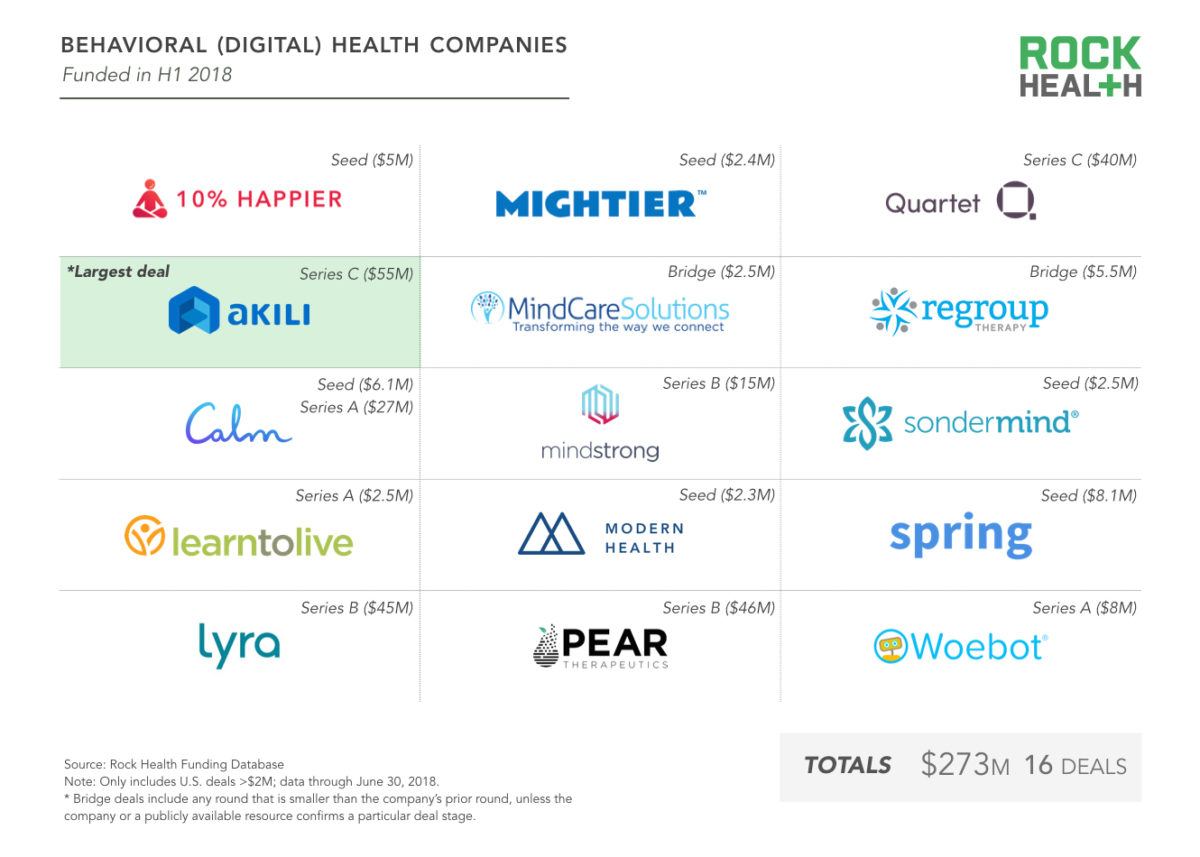 Behavioral health startups received more funding this half than in any prior six-month period, with a cumulative $273M for 15 unique companies (nearly double the $137M closed in H1 2016, the previous record half for funding of behavioral health companies). Of these 15 companies, more than half have a virtual or on-demand component.