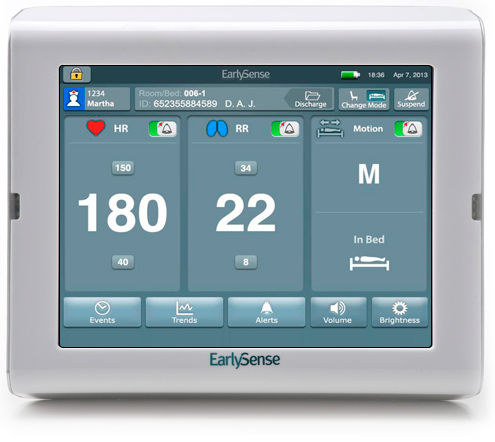 EarlySense, the market leader in contact-free continuous monitoring solutions across the healthcare care continuum, announced today it has signed a deal for exclusive global rights to a cardiac predictive analytic scoring tool. Developed by Dr. Dana Edelson, Executive Medical Director of Rescue Care at the University of Chicago, the eCART 'Lite' early warning score tool analyzes heart and respiratory parameters to predict cardiac arrest risk and enable early intervention. 
Dr. Edelson's clinical predictive analytics tool, eCART, was designed to identify risk of health deteriorations and cardiac arrests based on over 30 clinical data points per patient. It was developed using a data set of nearly 300,000 cases. The eCART tool has already been proven to improve care in hospitals and help clinicians achieve better outcomes, including lower mortality rates.
The new 'Lite' tool will be integrated into EarlySense's products and is the first ever scientifically validated early warning score to use only heart rate, respiratory rate and patient age, making it ideal for use in conjunction with continuous monitoring sensors.
"By working with EarlySense to adapt this hospital-proven predictive clinical score to be used with a streamlined set of data points, including continuously collected heart and respiratory parameters collected from the EarlySense bed sensors, we may be able to extend the predictive clinical score beyond the confines of the hospital and into post-acute and home environments. This in turn enables earlier intervention and prevention of patient deterioration and adverse events," explained Dr. Edelson. "The evolution of eCART as a tool across the care continuum with nearly comparable predictive accuracy as the original solution, is representative of how innovation is changing the healthcare landscape today and expanding care beyond the walls of a hospital."