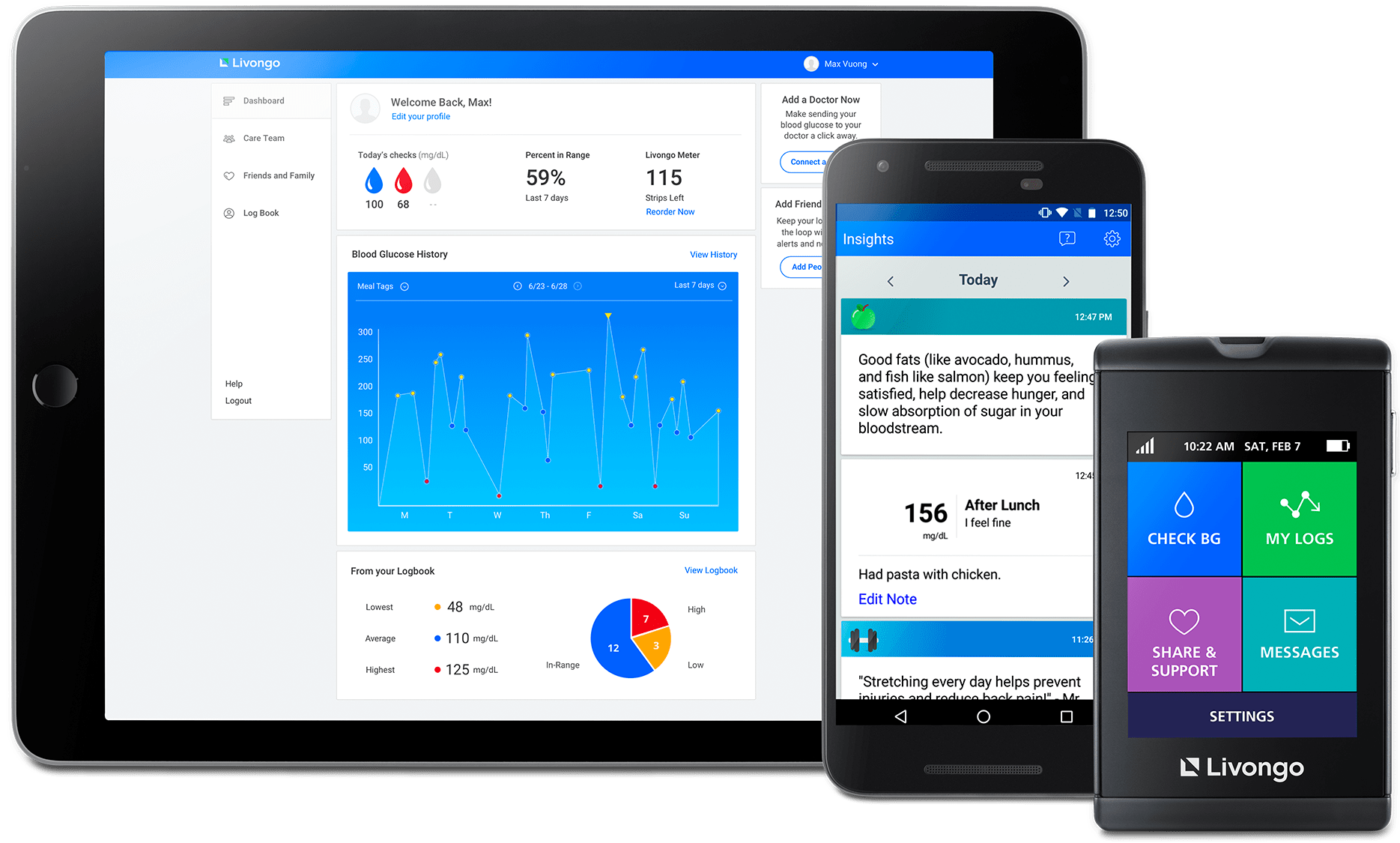 Livongo Health, a consumer digital health company that is empowering people with chronic diseases to live better has raised $105 million in funding led by existing investors General Catalyst and international investment company Kinnevik. Existing investors DFJ, Kleiner Perkins Caufield & Byers , Merck Global Health Innovation Fund, Microsoft Ventures, Sapphire Ventures, Zaffre Investments, and 7wire Ventures participated in the round along with new investor Echo Health Ventures.
Livongo Health Diabetes Management Platform
Livongo's first diabetes management program targeted to people with either Type 1 or Type 2 diabetes is completely mobile, digital and personalized to the user. It allows people with diabetes to effectively manage important aspects of their illness on their own. It also allows them to easily keep their family members and care team informed in real-time. 
Each Livongo for Diabetes user receives the company's In Touch® blood glucose smartmeter, a proprietary mobile device that is the first cellular-enabled, two-way interactive blood glucose meter. The device captures a user's biometric data and uploads it to a cloud-based inference engine where historical data, clinical rules and predictive modeling are used to convert it into useable information and support that is instantly returned back to the person with diabetes.
The company plans to use the latest round of funding to support rapid market growth, continued investment in data science, deeper integration with clients and partners, and the development of Livongo's comprehensive consumer platform based on the company's 'whole person' approach. The 'whole person' approach is focused on empowering people with solutions based on human-centered design principles that address members unique physical, social and emotional needs and which incorporate advanced data science techniques to create personalized member experiences.
Strategic Partnership with Cambia Health
In addition, Livongo has inked a strategic partnership with Oregon-based Cambia Health Solutions to improve the health of its members, beginning with diabetes. Livongo and Cambia will also co-develop and market new offerings. Cambia reaches more than 70 million Americans nationwide, including more than two million people in the Pacific Northwest who are enrolled in regional health plans in Washington, Oregon, Idaho, and Utah. 
Livongo's program is demonstrating significant improvements in health outcomes for its members and cost savings for its clients. Livongo members spend more time-in-range in the first month of use and show a reduction in HbA1c within the first 90 days sustained to at least 180 days. A recent third-party study found that Livongo optimizes utilization and decreases diabetes-related medical costs across the covered population.
"We are particularly pleased with the strong vote of confidence from the marketplace for Livongo," said Glen Tullman, Chief Executive Officer of Livongo. "With a blue-chip client base including more than 350 of the country's largest self-insured employers, the most innovative health systems and health plans, and the two largest pharmacy benefit managers combined with the leading investors in healthcare, we are positioned to significantly accelerate our growth."