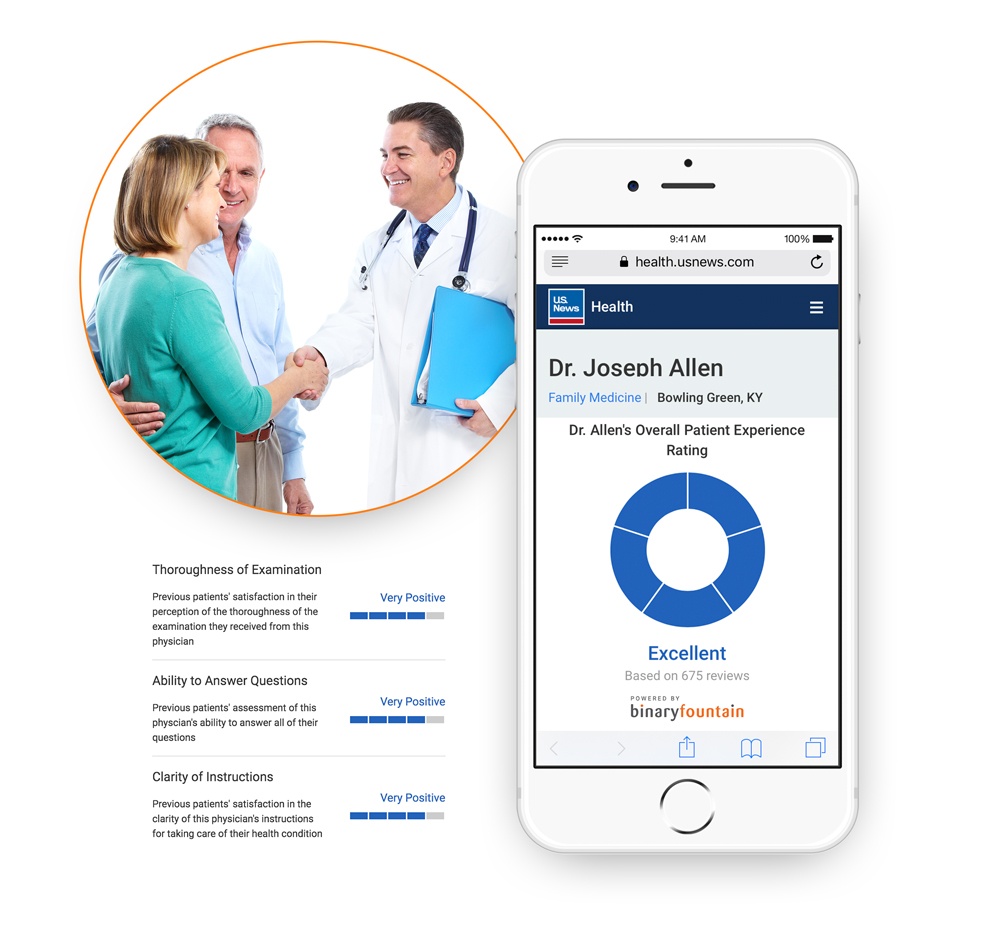 U.S. News & World Report, the global authority in hospital rankings and civic journalism, collaborates with Binary Fountain, a provider of patient feedback management solutions. The Binary Fountain has one of the largest data repositories of online patient reviews and surveys in the healthcare industry. Through this partnership, U.S. News will publish patient experience ratings from Binary Fountain on many of its doctor profile pages, enabling consumers to compare physicians and help make more informed healthcare decisions.
"In the age of healthcare consumerism, patient experience information has become a crucial piece of information for patients and families when choosing a physician," stated U.S. News Chief Product Officer Chad Smolinski. "Our collaboration with Binary Fountain allows U.S. News to expand the breadth and depth of relevant, trusted data we can provide to patients while searching for a new doctor."
Leveraging its Provider Social Index® (PSI) technology, Binary Fountain aggregates patient feedback from more than 100 online sources and then uses a proprietary Natural Language Processing engine to extract insights and derive a rating for each of the 10 patient experience metrics. Patients often share their physician experience online and 77 percent of prospective patients use this feedback to select new doctors. These ratings are not indicators of medical quality, but a reflection of consumers' overall patient satisfaction.
Patient experience data will be added to U.S. News doctor profiles across multiple specialties over the next several months, beginning with family medicine physicians. Other categories on the site include pediatrics, cardiologists and orthopedic surgeons.
"We are excited to partner with U.S. News to further enhance their doctor profile pages with patient experience ratings, delivering industry-leading insights, data and analytics on thousands of doctors across the country," said Binary Fountain President and CEO Ramu Potarazu, in a statement. "We are confident that our patient experience ratings will further strengthen the patient voice and empower consumers to make better informed decisions, based on doctors' previous track records."