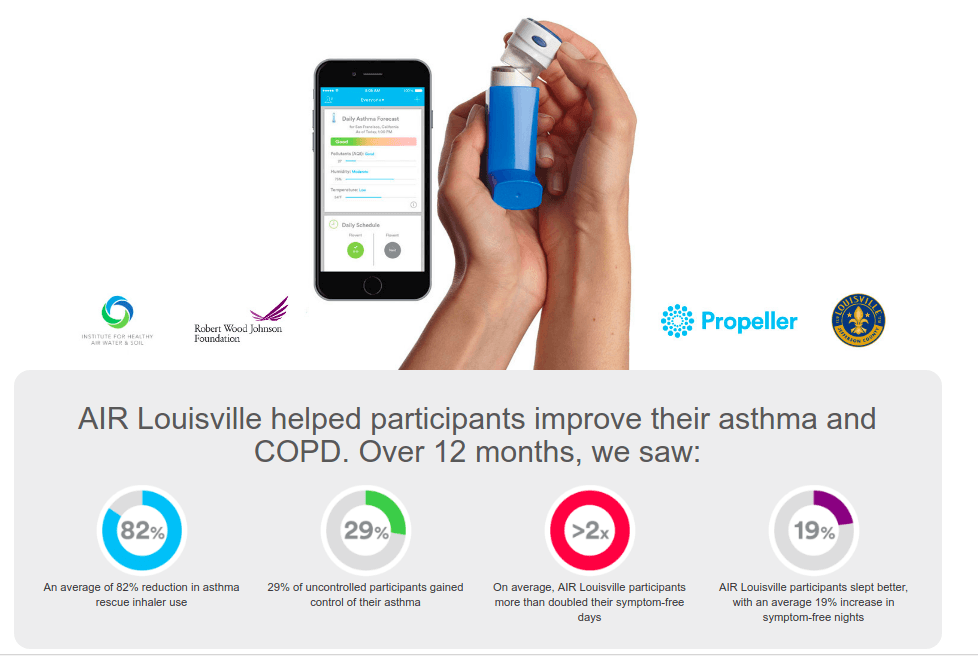 Propeller Health and peer-reviewed healthcare journal, Health Affairs, published results from a cross-sector partnership in Louisville, KY, that it has successfully reduced the burden of asthma. As one of the largest public health studies on asthma, Air Louisville is a collaboration among 25 public, private and philanthropic organizations to use digital health technology to improve asthma. The Robert Wood Johnson Foundation (RWJF) funded the successful study, with additional funding from the American Lung Association.
Air Louisville Program Details and Results
Louisville, KY is a tough place for people living with lung diseases like asthma and COPD (chronic obstructive pulmonary disease). AIR Louisville was designed to be the largest public health study of respiratory disease ever conducted by a public-private collaboration. The data collected by AIR Louisville are being used to help the City improve conditions for citizens with asthma and COPD.
Launched in 2015, AIR Louisville enrolled 1,147 citizens of Louisville and, using medication sensors from Propeller Health, tracked where, when and why they had asthma or COPD symptoms. The program found that AIR Louisville helped participants improve their asthma and COPD.
Over the course of 12 months, particpants in the program saw:
– 78% reduction in rescue inhaler use and a 48% improvement in symptom-free days. 
– An average of 82% reduction in asthma rescue inhaler use
– 29% of uncontrolled participants gained control of their asthma
– On average, AIR Louisville participants more than doubled their symptom-free days
– AIR Louisville participants slept better, with an average 19% increase in symptom-free nights
Using the data collected, AIR Louisville was able to create a map of asthma risk for each neighborhood in Jefferson County, based on the environmental conditions found in each region. AIR Louisville was able to determine that rescue medication use happened more often on days with higher temperatures and air pollutant levels, including: Nitrogen dioxide (NO2), ozone (O3) and sulfur dioxide (SO2).
The authors noted that participants reported joining the program for two key reasons: to improve their own health; and also to contribute to a larger community effort to combat chronic respiratory disease. This trend suggests that many residents may be open to contributing their data to something bigger.
"AIR Louisville is the first-in-the-nation-test we've seen of an end-to-end process that started with patients, people, and citizens, generating real-world, real-time data in an effort to identify opportunities to improve the public's health," said Paul Tarini, Senior Program Officer at RWJF. "This is a developing important trend, one we think will make big contributions to how we understand and improve health by focusing on upstream factors in our communities." 
For more key findings, view the infographic shown below: