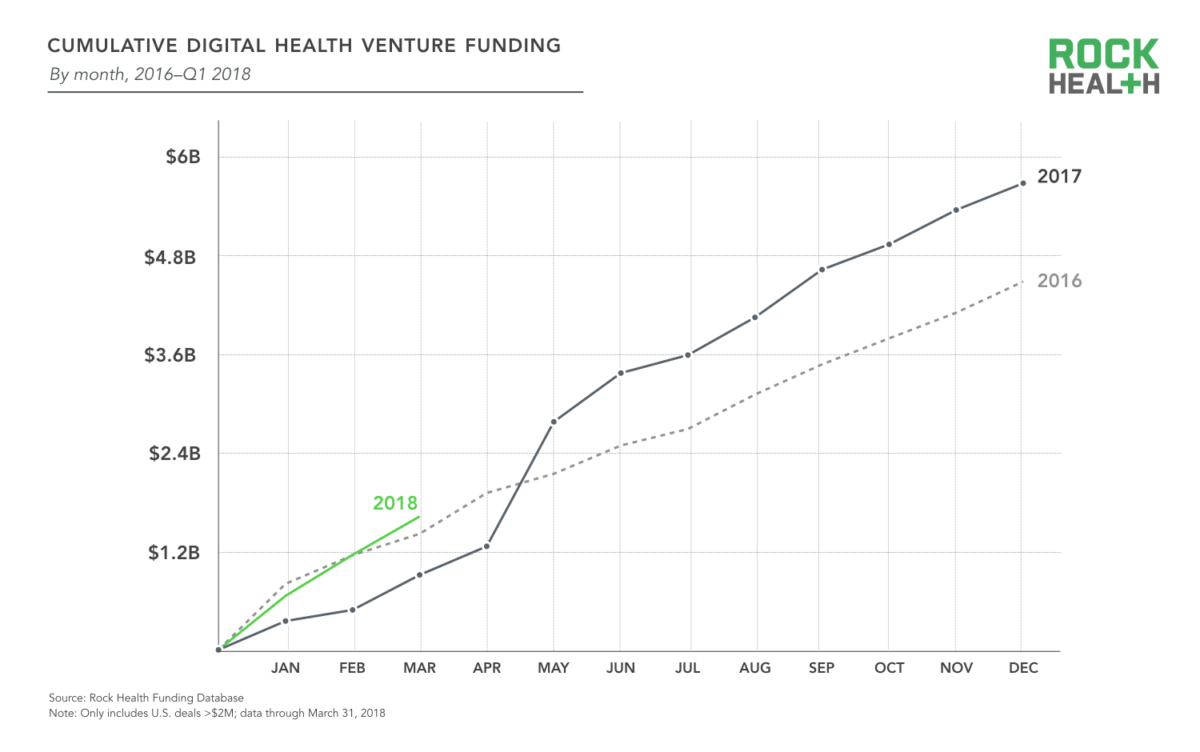 Digital health funding has reached a record breaking $1.62 billion in Q1 2018 across 77 digital health deals, according to Rock Health, a full-service venture fund dedicated to digital health.
The Q1 2018 Rock Health report reveals investors are starting to become more confident investing in large, late stage round with the top 10 deals, representing over 55% of total funding—but only 13% of deals—in the quarter. In addition, the average deal size increase from $16.4M in 2017 to $21M in 2018.
The report produced by Megan Zweig and Denise Tran with help from Ted Cho, Scott Lipman, Danielle McGuinness and Halle Tecco sources data from Capital IQ, SEC company websites, Crunchbase, NVCA, press releases and the Rock Health funding database.
Other key findings from the report include:
Top Six Funding Value Propositions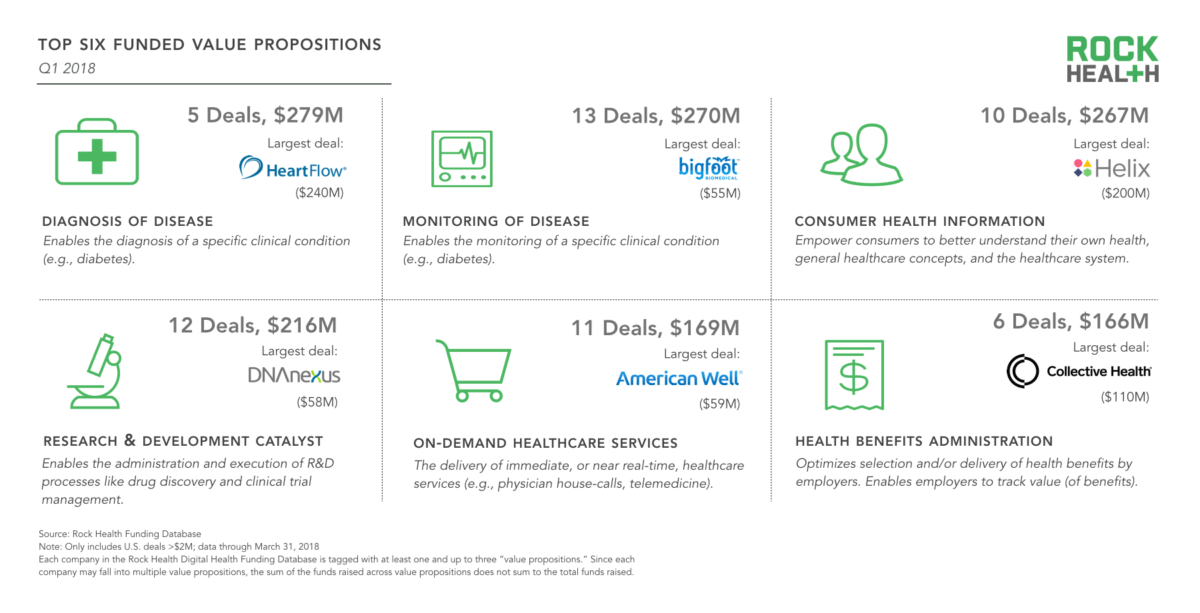 – Diagnosis of Disease defined as enabling the diagnosis of a specific clinical condition was the most-funded value proposition among digital health companies in Q1 2018 with 5 deals totaling $279M.
– Monitoring of Disease, the second most-funded value proposition, also had the most deals
-Consumer Health Information—technology used to help patients navigate the healthcare system and their own health—continues to be a top-funded value proposition as well, with Helix leading the way.
Investors
– Traditional VCs are the most prominent investors in the digital health space, accounting for 64% of all investor transactions in deals with at least one disclosed investor
– Corporations making investments are the next most active type of investor, accounting for 17% of investor transactions and private equity firms account for 5% of investor transactions.
– Providers (hospitals, health systems, and physician practices) are the leading type of corporate investors, accounting for 24% of all corporate investor transactions in deals
– Biopharma companies accounted for 13% of corporate investor transactions, followed by payers at 12%.
– Between 2011 and 2017, providers were most likely to invest in digital health companies with the value propositions of Non-Clinical Workflow and Clinical Workflow, payers were most likely to invest in Population Health Management startups, and biopharma in Research and Development Catalysts (e.g., drug discovery, clinical trial management).
M & A
– 37 digital health companies were acquired in Q1 of 2018, which puts the sector on-track to beat last year's 119 acquisitions and 2016's 146 acquisitions.
– The top three largest acquisitions were Flatiron (acquired by Roche for $1.9B), Ability (acquired by Inovalon by $1.9B), and Intermedix (acquired R1 RCM for $460M).
It is important to note that Rock Health's digital health funding reports only includes disclosed US deals over $2M. and companies that are sector-agnostic with a healthcare vertical are excluded. Expect these numbers to vary in comparison to StartUp Health and others as we report on digital health funding trends.