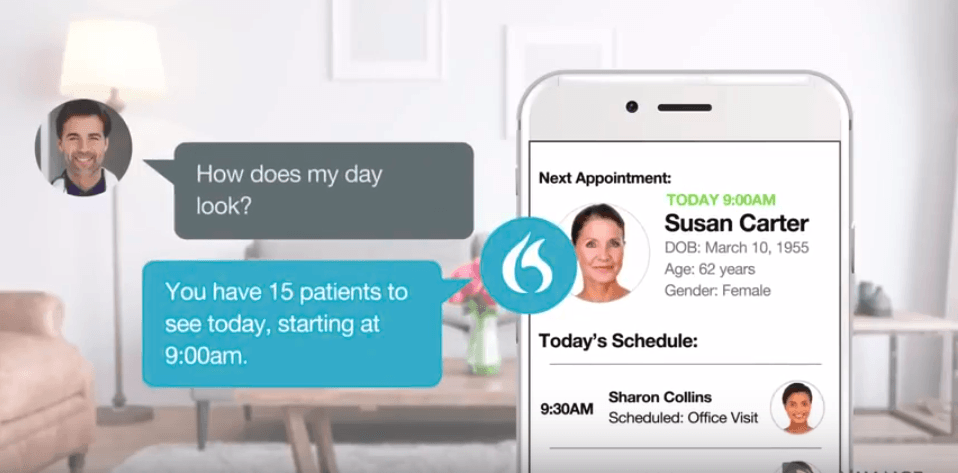 Nuance and Epic have teamed up to integrate Nuance's new artificial intelligence (AI)-powered virtual assistant platform with Epic's EHR. With Nuance's new virtual assistant technology, Epic's EHR further improves caregiver productivity and efficiency across the continuum of care. Today's announcement comes as new CHIME survey data1 reveals that 70 percent of hospital CIO's surveyed would consider adopting virtual assistants with AI capabilities in the coming year.
Nuance and Epic have worked together on joint product innovations which include:
Epic Haiku –Thousands of physicians already rely on Dragon Medical embedded in Epic's mobile apps for creating voice-driven clinical documentation on the go. With Nuance's AI-powered virtual assistants, physicians using Epic Haiku will benefit from new virtual assistant-enabled workflows, such as asking for patient information, lab results, medication lists, and visit summaries. This enhanced functionality runs on iOS or Android-enabled mobile devices.
Epic Rover – Beyond notes entry, nurses using Epic Rover will now also be able to use Nuance's virtual assistant to conversationally interact with flowsheets to enter and confirm patient information, including blood pressure, temperature, pulse, respiratory rate, oxygen saturation and other vitals. This enhanced functionality runs on iOS or Android-enabled mobile devices.
Epic Cadence – Scheduling staff, including those with physical disabilities, will be able to converse with Nuance's virtual assistant, to check physician schedules and create, look up, and cancel patient appointments using voice and natural dialogue.
"Epic's EHR, integrated with our AI-powered virtual assistant technology, represents extensive product collaboration and strategic alignment between both companies on the importance of delivering greater clinician productivity and efficiency across the care continuum," said Satish Maripuri, executive vice president and general manager, Healthcare division, Nuance Communications. "Our new healthcare virtual assistant technology is a first step in a new generation of innovation that will empower care teams to work more naturally and reinforces both companies' beliefs that to improve the overall quality of care, we must enable clinicians and care teams to maximize time with their patients."