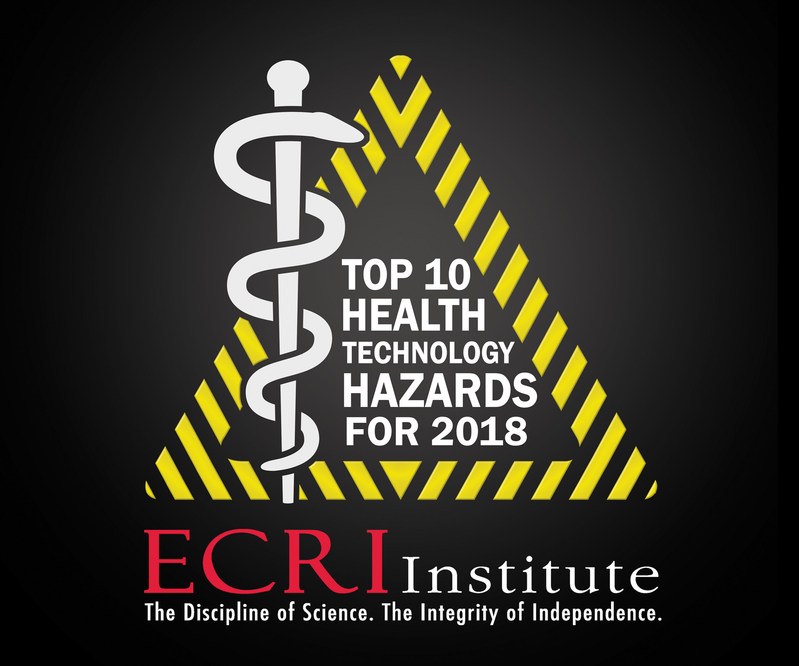 Ransomware and other cybersecurity threats to healthcare delivery has topped  ECRI Institute's Top 10 Health Technology Hazards for 2018 list. Ransomeware are potential patient safety crises that can disrupt healthcare delivery operations, placing patients at risk. Ransomware attacks can lead to canceled procedures and altered workflows (e.g., reverting to paper records). They can also damage equipment and systems, expose sensitive data, and force closures of entire care units. Ultimately, they can compromise or delay patient care, leading to patient harm.
The annual report identifies the potential sources of danger involving medical devices and other health technologies that ECRI believes warrant the greatest attention for the coming year. The guidance that accompanies each hazard provides practical strategies for reducing risks, establishing priorities, and enacting solutions.
To develop the annual list, ECRI Institute's multidisciplinary staff of engineers, scientists, nurses, physicians, and safety analysts draws on the resources of the Institute's 50-year history, as well as expertise and insight gained through testing and analyzing healthcare technologies. Topics on the list are selected by weighing factors such as the severity, frequency, breadth, insidiousness, and profile of the hazard. Additionally, all the hazards selected can, at least to some degree, be prevented by implementing appropriate measures.
Here is a look at Top 10 Health Technology Hazards for 2018:
1. Ransomware and Other Cybersecurity Threats to Healthcare Delivery Can Endanger Patients
2. Endoscope Reprocessing Failures Continue to Expose Patients to Infection Risk
3. Mattresses and Covers May Be Infected by Body Fluids and Microbiological Contaminants
4. Missed Alarms May Result from Inappropriately Configured Secondary Notification Devices and Systems
5. Improper Cleaning May Cause Device Malfunctions, Equipment Failures, and Potential for Patient Injury
6. Unholstered Electrosurgical Active Electrodes Can Lead to Patient Burns
7. Inadequate Use of Digital Imaging Tools May Lead to Unnecessary Radiation Exposure
8. Workarounds Can Negate the Safety Advantages of Bar-Coded Medication Administration Systems
9. Flaws in Medical Device Networking Can Lead to Delayed or Inappropriate Care
10. Slow Adoption of Safer Enteral Feeding Connectors Leaves Patients at Risk