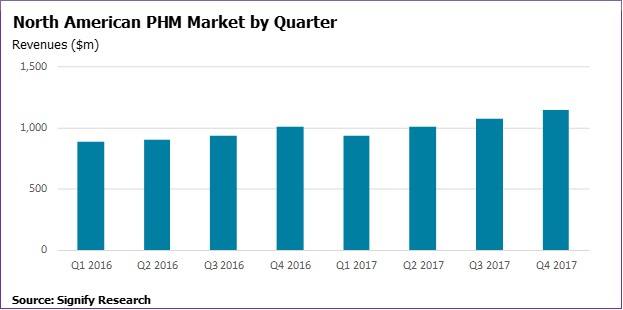 The first half of 2017 proved a challenging period for some North American population health management (PHM) vendors, according to recent data from Signify's Research report "Population Health Management IT – Q3 2017." The report reveals that after consistent quarter-on-quarter (QoQ) market growth over the past eight quarters, Q1 17 saw theNorth American PHM market decline for the first time since Signify Research started tracking themarket. Q1 2017 revenues were estimated to be down 7.1% compared to Q4 2016, at $938M.
The PHM vendor market is estimated to have picked up in Q2 2017, bouncing back to a similar level to that seen in Q4 of 2016. However, this still resulted in revenues for the first half of 2017 being flat compared to the second half of 2016.
Using vendor-led, tightly-constructed definitions, Signify Research's just-published market research report on the North American population health management (PHM) market provides detailed market intelligence, estimates and forecasts for the key building blocks of a population health management solution, namely:
– Data aggregation/analytics/risk stratification solutions & services
– Care management/coordination solutions & services
– Patient engagement solutions & services
Related: Despite ACA Uncertainty, 80% of Providers Believe in Future of Population Health Management
Key Market Drivers
The general sentiment from vendors was that the first quarter of the year was very soft due to uncertainty in relation to US healthcare legislative reform. As the Trump administration pushed ahead with its agenda to repeal and replace the Affordable Care Act (ACA), providers, payers and other buyers of PHM solutions delayed purchasing decisions. However, for many vendors this was only evident in the first quarter. The second quarter was much more positive and a significant number of these delayed orders were ultimately made during Q2 2017.
As for the remainder of the year, the short-term uncertainty experienced earlier in 2017 has partially subsided and to some extent the industry has started to "catch up" on its original direction of travel.Year-on-year growth of 12% is forecast for the full year in 2017, a solid performance considering the uncertain environment, but still down on the high teens growth seen in 2016. For the medium term outlook, the transition to value-based care is not progressing as fast as some had originally expected, and this will limit market growth to some extent. However a CAGR of 16% is still forecast for the period 2016 to 2021.
Optum Emerges As Market Leader Led by Advisory Board Acquisition
Optum is estimated to have been the market leader in 1H 2017. Its internal business with UnitedHealth drove much of its PHM revenue but its continued success selling its Optum One solution to US health care providers has steadily increased its overall share during the last two years. Its 2017 acquisition of the Advisory Boards' health care business will further boost its marketshare, although only by a relatively small amount.
Other key findings of the report include:
– Top five vendors PHM vendor named are Optum IBM Watson Health, Evolent Health, Allscripts and Cerner in 1H 2017 and have started to take leading positions in terms of revenue share.
– Despite the acquisitions of Truven Health Analytics, Phytel and Explorys in 2016, IBM Waston Health has struggled to leverage these three acquisitions in order to gain share during 2017
– The PHM vendor market remains highly fragmented, with the top five vendors accounting for a combined 35% of the market in 1H 2017.
– The highly fragmented nature of the market is expected to drive considerable M&A activity. This has been apparent in 2017 with Allscripts' acquisition of McKesson's Enterprise Information Solutions business (albeit with only a small PHM operation transitioning); Optum's acquisition of the Advisory Board's health care business including its Crimson PHM offering; NextGen Healthcare's acquisition of EagleDream Health, a PHM analytics specialist; and Medecision's acquisition of AxisPoint Health's platform customers.
Related: Providers: Do We Have To Define Population Health To Make It Useful?