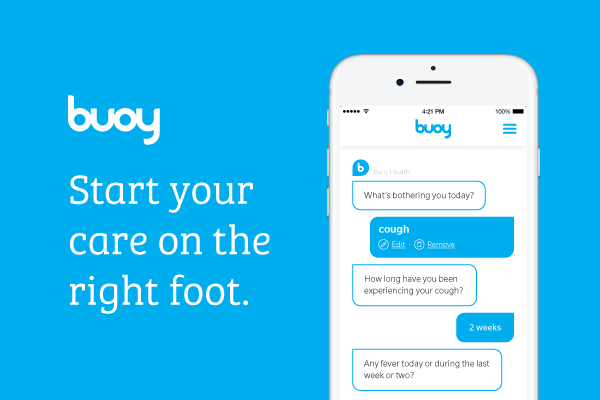 Buoy Health, a Boston, MA-based digital health startup has raised $6.7M in Series A funding led by F-Prime Capital Partners and an undisclosed strategic investor. The round also included participation from FundRx, Jack Connors, and other angel investors.
Formed out of the Harvard Innovation Laboratory in 2014, Buoy Health's artificial intelligence-powered online symptom and cure checker leverages an intelligent algorithm backed by medical data to diagnose patients. Designed to resemble an exchange you would have with your favorite doctor, Buoy Health provides consumers with a real-time, accurate analysis of their symptoms and to help them easily and quickly embark on the right path to getting better.
Today, hospitals and insurance companies are increasingly investing in digital health innovations like Buoy to solve problems related to accessing the healthcare system and helping patients to get to the right care setting on the first attempt.  By addressing the problem that happens when people attempt to search their symptoms online, Buoy aims to guide patients via AI-powered triage to the right care setting and to make engagement with the healthcare system more efficient. 
Since its public launch, Buoy Health has experienced rapid growth in its user base as patients have been drawn to the company's intuitive evidence-based online experience.  Buoy Health's smart symptom checker, Buoy, has been used by over a quarter of a million people so far to identify symptoms ranging from the common cold to reproductive issues to things as granular as how a change in running shoes may be the root cause for a specific ailment. . 
This innovation represents a first step toward a broader vision of more automated care management tools to allow the health system to deliver high quality care at scale in a more cost effective manner. The company is currently planning to integrate the symptom checker platform to provider and payer organizations over the next year. 
Buoy Health plans to utilize the latest round to accelerate operations to meet an ever growing marketplace demand for a new type of digital symptom checker and recruit an all-star board of medical advisors, including physicians from FundRx, to deepen expertise in different specialties.
"At Buoy Health, we believe that when it comes to healthcare, knowledge is power," said Dr. Andrew Le, CEO and Co-founder in a statement. "And power can't reside in the hands of doctors alone.  That's why we've brought together some of the most renowned and forward thinking partners in the industry to help us both strategically scale our efforts and to navigate new and effective ways to integrate our smart symptom checker, Buoy, into hospitals, doctors' offices and insurance systems.  Our mission is to help people take control of their healthcare journey from the moment they get sick. And, fueled by this new financing and our growing team, we have the power to do it."