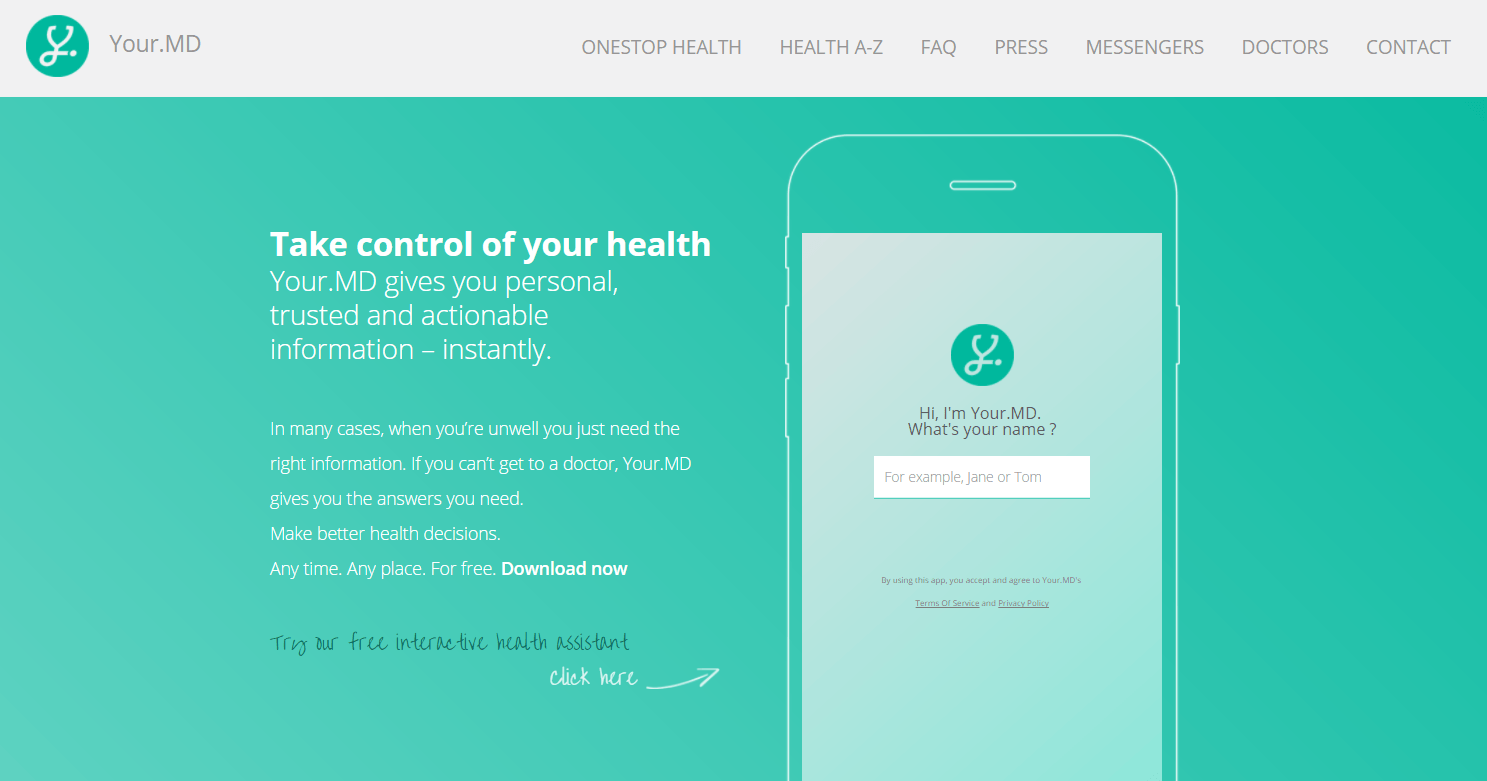 Your.MD, a London-based digital health startup has raised $10 million in funding led by Orkla Ventures and with participation from Smedvig Capital AS and other existing shareholders. The round of funding will be used to support the growth of Your.MD's health information platform and expansion of its global AI-powered marketplace,  OneStopHealth.
OneStop Health- a one-stop-shop in digital health to allow people to take full control of each stage of their health issues: from understanding their symptoms to finding the best treatment – all via a chatbot.
Now available on Facebook Messenger and WeChat, OneStop Health empowers mobile users to find the safest and most suitable health service providers and products. The AI-powered service that enables people to get answers from 3 fundamental health questions:
1. What's wrong with me?
AI understands what the user is suffering from
2. What's the most likely solution?
AI will find the most relevant condition and offer a solution
3. What services are available to help me get better?
In response to these questions if needed, AI will propose the best free and premium 3rd party services from OneStop Health. OneStop Health is already helping 35 international and local digital health businesses reach users with a direct need for their services. Your.MD has future plans to multiply its commercial partnerships to offer users over 100 best-in-class health services by the end of 2017.
"This invaluable partnership with Orkla enables us to build upon the immense strides we've made over the last two years to offer mobile phone users access to personal and trusted pre-primary care guidance, all across the world. This investment is going to support the next phase of development of our vision: providing the best health information everyone needs, for free," said Your.MD's CEO, Matteo Berlucchi.
Your.MD has achieved 2.1 million downloads to-date for its iOS and Android app, having been the #1 Health and Fitness app in over 120 countries since its launch in November 2015.