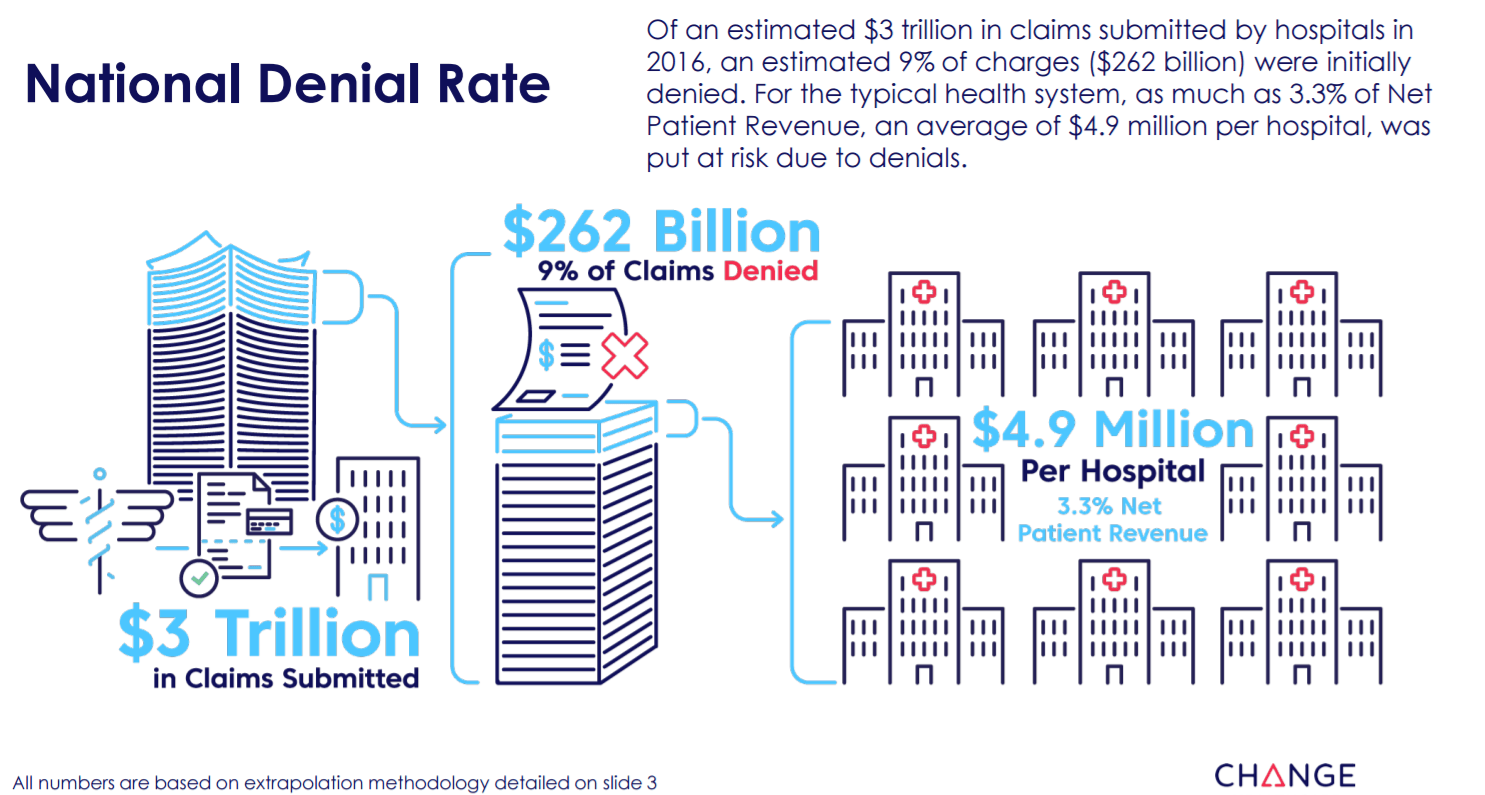 A new analysis by Change Healthcare of $3 trillion in medical claims submitted to payers last year revealed 9% of charges, representing $262 billion, were initially denied. For the typical health system, as much as 3.3% of net patient revenue, an average of $4.9 million per hospital, was put at risk due to denials. While 63% of these claims were recoverable on average, reworking each denial costs providers roughly $118 each, or as much as $8.6 billion in appeals-related administrative costs.
Achieving a high level of revenue cycle performance is difficult without contemporary revenue cycle analytics that help pinpoint the process gaps that fuel denials; as well as financial clearance and claims management tools that help ensure claims have accurate, complete data for revenue cycle functions from patient access to billing and follow up.
The Healthy Hospital Revenue Cycle Index is based on primary institutional inpatient and outpatient claims processed by Change Healthcare in 2016. Average charged amount and first denied amount for 724 hospitals in the sample was used to extrapolate total claimed charges and total first denied amounts for all 5,6832 hospitals in the nation. Using Change Healthcare's average appeal success rate of 63% and average reimbursement rate of 29%, $4.9 million per hospital is the annual final denied amount.
The analysis found in the Healthy Hospital Revenue Cycle Index is just one of many reasons why hospitals and health systems should consider implementing contemporary analytics software. In doing so, healthcare organizations can help bridge the inefficiency gap of how denials are processed resulting in improved revenue cycle efforts and increased cash flows. 
The Index also breaks down denial trends by geographic region and organization size, and provides revenue cycle executives the ability to quickly benchmark their organization's revenue cycle health against peers nationwide.  
"Eye-opening insights like these are only possible with advanced analytics and revenue cycle tools that let you identify the root causes of denials, and implement and automate practices that prevent them," said Marcy Tatsch, senior vice president and general manager, Reimbursement and Analytics Solutions, Change Healthcare in a statement. "You can't fix what you can't see. But by reinventing the revenue cycle with analytics, a hospital can improve its success rate in appealing denied claims and increase how much revenue is recovered—not to mention reducing the number of denials in the first place."