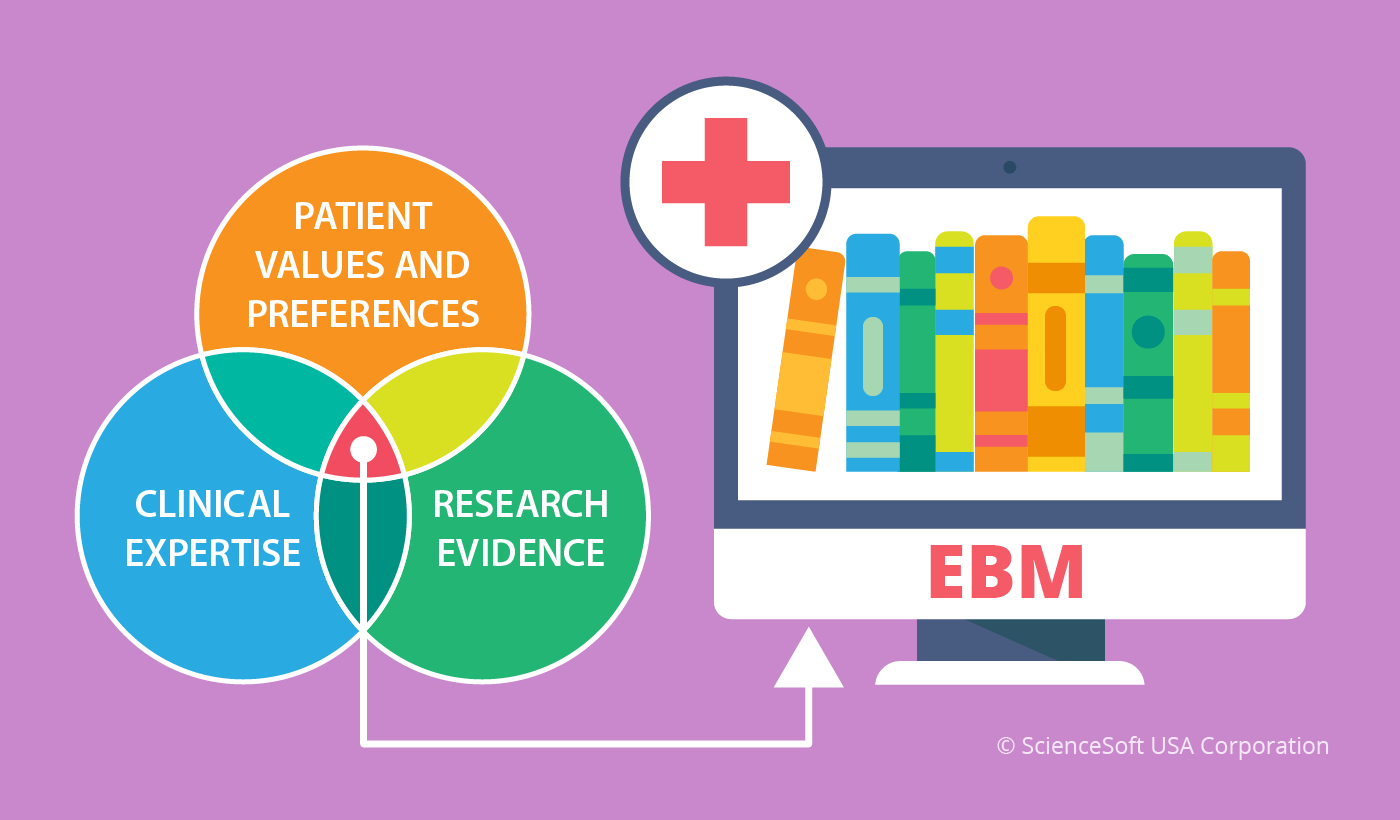 Along with the rising costs and inequality in care access, difference in accepted clinical practices is considered the third major healthcare issue, which evidence-based medicine (EBM) is expected to tackle. However, EBM implementation is challenging both in clinical and technological realms.
Evidence-based medicine (EBM) aims to provide a stronger scientific foundation for patient consulting and care through integration of clinical experience and analysis of patient vitals with up-to-date research. By enabling EBM, providers commit to continuous problem-based learning about diagnosis, prognosis, treatment, follow-up and related care areas.
Accordingly, EBM is expected to bring new opportunities in care delivery, such as reshaping disease delineation, classification and stratification; identifying new disease mechanisms and treatment modalities; improving disease evolution monitoring and more.
But before getting any clinical benefits from improved care, EBM-oriented health professionals will have to integrate evidence summaries, evidence-based guidelines as well as clinical studies for diagnosis, prognosis and treatment into their daily workflows, which is rather challenging.
EBM adoption challenges
When providers decide to equip specialists with tools and skills to transform current workflows in line with EBM, they face a number of obstacles.
To begin with, a health organization should set up a flexible training framework with the possibility to revise and adjust educational programs so that they would reflect the constantly evolving state-of-the-art of EBM. The problem here is that the provider will need to train medical staff to overcome their own judgements, look for answers in various sources and question everything.
Since a clinician is traditionally perceived as a sole decision-maker, it might hinder adherence to EBM requirements and evidence-based guidelines among health specialists.
Then, there's the knowledge barrier. Providers need to find a way to turn each health specialist's unique clinical experience into a standardized, structured and accessible knowledge. This way, personal experience can bring value to a wider group of patients.
Let's sum up. For EBM to work out, caregivers need to help health specialists to evolve knowledge-oriented working ethics as well as to train medical staff to acquire specific knowledge, nourish and share it.
The solution to EBM challenges
The starting point in solving the challenges is adding a medical data analytics module to the EHR system to process patient data and extract valuable metrics and insights, which are helpful for tracking disease and treatment progress, such as the status of health or recovery, the level of regaining physical activities, daily pain level variations, etc.
But that's not all. Data analysis isn't enough to fully implement EBM, because health professionals need a convenient way to link patients with clinical studies, trial results and latest research to enable evidence-based decision-making.
So another technology comes into play – a knowledge management system. It helps providers to create an effective learning and collaboration environment as well as to ensure that best practices are formulated and disseminated. Here's why.
How knowledge management helps putting EBM in place
Providers need to make sure they collect the bits of practical experience and turn it into solid knowledge to make clinical decisions more informed and less risky. Therefore, it is critical to identify, capture, record and pass the knowledge to other health specialists.
With healthcare knowledge management, providers can access the individual clinical experience and intuitive problem-solving skills of health specialists (tacit knowledge), and the structured information available inside and outside the organization such as evidence-based guidelines, studies, reviews and more (explicit knowledge). Now let's see how to integrate the knowledge management-based EBM, step by step.
Knowledge mapping
At this stage, providers need to create a detailed map of tacit and explicit knowledge needed according to departments. Then, it is important to define knowledge gaps in required insights, researches, studies, experience, etc. and determine the knowledge items to be obtained or improved. This preliminary step will become the foundation for EBM-driven educational programs, trainings, research and more.
During the mapping process, providers assess each health specialist's clinical experience and determine who owns high-level knowledge. Assessment also allows identifying the methods which surgeons, physicians, nurses and other professionals apply daily. It will facilitate creating the uniform evidence-based process guidelines to avoid overuse, underuse and misuse of care.
The drafted knowledge map can be then used to define missing knowledge items, for example, to decide if any professionals should pass specific training or there is the need in particular studies, research or trial summaries for certain treatments and more.
Knowledge acquisition
After the knowledge map is drafted, providers should move on to close knowledge gaps, if any, and initiate knowledge acquisition. Acquisition implies creating a specific knowledge base and putting continuous efforts into its expansion. An EBM knowledge base can consist of multiple parts, that is, separate tabs in a knowledge management system, for example, scientific research and studies, clinical cases, news and regulation updates.
Health specialists would mostly work with two tabs – clinical cases and scientific research. Clinical cases allow professionals to see all notable patient disease histories and treatment applied within the hospital. Not every patient's health record should be turned into a new case, only those that contain new knowledge. Only authorized health specialists (heads of care teams, high-level knowledge owners, etc.,) will be able to create new cases.
The scientific research and studies tab is one of the main knowledge-expanding tools. Health specialists would search for new articles and materials daily, find the most relevant best practices and upload them to the knowledge base.
Then, if health specialists couldn't find a problem-solving answer in the knowledge base or during their daily self-education process, providers can initiate their own research. It can be held in two ways:
– Gathering multiple articles and research papers, extracting needed knowledge items and combining them in a new material
– Interviewing a high-level knowledge owner and transforming their tacit knowledge into explicit one by documenting the interview
Knowledge distribution and application
Understanding the knowledge map within their healthcare organization, providers can move further to embracing EBM by creating a collaborative environment for learning and sharing. For example, nurses frequently have limited opportunities to ask physicians for a brief consultation on a particular procedure, be it treatment, counseling, supervision or anything else. With an effective knowledge sharing system, they will have a more straightforward channel to get the information they look for.
Providers have two medical knowledge distribution modes to enable – push and pull dissemination. These ensure both knowledge distribution and application.
Pull dissemination involves:
– knowledge base navigation through all the tabs with refining the results
– knowledge map tied to medical staff profiles
– collaboration sites with discussion hubs and forums
– online consulting and courses
– topic subscriptions to the latest updates across departments and diseases
Push dissemination includes:
– medical communities of practice (by department, by specialty, by position, etc.)
– collaboration sites with discussion hubs and forums
– group workshops and training sessions
– notifying collaboration site members on topic updates, new knowledge items added to knowledge base
Knowledge review and update
Any knowledge gets outdated eventually, and using it as it is every other year can lead to preventable medical errors. Therefore, providers need to continuously invest efforts into reviewing and updating knowledge items.
To enable that, it is recommended to tag each scientific research, study and article in the knowledge management system with the publishing and update date. Then, health specialists will get automated notifications about their soon-to-be-outdated materials and check an article or a study. If they find the knowledge item irrelevant, they can delete it and avoid useless and even harmful knowledge.
EBM: The chance of survival
Knowledge management-based EBM combines both uniformity and personalization of care, so some health professionals will have hard times overcoming the 'mechanical' feeling of following the guidelines, some might feel insulted by the need to acquire new knowledge and do extra research to treat patients.
Good news is that the alliance of technologies can drive the change to safer and more personalized care, as well as improve clinical expertise in general. EHR and medical data analytics methods allow getting a comprehensive view on patient conditions and health outcomes, while a knowledge management system allows to structure and document the knowledge to support clinical expertise.
Knowledge management also helps providers to detect knowledge gaps across the organization and take timely elimination measures, such as trainings, expert consulting, internal communities of practice and more. Caregivers can develop best practices and ensure uniform evidence-based guidelines are followed in internal processes. In the long run, all these efforts will pay off with outstanding clinical expertise and the power to help patients with complex conditions.