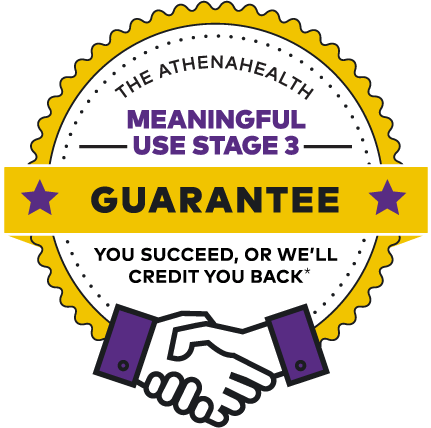 athenahealth, Inc., an EHR provider for hospital and ambulatory clients nationwide, today announced the expansion of the company's Guarantee Program to include a Meaningful Use (MU) Stage 3 Guarantee for hospitals. The Meaningful Use Stage 3 Guarantee for hospitals joins a growing portfolio of quality initiatives support offered by the company, including a Merit-Based Incentive Payment System (MIPS) guarantee and client support program. 
"Every hospital or health system —no matter the size— wants a partner who can tackle the complex work of getting reimbursed," said Jonathan Bush, chief executive officer at athenahealth in a statement. "As government-mandated programs reinvent themselves year after year, we've taken on the reporting administration so our clients can remain focused. By leveraging our national network, our payer and quality measure rules engine, and years of expertise around cracking the code of the complicated, we aim to free providers and care staff to spend more time delivering care."
What is athenahealth Guaranteeing?
Each client must agree to the Meaningful Use Stage 3 guarantee (the "Guarantee") terms in an effective services agreement between athenahealth and client. Eligibility conditions apply, including, but not limited to, that the Guarantee is only available to new athenahealth clients and their eligible hospitals with 50 beds or fewer that are live on athenaOne for Hospitals and Health System services by June 30, 2018.
Under athenahealth's Meaningful Use Stage 3 Guarantee for hospitals, if a hospital uses athenaOne for Hospitals & Health Systems Service in accordance with athenahealth's best practices and experiences a downward payment adjustment to its Medicare Part A fee schedule, athenahealth will provide a service fee credit to offset such downward payment adjustment, subject to certain limitations. Clients will not be charged additional fees nor burdened with upgrades to meet Meaningful Use requirements.
athenaClinicals for Hospitals & Health Systems will be certified EHR technology in the ONC Health IT Certification program for Stage 3 ahead of the reporting period in 2018.
The Meaningful Use Stage 3 Guarantee for hospitals is the newest addition to the athenahealth portfolio of industry-leading programs for government-mandated quality reporting, including a Meaningful Use guarantee for ambulatory clients with 96.7 percent of clients successfully attesting in 2016, and a Value Modifier (VM) program in which 96.3 percent of athenahealth providers successfully avoided VM 2017 penalties.
Since entering the hospital market in 2015, athenahealth has contracted with more than 100 community, rural, and critical access hospitals across 35 states to maximize day-to-day efficiencies and staff performance by automating or eliminating the tedious tasks that divert time from patients. Even as the average hospital's operating budget shrinks and resources become scarce, athenahealth hospitals have thrived. According to the company's 2016 fiscal data, clients achieved an average of over 106 percent of cash flow above baseline and cut Days in Accounts Receivable by 16 percent.