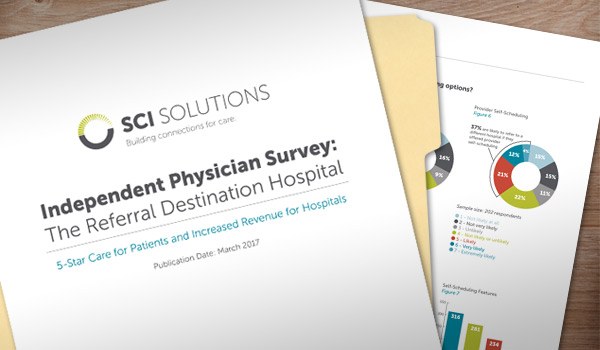 A survey of independent physician revealed that convenience and communication are critical attributes for deciding where they'll send their patients. Functions like self-scheduling, assistance confirming insurance network participation and obtaining insurance authorizations are the patient-focused care coordination support physicians are looking for. 
SCI Solutions analyzed the findings from Reaction's (formerly peer60) survey in the report, "Independent Physician Survey: The Referral Destination Hospital" and concluded that hospitals are not realizing the full economic value of community partners and missing a big opportunity to become a destination of choice hospital.
The survey reveals two major themes: convenience and communication – and in the service-driven world of healthcare, hospitals need to offer both in order to foster the trust necessary to be a referral destination of choice. Hospitals that eliminate hassles with booking appointments and provide on-time follow ups are more likely to bring in and keep providers within their referral network.
Alternatively, with the increasing consumerization of healthcare, patients have more choices than ever before and want to go where they know they'll get the best care. According to a recent report from Accenture, seven percent of patients have switched healthcare providers due to a poor customer experience, which results in a loss of more than $100 million in annual revenue per hospital. Independent physicians know this too, as roughly half of those surveyed place a high value on patient preference when choosing a hospital partner. Conveniences like self-scheduling, the ability to easily confirm insurance network participation and help with obtaining insurance authorizations are high on the list of preferred services.
"For hospitals, health systems and independent physician practices alike, a critical aspect of the business is providing patient-centric experiences that encourage long-term relationships between independent physicians and hospital providers, which lead to significant increases in potential revenue," said Jamie Gier, chief marketing officer of SCI Solutions. "Offering convenience and patient-focused care coordination creates a competitive advantage for hospitals."
Key Findings
Hospitals that strive to provide the best service are considered "top hospitals" that tend to attract more referring partners, as the following survey highlights show:
– The percentage of both order and referral volume going to top hospital partners is high. Of the respondents who indicated they did have preferred hospital partners, nearly half indicated that more than 70 percent of their orders and referrals go to top partner(s) largely based on patient satisfaction criteria.
– Insurance authorizations and self-scheduling options are two ways hospitals can become more attractive to referring physicians.
– Thirty-eight percent of physicians are more likely to refer to a hospital if the hospital helps secure insurance authorizations on behalf of patients, and 37 percent are more likely to refer to a hospital if the hospital offers self-scheduling tools.
– In terms of physician self-scheduling, the most important features are convenience and good communication (66 percent identified with appointment confirmations and instructions).
– Physicians want to refer patients to hospitals that are easy to work with, provide communication back to them about their patients, and make the experience smooth and convenient for the patient. Patient self-scheduling was another important feature.
Survey Background/Methodology
SCI Solutions used data collected through Reaction's platform, a Research as a Service ecosystem with access to more than 500,000 healthcare professionals in order to author this report. The results include responses from 549 independent physicians in the U.S. All decimals in this report are rounded to the nearest percentage point. The estimates and opinions expressed in this report are extrapolated from the survey results.