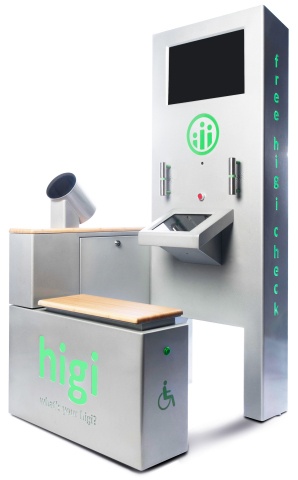 Sam's Club has teamed up with Chicago-based digital health startup higi to make their free, self-service health screening kiosks available at 622 Sam's Club locations with a pharmacy. The higi self-service stations will complement the existing free health screening program that Sam's Club offers every month from January through October to both members and the public.
Research has shown that Americans are eager to leverage digital tools to manage their personal health. The health kiosks stations are free, self-service health screenings that will assess a user's blood pressure, pulse, weight, and body mass index (BMI). Users can also track their health information over time and share it with others through higi's online platform, which can aggregate data from over 80 health devices, activity trackers and apps to provide a holistic view of the state of their health.
In addition to free health screenings, Sam's Club Pharmacies provide other savings and preventive care to each community they serve, such as year-round immunizations.*** Eligible Sam's Club Plus members can also save more on prescriptions, including exclusive discounts on select generic prescriptions, some of which are available free of charge, in many states, or at a discounted cost of $4 or $10 for a 30-day supply. The benefit is exclusively available to Plus members in addition to the Sam's Club Extra Value Drug List, through which Business and Plus members also receive 10-30 percent savings on select brand name medications. Certain restrictions apply to these programs so members and potential members should check with their local Sam's Club Pharmacy for details.
"Knowing how challenging it can be for some people to find the time to get a checkup, we believe higi's self-service stations will be a great tool to complement our monthly health screening program, as they both help make it easier for people learn more about their health," said Jill Turner-Mitchael, senior vice president, Sam's Club Consumables & Health and Wellness in a statement. "We also recognize the importance of using the latest technology to motivate people to live healthier lives, so our partnership with higi is a perfect match."
Founded in 2012, the higi owns and operates the largest FDA-cleared self-screening health station network in the United States with nearly 11,000 stations located in food, drug and mass market retailers. higi also operates a robust online community platform that is linked to the higi health station network and over 80 health devices, activity trackers and apps. To date, more than 40 million people have used a higi health station to conduct 190 million biometric screenings (blood pressure, pulse, weight, body mass index). Over 4 million people have signed up for a higi account which offers an all-in-one biometric and activity data feed for personal health management and information-sharing with friends, family and trusted healthcare providers.