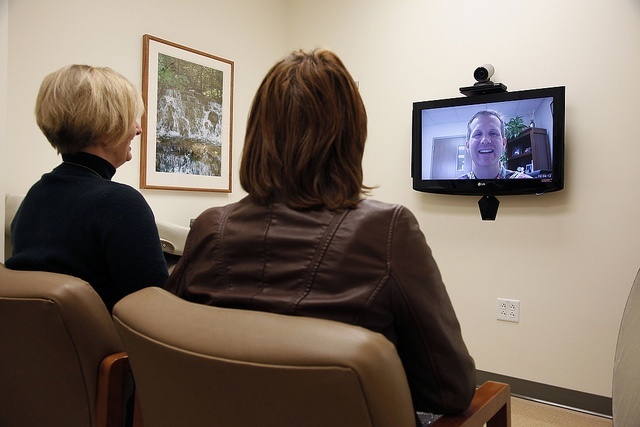 Editor's Note: Dr. Robert M. Colton, MD is the Chairman of ClearlyDerm, a Florida-based dermatology practice. Dr. Colton previously co-founded MDVIP, a successful concierge medical practice which was sold to Proctor and Gamble in 2009.
With its potential to cut costs and improve overall access to care, telehealth may be the innovation dermatologists have been waiting for.
Like so many other industries, healthcare has had to adapt to a consumer base that increasingly prefers web-based services to in-person assistance. But telehealth has proved to be much more than just a convenient alternative to traditional care.
By providing increased, cost-effective access to care, telehealth is making it easier and more affordable for people all over the country to receive the care they so desperately need. Indeed, this innovative technology could play a critical role in solving the current healthcare crisis.
While dermatology might initially seem incompatible with telehealth solutions (how can you diagnose a skin condition during an online appointment?), it is actually one of the branches of medicine best-suited to make this exciting transition. As mobile healthcare expert Vera Gruessner points out, telecare isn't just beneficial to dermatology patients — it could actually ease provision of care for dermatologists as well.
Increasing Accessibility to Affordable Care
As Gruessner notes, telehealth is a huge (and promising) next step for the field of dermatology. The rising prominence of telehealth has been notably facilitated by advancements in medical technology — because doctors can now capture digital images of skin conditions during a remote exam, online diagnoses have become quick, easy, and just as accurate as those yielded by in-office visits.
These teleservices have also increased availability of care, particularly for patients who "live in rural areas and lack access to specialty care like dermatology" — making top-notch dermatology treatment accessible to a wider geographical and socioeconomic range of patients. What's more, these services are delivered in a more timely manner, since primary care physicians and dermatologists can communicate more quickly and seamlessly via online platforms.
Take the state of Florida, where my practice is based, as an example. According to the Florida Society of Dermatology & Dermatological Surgery, there are between 550 and 575 certified dermatologists currently practicing in Florida. According to a 2014 census, however, the overall population of Florida is 19.89 million. That means that, for every practicing dermatologist, there are more than 33,000 potential patients — which is more, obviously, than even the most prolific practice can handle.
As these statistics suggest, access to in-person dermatology treatment is distributed extremely unevenly across the United States. By providing the option for telecare, dermatologists can help patients in states like Florida get the help they need and deserve, while improving their bottom line. It's a win-win for patients and practices alike.
Telehealth Eases Diagnosis & Treatment
In addition to distributing care across a larger geographic area, telehealth also makes care available to those who couldn't afford it or simply wouldn't seek it out otherwise. According to a study of California-based practices conducted by Medscape, "primary care practices that offer teledermatology had a 64% rise in the fraction of patients who saw a dermatologist," compared to only a 21% increase in those that didn't offer remote treatment options.
Evidently, because of the added convenience of teledermatology, patients who suffer from minor or easily diagnosable issues like comedonal acne are much more likely to book an appointment. In fact, as Medscape points out, 46.7% of all teledermatology appointments in the study were with patients suffering from viral skin lesions and acne — conditions that are easy to identify whether you're seeing a patient at your practice or examining pustules on a screen.
Telehealth and the Future of Dermatology
Of course, it's not just the convenience factor that makes teledermatology such an attractive option to prospective patients. Because teledermatology appointments mean dermatologists can maximize the amount of time they spend seeing patients, the baseline cost of services decreases and potential revenue increases. Between this increased affordability, access, and ability to attend appointments from the comfort of one's own home, it's no wonder telehealth trials are seeing extremely positive results in terms of patient satisfaction.
But an important question remains: are online appointments really as effective as in-office ones? For practices like mine, offering telehealth services mean we're available to help patients 24/7, at a much lower cost that allows for more frequent visits. And the results are just as accurate — as the Dermatologist notes, out of 70 monitored consultations, 96% generated a correct diagnosis and treatment plan for a chronic skin disease.
It's no wonder, then, that telehealth is a win-win for everyone — benefiting both the patient and provider, it promises a future where high quality, affordable skincare is never more than a few clicks away.