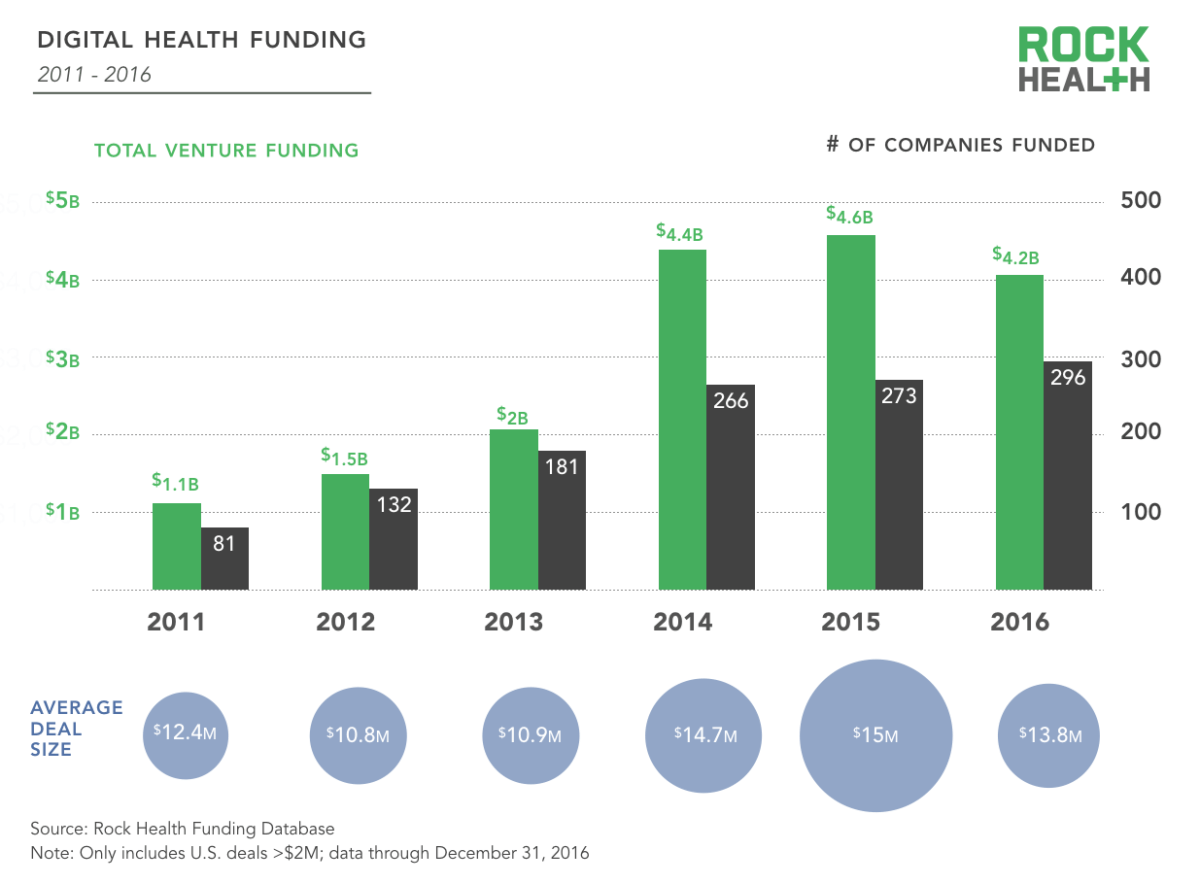 Digital health funding reached $4.2B in 2016, down 8% from 2015, representing a compound annual growth (CAGR) from 2011-2016 of 30%, according to the  2016 Year End Funding Report report from digital health venture firm Rock Health. 2016  The annual report reveals 2016 was a strong year for digital health, but it also served as a reality check for founders and investors due to the election and uncertainty around the future of the ACA.
In comparison to StartUp Health's digital health funding report which reported $8 billion invested in over 500 digital health companies, Rock Health only tracks deals over $2M reporting only 304 deals across 296 companies, closing with lower average deal size of $13.8M.
Other key findings from the Rock Health annual year-end report include:
– Genomics and sequencing companies stole investors' hearts in 2016, raising $410M—more than any other category. The next most popular categories, wearables/biosensing and analytics/big data, raised $341M and $312M, respectively.
– Despite recent diversity efforts, men still comprise the vast majority (91%) of funded digital health CEOs. Only 9% of companies funded in 2016 had a woman CEO, down from 11% in 2015.
– Digital health saw noticeable growth in the number of active investors: 451—with over 200 of those making their first digital health investment in 2016.
– 2016 was a strong year for digital health M&A transactions, with 136 deals worth $6.8B in disclosed transaction value, up 9% from 2015.
– Companies that sell to hospitals were popular acquisition targets in 2016, including 10 physician practice management technology companies, 11 hospital administration tools, and 21 companies building EHR/clinical workflow tools. The most common type of acquirer continued to be other digital health companies, followed by tech companies.