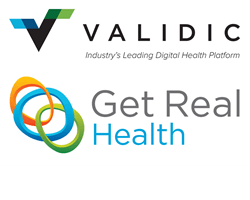 Get Real Health, a Rockville, MD-based  digital health company is partnering with Validic to integrate patient-generated data from digital health apps, clinical devices and wearables into its patient engagement products, InstantPHR® and CHBase. As part of the integration, Get Real Health will leverage Validic's digital health platform to provide healthcare organizations will be able to access actionable patient data through one easy connection that offers the 360-degree view essential for value-based healthcare.
Get Real Health/Validic Integration Details
As healthcare continues to move to the value-based delivery model, patient-generated data becomes an essential component in efficiently managing the health of large populations. Get Real Health and Validic help healthcare providers monitor patients in between visits and gain insight into patients' health risk factors, allowing for more accountable care delivery. Using Get Real Health's Validic-enhanced platform, healthcare organizations will be able to integrate clinical, fitness, wellness and nutritional data directly into the patient's personal health portal. This data can then flow back into the provider portal and electronic medical record, giving nurses and physicians visibility to the patient's health on a daily basis.
For example, thanks to Validic's VitalSnap™ technology, a patient can use her favorite non-connected glucometer or blood pressure cuff, then simply capture the device's reading through the camera on her smartphone. Validic then sends the data directly into the patient's Get Real Health-powered portal, where it can be shared with her doctor. This enhanced functionality Validic offers with VitalSnap differentiates it from its competitors by freeing patients to use their legacy devices.
"Providers need to fill the gaps in their clinical records with data from patients' apps and devices," said Get Real Health President and Founding Partner Robin Wiener in a statement. "By integrating with Validic, our platform becomes even more powerful by allowing patients and providers to take a more active role in recognizing behaviors and taking measures to prevent costly acute problems before they start."