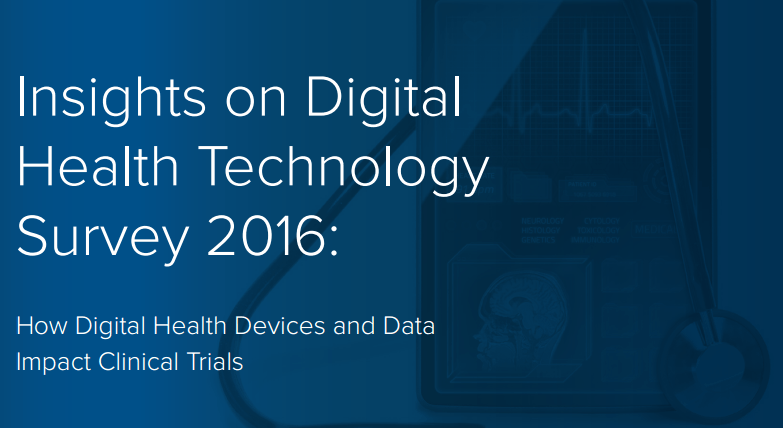 Pharma and biotech will increasingly turn to digital health tools over the next five years to better collect, analyze and act on patient-generated health data (PGHD), according to a new research paper published by Validic. The study conducted over two months includes survey responses of the BioPharma Dive readership from nearly 200 global pharma and biotech companies, CROs and technology providers to provide insights on the benefits and challenges of using digital health data and devices in clinical trials. 
Research reveals the rise in acceptance and use of PGHD and digital health technologies are being driven by increased pressures to reduce trials costs, streamline processes, demonstrate real world-efficacy, address medication adherence and improve treatments for chronic diseases.
In fact, over 60 percent of respondents stated they have used digital health technologies in clinical trials and over 97 percent said they plan to use these tools increasingly over the next five years. Findings from the survey point to the increasing prevalence of technology-driven clinical trials and growing need for automated access to real-time, remotely-collected patient data.
8 Key Drivers Fueling the Adoption of Digital Health

Key identified drivers fueling the induction and utilization of digital health technologies – in this study classified as wearables, in-home clinical devices, sensors and apps – and the patient health data generated from these tools in the report include: 
1. The use of digital technologies is growing: Over 60 percent of survey respondents stated they have used digital health technologies in clinical trials and an impressive 97.4 percent plan to use digital technologies more in clinical trials in the next five years.
2. Applications are moving from mobile apps to wearables: The most commonly used devices in clinical trials currently are mobile apps and in-home clinical grade devices. Future use is likely to focus more on wearable activity trackers and sensors. This maps to increased use of these types of devices by consumers. Less than 3 percent stated they would not use devices and digital data in the future.
3. The roles of digital data are changing: Currently, the use of digital health technologies is mostly focused on recruitment, remote patient monitoring and medication adherence. There is some use in postmarket research and fostering patient communities. One hundred percent of respondents saw technology as improving medication adherence. Patient communities are expected to be one of the biggest growth areas.
4. Business is driving digital health: Three of the biggest drivers selected by respondents—reducing trial costs, streamlining trial processes and demonstrating real-world efficacy—are all driven by the bottom line: cutting drug development costs and ensuring an adequate return on investment. Patient-centricity, the increased focus on the patient experience, is also a key driver.
5. Finding the right endpoint is key: More than two thirds of individuals surveyed thought improving medication adherence was the most important outcome for drug developers, as patient recruitment and retention are challenges across clinical development.
6. Real-time data access is an important benefit: Real-time information, flagged by over half of respondents as one of the top benefits of digital data, supports early decision-making in drug development. This frees up drug developers and sites to monitor the responses of patients more closely.
7. Chronic disease remains important: Chronic conditions, particularly cardiovascular disease and metabolic disorders, are a focus for many pharma and biotech companies because of the size of the market and the increasing aging population. Seven in 10 of those surveyed thought digital health data could have the greatest impact in improving care for chronic disease populations.
8. Challenges remain: The use of digital data and devices in clinical trials is still relatively new. Respondents were most concerned about the accuracy of data generated by digital health devices.
"The use of digital health technologies and patient-generated health data is becoming a proven necessity to the operational efficiency and patient-centricity of the pharmaceutical industry, said Validic CEO and Co-Founder Drew Schiller in a statement. "This remotely-collected data has the potential to reduce patient burden allowing for more passive engagement and data collection, while also improving the accuracy of data patients contribute during and after trials."
To learn more about the growth, acceptance and use of digital health technologies and data in clinical trials, download the Insights on Digital Health Technology Survey 2016 research report.