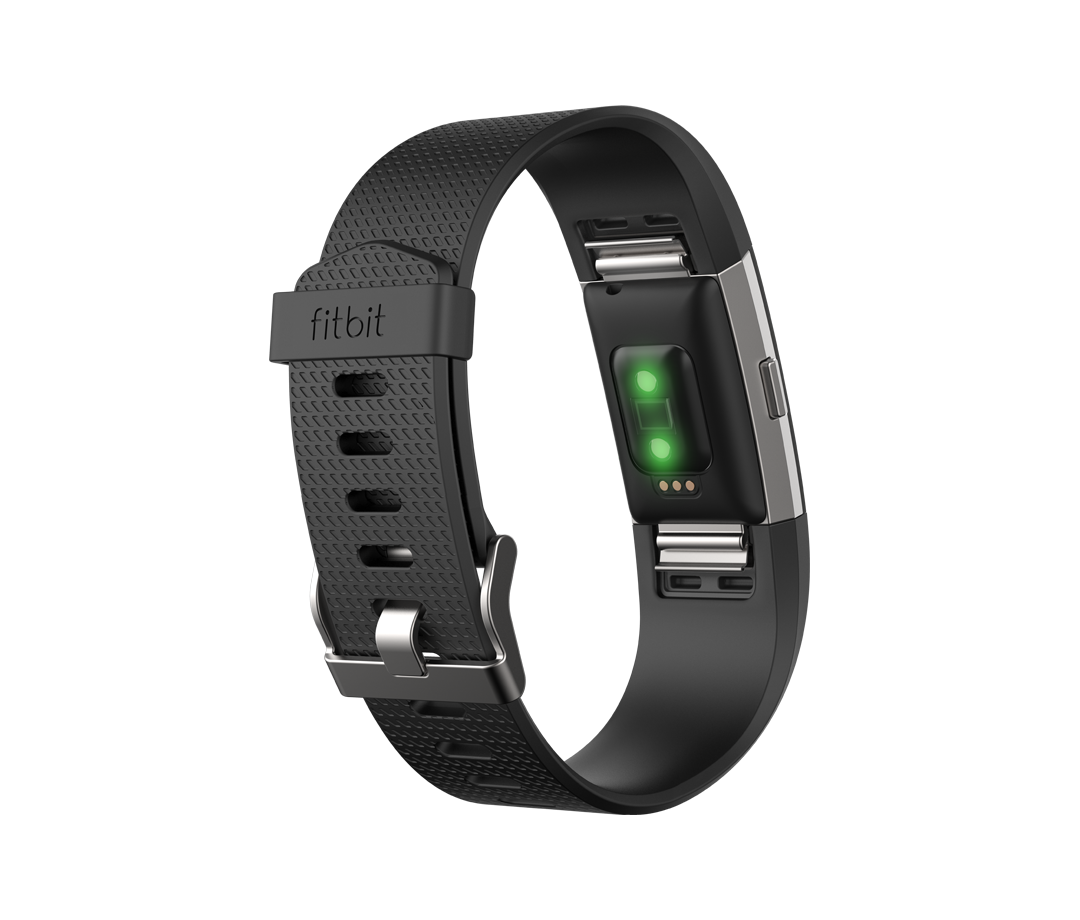 On Monday, connected health and fitness provider Fitbit unveiled their latest fitness wristbands – Fitbit Charge 2 and Fitbit Flex 2 that are now available for presale, with retail availability starting this fall. Building on the success of its wearable devices, the new Charge 2 and Flex 2 effortlessly track your most important health and fitness stats, with new sleek looks and an experience that is even more engaging, motivating and personal to help you reach your goals. 
Additonally, Fitbit announced new stylish collections for Fitbit Alta™ and Fitbit Blaze™, as well as Fitbit Adventures – an immersive new Challenge feature within the Fitbit app across the full Fitbit platform of products
Here are 15 key features to know about the Fitbit Charge 2 and Fitbit Flex 2: 
Fitbit Charge 2 Key Features Highlights: 
1. New Design: The modular design and easy-to-read tap-sensitive display is four times larger than Charge HR, letting you personalize a look that fits your style with interchangeable bands and clock faces – while keeping you connected with the smart notifications you need most.
2. Purse Pulse Innovation: The new Fitbit Charge 2 features PurePulse heart rate tracking making it easier to maximize workouts, better track calorie burn and get a picture of your overall health. Charge 2 advances health and fitness tracking with two new impactful features that are powered by your personal heart rate. 
3. Cardio Fitness Level Snapshot: Automatically find out how fit you are with a personalized cardio fitness level and score, based on your estimated VO2 Max, that are calculated using your user profile, heart rate and exercise data. Plus, get guidance to take action and improve your score over time by increasing exercise frequency, intensity, or by reaching a healthier weight.
4. Guided Breathing Sessions: Charge 2 offers a relaxing mindfulness experience that calms your body and mind through personalized deep-breathing sessions called "Relax". The beat-to-beat changes in your heart rate determine your personalized breathing rate for each experience. Two- and five-minute sessions display real-time heart rate visualizations, animations and vibrational cues to help you align each inhale and exhale with the guide, and find moments of calm throughout your day. 
5. Multi-sport modes: Track specific workouts like runs, bike rides, weights, yoga and more, plus get post-exercise summaries and a detailed report of your activity in the Fitbit® app.
6. Connected GPS: Charge 2 links your fitness wristband with the GPS in your smartphone to provide even more precise and actionable real-time stats, like pace and distance when you're running, while recording a map of your route in the app.
7. Advanced Sensors for All-Day Tracking: Advanced sensors make tracking your whole day effortless by automatically capturing all-day activity and sleep. SmartTrack™ automatic exercise recognition records everyday activities like walking, running, elliptical, and more with ease. Reminders to Move motivate you to stay active throughout the day.
8. Interval Workout Mode: Guides you in alternating periods of high-intensity exercise and recovery to maximize workouts like circuit training so you can stay focused on your workout.
Flex 2 Key Features Highlights
9. 30% Smaller Design: Flex 2 features a removable tracker and interchangeable slim, classic fitness bands in seven colors that are perfect for every day, hitting the gym or going for a swim.
10. SmartTrack:  Automatic exercise tracking recognizes select workouts (walks, runs, rides, elliptical, sports, aerobic workouts, and now swims).
11. Reminders to Move:  Helps you stay active with friendly reminders to reach mini hourly step goals and reduce stationary time. Key features of this include personalized weekly exercise goals to help you embrace a consistent routine and stay motivated.
12. Simple LED Display: A simple LED display uses color-coded lights to show progress toward your daily goal, and keeps you connected with call and text notifications.
13. Swim-proof with automatic swim tracking: Flex 2 is water resistant up to 50 meters, whether you're in the shower, pool or ocean, and it automatically tracks your pool swims including laps, duration and calories burned in the Fitbit App.
14. Designer Collections with Fashion Designers & Brands: Flex features designer collections from PUBLIC SCHOOL, Simply Vera Vera Wang for Kohls and Tory Burch. 
15. Improved Accessory Options: Customize Flex 2 in a variety of Fitbit-designed bracelets and pendants to best suit your style or activity. Choose from a range of luxe, premium mirror-finish bangles in silver stainless steel, and 22k-plated gold or rose gold stainless steel, or elegant lariat-style necklaces in silver stainless steel or 22k-plated gold stainless steel for an elevated look that fits seamlessly into your everyday life – from the office to a night out. 
Pricing, Pre-Orders, Availability
Charge 2 and Flex 2 are now available for presale today on Fitbit.com at major North American retailers online, including Amazon.com, Best Buy, Brookstone, Dick's Sporting Goods, Nordstrom, REI, Target and Verizon. Fitbit Charge 2 and Flex 2 will be available globally at other major retailers in September and October, respectively. Prices below are on Fitbit.com, pricing at retailers may vary.
Fitbit Charge 2 ($149.95) tracker with a classic fitness band in black, blue, plum or teal Classic fitness accessory bands in four colors, sold separately ($29.95)
– Luxe premium leather accessory bands in blush pink, brown and indigo ($69.95)
– Special edition series in gunmetal and rose gold coming soon ($179.95)
Fitbit Flex 2 ($99.95) tracker with a classic fitness band in black, lavender, magenta or navy
– Classic fitness accessory bands in seven on-trend shades of black, blush pink, gray, lavender, magenta, navy and yellow, coming soon and sold separately ($14.95)
– Classic 3-pack fitness accessory band hues in Pink (blush pink, lavender and magenta) and Sport (gray, navy and yellow) coming soon ($29.95)
– Bangle accessory in gold, rose gold ($99.95) and silver stainless steel ($89.95)
– Pendant accessory in gold ($99.95) and silver stainless steel ($79.95)