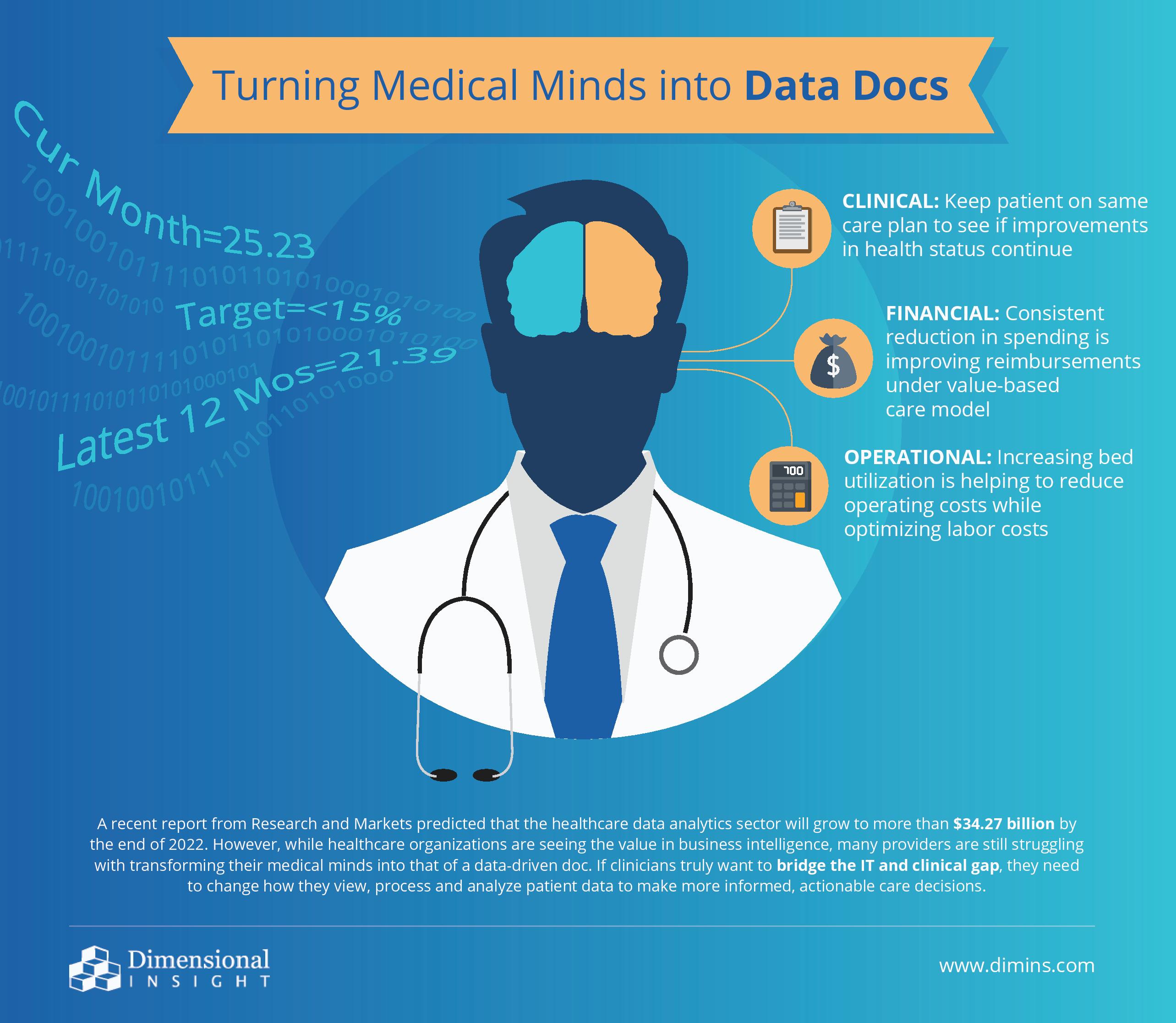 Editor's Note: Nora Lissy, RN is the director of healthcare informatics at Dimensional Insight, a provider of data analytics and integrated business intelligence for healthcare organizations. 
A recent report from Grand View Research found that the global healthcare analytics market is expected to reach $42.8 billion by 2024, proving the intrinsic value that health organizations are seeing from this type of capability. Analytics have the ability to benefit a number of departments across a healthcare organization.
From a clinical standpoint, providers are able to examine and analyze the data to make more informed care decisions. The financial side of a healthcare facility can use the information to see where costs can be reduced and where new investments can improve the bottom line.
From an operations standpoint, managers can leverage analytics to observe their staff's performance from an efficiency, effectiveness and quality standpoint, and make any necessary adjustments to their problem-solving tactics or strategic planning.
However, while the promise of data-driven healthcare holds immense opportunity, the reality is that there is still a disconnect between having an analytics capability and optimizing a solution to provide the most value for internal staff. For example, from a provider standpoint, many are still struggling to bridge the gap with turning data-driven insights into actionable care improvements.
The ultimate goal would be for a provider to be able to use the data in their EHR to identify patterns in practice and outcomes and use this information to improve the care and outcomes of all their patients with similar health issues.
For example, review of a data set from a pharmaceutical plans of a former patient and be able to use the information to make a more informed prescribing decision for a current patient.  While the industry is starting to take the right steps forward with this objective, the transition of turning a "medical mind" into that of a "data-driven doc" is still a hurdle.
So what can healthcare organizations do to help their clinical staff maximize on a data analytics capability and apply best practices in their day-to-day care routine? It starts with identifying which members of the clinical staff have a "data-centric mind" and who can easily see how data can be turned into care improvements, which can in turn be taught to other members of the care team.
For example, looking at an analysis of a hospital's emergency department and seeing how patients' length-of-stay can be reduced while still providing the same quality of care delivery. A person in this role can communicate to both the clinical and IT sides of the house on why data needs to be presented in a certain way, and where care adjustments and enhancements can be made.
It is up to hospital leadership to determine who in their organization is best suited to turn providers' "Medical Minds" into "Data Docs" of tomorrow. 
To do so, here are three questions to consider:
1. Who is the "go-to" person at the organization?
Who is the person in the organization/department who everyone goes to with questions? This can vary from anything from a question on a new software program to the status of new patient's rehab evaluation. This doesn't necessarily even need to be someone from the clinical or technical side; it should just be a staff member who has a global view of the organization and who is well-versed in both sides of the house, making it easy to get the two on the same page with how they view and utilize analytics.
2. Who has a knack for good business intuition?
Having a strong business sense is an invaluable asset for any staff member. Being able to couple this skill with a data-oriented mindset is also key when determining this clinical/IT liaison. This person should not be afraid to question the reasoning behind certain initiatives and processes, and should, by nature, be a problem solver. Much like the organization's "go-to" contact, this person should also be able to have a global-view of the care facility, and have the ability to effectively translate the business and operational needs of the organization into that of the technical needs.
3. Who is constantly hungry to learn?
Continuing education courses are extremely common with treatment plans and new medications continuing to change the way that care is delivered. Similar programs are also available for providers who are looking to better understand the IT capabilities that they are now using on a daily basis.
By providing clinical teams with the education needed to maximize on an informatics or analytics solution, providers can take that first step towards developing a data-driven mindset and can help to close the communication gap between IT and non-IT professionals.
Rather than simply asking an IT staff member to answer an analytical question, providers inherently become a part of the conversation helping to further unite the separate departments under one hospital roof.
As the healthcare data analytics market continues to grow, it is important as hospital leaders to ensure that the whole hospital is ready to grow with it. By determining the best liaison between clinical staff and IT staff, healthcare organizations will be able to guarantee that the gap between both departments is slowly but surely closing and that clinical teams are taking full advantage of the new data-driven mindset.