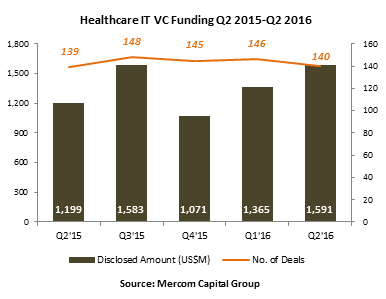 Healthcare IT funding reached $1.6B in 140 deals in the second quarter of 2016, representing a 33% increase compared to the $1.4B raised during the same period in 2015, according to a new report from Mercom Capital Group. Mercom's comprehensive report covers healthcare IT and digital health deals of all sizes across the globe.
So far in the first half of 2016, close to $3 billion has been raised in 286 deals, a 50 percent increase compared to nearly $2 billion raised during the same period in 2015.  The numbers are similar to the digital health funding reported by StartUp Health last week. 
Key healthcare IT funding highlights in Q2 2016 include: 
– The top four funded healthcare IT technologies in Q2 2016 were mHealth Apps with $779 Million,  Data Analytics with $234 Million,  Wearables/Sensors with $129 Million and Mobile Wireless with $75 Million
– Chinese companies outraised American companies $733 million to $719 million
– VC Funding for U.S. companies fell by almost 37 percent quarter-over-quarter (QoQ) and Chinese companies for the first time emerged as the top Healthcare IT funding recipients.
– Total corporate funding raised in the sector (including VC, Debt, Public Market Financing, and IPOs) for Q2 2016 totaled $1.7 billion compared to $1.5 billion in the previous quarter. There was one IPO by NantHealth for $91 million.
– Healthcare consumer-centric companies raised more than $1.2 billion in 95 deals, accounting for 77 percent of the total $1.6 billion raised in Q2 2016 compared to $796 million in 97 deals in Q1 2016.
– Healthcare practice-centric companies received 23 percent of the funding in the second quarter of 2016 with $360 million in 45 deals, a 36 percent drop compared to the $569 million raised in 49 deals in Q1 2016.
– The top funded areas in Q2 2016 were mHealth apps with $779 million, Data Aanalytics companies with $234 million, Wearables/Sensors with $129 million, M obile Wireless with $75 million and Wellness with $60 million.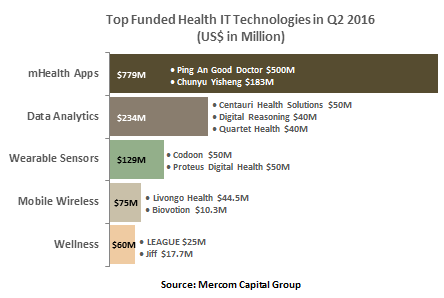 – There were 43 early-stage deals at or below $2 million, including 12 accelerator and incubator deals.
– Ping An Good Doctor raised $500 million and Chunyu Yisheng secured $183 million in VC funding in Q2 2016. Centauri Health Solutions, Codoon, and Proteus Digital Health each raised $50 million.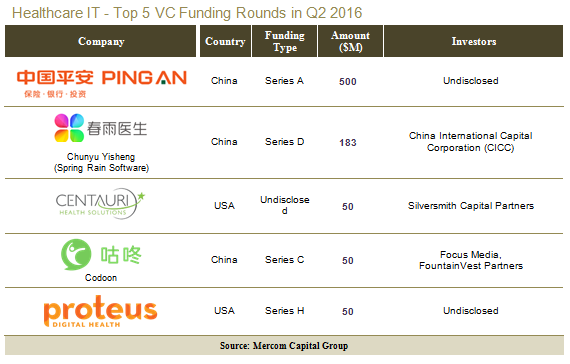 – A total of 282 investors, including three accelerators/incubators, participated in Healthcare IT deals in the second quarter of 2016, with 20 investors participating in multiple rounds. Khosla Ventures was involved in four deals.
– China topped the list bringing in $733 million in three deals, accounting for 46 percent of total funding. Funding fell sharply in the United States by almost 40 percent. 
– There were 53 M&A transactions (seven disclosed) involving Healthcare IT companies in the second quarter of 2016, compared to 58 transactions (nine disclosed) in Q1 2016. 
– M&A activity was led by data analytics, with six deals, Rating and Comparison Shopping and EHR/EMR companies with five deals apiece, Health Information Exchange companies with four, followed by Mobile Health, Telehealth, and Population Management companies with three each.
– The top disclosed M&A transactions in Q2 2016 included Veritas Capital's acquisition of Verisk Analytics' healthcare services business for $820 million; MedData's acquisition of Cardon Outreach for $400 million; Nokia acquiring Withings for $191 million and Teladoc's acquisition of HealthiestYou for $125 million.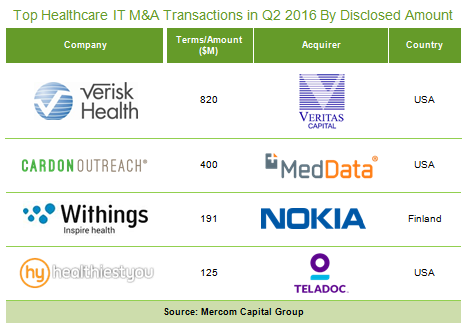 – Data Analytics and mHealth Apps were involved in the most M&A deals in the first half of 2016 with 11 each.