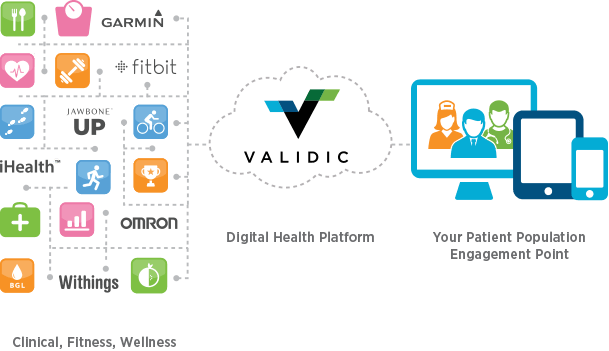 Digital health integration platform Validic has announced a strategic partnership with SAP to integrate patient-generated data into the SAP Connected Health platform. Through this strategic relationship, Validic will enable SAP and its global healthcare clients the opportunity to scale the access patient data from clinical devices, wearables and consumer health apps. 
Validic-SAP Patient Generated Data Integration
Validic's digital health platform, delivering access to health insights from over 280 connected health devices and applications, will provide the necessary patient-generated health data integration component for SAP Health Engagement solution.  The SAP Health Engagement solution is part of the portfolio of healthcare offerings built on the SAP Connected Health platform. 
The SAP Connected Health platform enables the processing and real-time analysis of big data from various medical sources in a single system – integrating clinical data from EMRs, biological data from genome sequencing and Internet of Things (IoT) data from consumer and clinical health devices. 
Driving the Need for Patient-Generated Data
The massive amount of patient data now available to healthcare stakeholders offers new opportunities to deliver personalized medicine and value-based care. Powering the shift toward personalized medicine is the integration of patient-generated health data captured outside of the clinical setting into care treatment plans, clinical research studies, remote monitoring programs and preventative wellness initiatives.
Key Benefits of Partnership
Having a broad set of patient data integrated into one system will allow healthcare providers to better analyze a patient's health, resulting in personalized treatment options. Together, healthcare and life science organizations can accelerate the development and delivery of patient-centered solutions to improve health outcomes, reduce costs and provide a personalized approach to medicine.
"Together, SAP and Validic will build health solutions that empower patients, caregivers and researchers to realize the potential of personalized medicine," said Drew Schiller, co-founder and CEO of Validic in the press announcement. "Increasingly, care will be managed, measured and influenced outside the four walls of the hospital or clinical setting. Leveraging and integrating patient-generated health data is becoming a market necessity for healthcare, wellness and life science organizations aiming to improve the health of their populations. The strategic relationship with SAP will help fuel the use of actionable data from clinical remote monitoring devices, wearables and health applications – key to providing an innovative, patient-centered connected health approach."