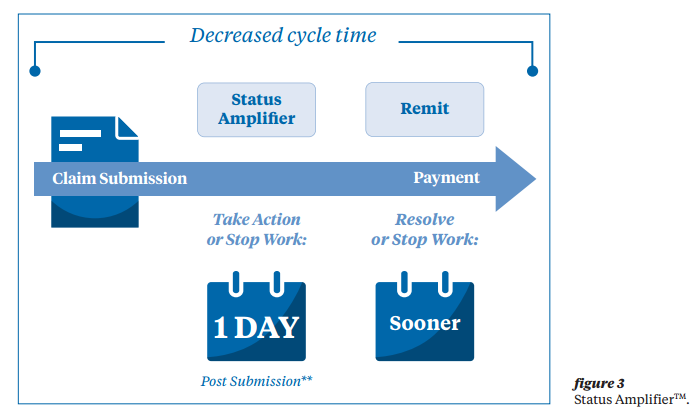 RelayHealth Financial has introduced RelayAssurance™ Status Amplifier, a new software service that automatically tracks down, inspects, and reports accurate reasons for non-payment on claims. Receiving a 277 response means there's an update on a claim but to find out what changed (approved? denied? payment pending???) providers have to manually go into each payer portal and dig around or call and sit on hold to find out the real status.
Starting today, providers can quickly learn and act on detailed claim statuses, without having to manually struggle through payer portal after payer portal, claim by claim, day after day. The result: Faster insights and reactions when dealing with pended and denied claims, which helps solve denials and speed payment.
Healthcare providers, physician practices, and practice/billing management vendors are all too familiar with the usual process. After a claim is submitted, they must wait until receiving the first remittance to learn when something is wrong. This takes from 17 to 30 days on average. They receive a simple electronic data interchange (EDI) notification when there's new information about a claim.
But there's no additional detail telling them what happened or what action, if any, is required. Thus begins a series of phone calls and exhaustive payer portal searches in an attempt to glean the claim's true status and take action.
RelayAssurance Status Amplifier puts an end to that manual process by transforming it with on-demand automated access to detailed claim status, helping providers save time and effort, speed time to payment, and boost follow-up productivity. One hospital realized a 51% increase in net revenue per full-time employee, and achieved this despite using fewer employees for claim follow-up and experiencing a 34% increase in volume.
"All too often, healthcare providers and practice management vendors operate inside a 'black box' when it comes to claims status," said Marcy Tatsch, vice president and general manager of RelayHealth Financial Reimbursement Solutions. "How can they resolve claim issues quickly and get paid if they can't access detailed status information as soon as it's available? RelayAssurance Status Amplifier cuts to the chase, letting them know when to take action, and reducing the tedious and costly follow-up tasks that drain resources and delay reimbursement."
Key Features
RelayAssurance's Status Amplifier provides fast, thorough, and actionable claim status information from hundreds of payer portals, and also gives providers:
Flexible claim inquiries
– Gathers relevant, supplemental status information for batch or single claims from payer portals and returns information in standard, easy-to-read format.
Rapid status access
– Detailed status information is available within a day of submission, allowing providers to address problem claims and decrease the time to payment. Forecasted payment information–available within days–can be used to initiate secondary billing sooner.
Automated inquiry processes
– Eliminates the need for staff to call (and sit on hold) or conduct time-intensive searches of payer portals.
Reduced remittance times
– Rapid access to more complete information helps shorten the remittance cycle by more than a couple of weeks.
RelayAssurance Status Amplifier is available now as a standalone SaaS solution or integrated with RelayAssurance Plus claims and remittance management solution. The batch and single-claim inquiry process can be automated, with users setting schedules to periodically hit specific payer portals for batch or individual claims, and accessing the detailed status directly in the RelayAssurance Plus dashboard.