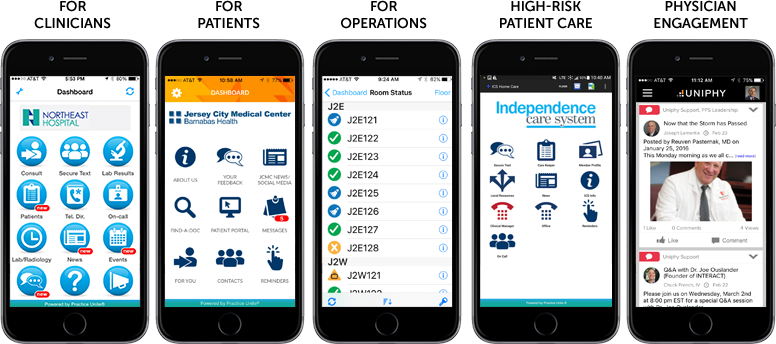 Practice Unite, a HIPAA secure texting provider and physician engagement firm Uniphy Health are merging together to create the healthcare industry's most comprehensive clinical communications and collaboration solutions provider. The newly combined Uniphy Health will provide healthcare organizations with transformative, HIPAA-compliant, mobile-first solutions that deliver a positive return on investment (ROI) today and help those organizations transition to value-based care for tomorrow.
With the shift to value-based care, communication and collaboration, companies like Practice Unite are finally being recognized as the pivotal component of value, quality and safety.  The newly combined company will be worth more than the sum of the parts as they will now have the ability together to take advantage of synergies and economies of scale — unlocking real value for hospitals, clinics, and patients.  Both companies are small start-ups under 5 years old, and there was a real need for companies this size to come together in order to make a difference and to compete in such a fast-paced, fast moving market place. 
The newly combined company together already supports tens of thousands of physicians, nurses, home care aides and patients nationwide with mobile-first solutions that streamline communications and simplify workflows.  Some of these include Barnabas-Health Jersey City Medical Center: saving over $2 million per year through reduced length of stay and reduced referral leakage; Inspira Health Networks experiencing a 26% improvement in HCAHPS scores; and New York's Independence Care System, which uses the Patient Management solution to reduce preventable hospitalizations of high-risk patients.
The full suite includes:
– Acute care solutions that feature secure text, VOIP calling, critical lab, consult delivery and on call schedules;
– Physician engagement solutions that utilize a social media-like approach to delivering targeted content;
– Home care solutions that improve remote patient monitoring and automate documentation;
– Patient engagement solutions that create a secure channel between the patient and care team.
In addition, Uniphy Health acts as a "single pane of glass" that invokes third-party applications (e.g., charge capture applications), giving users the efficiency of staying within one app instead of continually switching among many.
Uniphy Health has expanded its board of directors with the addition of technology and healthcare luminaries including US Robotics founder Casey Cowell, former ADP Chief Operations Officer, Mike Martone and Florida-based Orthopedic Surgeon, Dr. John Lockwood.