Editor's Note: Mike Wiseman is the CTO of Next IT Healthcare, a company that helps healthcare organizations drive lasting behavior change and improved patient outcomes.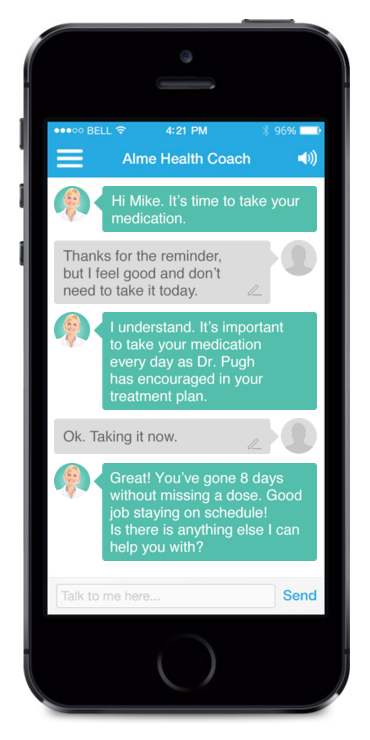 "Patient engagement" and "technology" have become so intertwined over the past few years that the distinction between them is now problematically blurred. Patient engagement, while a popular buzzword in health technology circles, has always been an area of great focus for the health sector. From physicians to big pharma, we've talked about engagement in every nook and crannie of the health system for decades.
Today, technologies have evolved to the point that we are certain they can be part of the solution for patient engagement. But we rarely talk about how to do it. I am adamant that you can't just throw technology at the problem and expect to solve patient engagement. Digital transformation in healthcare is an operational necessity. But patient engagement is a far more nuanced challenge, one that's directly tied to adherence and outcomes. The answer, therefore, cannot merely be to "go digital."
The emerging category of persuasive technologies offers a much more compelling solution. Persuasive technology is loosely defined as "technology that is designed to change attitudes or behaviors of the users through persuasion and social influence, but not through coercion."But how exactly do you do that? Here are the keys to building persuasive technologies for health:
Timing = Intelligence
Imagine you've just downloaded a diet tracking app. You're trying to lose a few pounds, and you want to see if this app can help you. You just had a nice lunch with friends, and you've gone home to watch a football game.
As you're watching the game, the app sends out a push notification saying: "Don't forget to log your meals today."
Naturally, you put the phone back in your pocket and turn your eyes back to the game. As the days pass, you continue to ignore the notifications because you have better things to do. The app didn't ask you at a good time– maybe right around lunchtime would have made more sense for this user.
Timing is the first consideration in persuasion. If you get the timing wrong, you're unlikely to trigger the desired behavior. This has been the age-old problem for physicians. Patients are motivated to get healthy when they're in your office, but when they are on their own for the ensuing 6 months, they've lost the motivation. The doctor never timed check-in's throughout those six months for optimal adherence.
The same holds true for technology, though it's much easier to do when the tech is always in the patient's pocket.
Technologies that learn when to engage the patient have dramatically higher odds of succeeding in changing their behavior. Any system that lacks the intelligence to learn and adapt is therefore at risk of losing the patient's motivation.
Presence = Easy
Over the past few years we've seen an explosion in consumer health technologies. That means that consumers have many health apps on their phone, and their data hangs out in various silos. Apple HealthKit is one of many efforts to unify this data, yet the data input experience is largely the same for the consumer. They use one app to log fitness information, another to log dietary intake, and a third to track treatment of a chronic disease.
Despite great efforts to unify the data at the end of the process, the experience is still fragmented.
Persuasive technology aims to make it easy to carry out the desired behavior. In the case of health tracking, that means integration and interoperability are imperative.
Rather than insisting that the user open your app, any persuasive technology would try to have a presence in a variety of locations. That could mean an integration with a virtual assistant like Cortana, or a partnership with Fitbit to automatically pull data directly into your system. At the very least, it means mobile-only or desktop-only is no longer viable.
Whatever form the integration takes, it gives your technology presence in the various parts of the user's digital life. In turn, it's easier for the user to engage, no matter the app, device or assistant they happen to be using.
Imagine if your doctor could be available to you as you make any number of small, daily health decisions. Their presence, much like when you're in their office, would make the healthy choice much easier to make.
Technology, unlike a doctor, is with you all the time. So make it easy on users — don't give them yet another silo that adds complexity to their life. Be present where, and when, they need you. If you make it easy to make the right choice, users won't let you down.
Choice = Tone
Most parents can identify with the challenge of manipulating their tone to get their children to do chores or complete homework. And most parents quickly discover that offering choices to their children in a positive tone will massively increase the odds that the trash gets to the curb.
"You can finish watching the show and then do your homework, or you can do your homework now and have fun the rest of the day. Which would you prefer?"
This technique is not just applicable to children. In a 2012 study, researchers found that offering screening choices for colon cancer massively increased adherence. When merely offered a colonoscopy, only 38% of patients completed a screening. When offered a colonoscopy or a stool test, 69% of patients did a screening.
When given choices, we have been given the power to select which option we want to do. When given a command to take one specific action, we lose autonomy because we're told what we have to do. Like our children, we often rebel against the command.
Now consider software design in that context. What is the tone of a push notification? Does it come across as helpful and supportive? Does it offer options? Or does it nag the user?
Even just the tone of the copy in your app can massively impact whether a user makes a healthy decision or not.
If you can create a tone that respects user autonomy and leaves the choice to them, you'll increase the odds that their ensuing behaviors are desirable.
It's Psychology, Not Technology
The NCBI reports that 50% of patients do not take their medications as prescribed. From chronic disease management to simply filling prescriptions, the scope and scale of medical non-adherence is baffling.
Somewhere between when a doctor makes a recommendation and when the patient goes home, something changes. The moment the doctor is out of the picture, a new mental process begins. That's why patient engagement can't be solved by simply throwing a technology at the problem. It requires technology that is infused with psychological techniques from top to bottom.
Our health system, whether we like it or not, has not been designed to account for patient psychology. The patient isn't non-compliant just because the doctor is out of the picture. The patient is non-compliant because the doctor, the pharmacist and the insurance company didn't do anything to prevent against a predictable psychological response.
At a time when technology is bringing tremendous change and innovation to healthcare, let's not make the same mistake. If you're in the business of health technology, leverage psychology to build truly persuasive solutions.