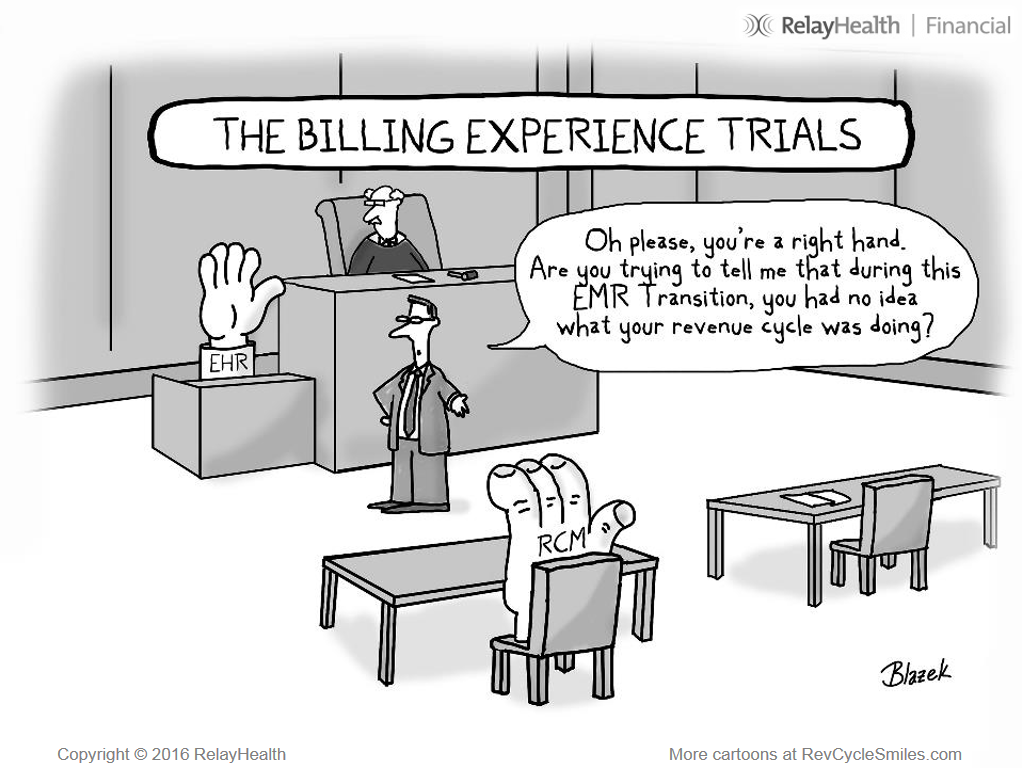 Editor's Note: This post is written by David Dyke, VP of Product Management and Carmen Sessoms, CHFP, FHFMA Assistant VP of Product Management at RelayHealth Financial. 
You've heard the horror stories. Now hear how making clinical and financial data "inseparable" can help ensure a smooth migration that doesn't blow up the revenue cycle.
Your EMR migration can cost you twice. But the second cost is avoidable if you know where to look and what to do. The first cost is obvious. It's the cost of the migration itself, which, for hospitals, can run from under $10,000 to over $50,000 per physician, with ongoing monthly fees of $300 to $700 per doctor. For a large provider network, that can mean hundreds of millions to over $1 billion. Even for small physician practices, the average cost for an EMR transition ranges from $164,000 to $233,000 in just the first 60 days.
The second cost? It's not so obvious. It's millions, even tens of millions in revenue lost or delayed because the EMR transition plan didn't treat clinical and financial systems as inseparable. That's what happens when the transition plan doesn't account for clinical and financial systems integration and coordination. And that's bad news for revenue cycle leaders charged with ensuring their hospitals get every dollar they're entitled to and receive payment as fast as possible.
You only need to look at healthcare news headlines to know that far too many providers are suffering this disruptive one-two punch to their bottom line. But you don't have to take it. You can ensure your clinical and financial systems remain inseparable by using these five strategies for maintaining healthy revenue during an EMR transition.
1.  Give the revenue cycle team a seat at the table
Seems like it should be obvious yet it's often missed. But providers who include revenue cycle management as part of an EMR migration can maintain positive financial performance during and after the transition. But EMR and revenue cycle management coordination can be complicated, and technical integration is a must. When planning an EMR migration, make sure your revenue cycle management leaders and your RCM vendors are part of the planning and transition team from day one.
2. Assemble a revenue cycle EMR team
You can't have a seat at the table if you haven't assembled a team and elected a leader to sit there. Pull your key revenue cycle leaders together—including the CFO, revenue cycle leaders from patient access and reimbursement, vendor representatives, and a "system liaison" representing revenue cycle—and establish roles and goals, a meeting schedule, and communication touchpoints with the EMR team. Most important, identify a project manager for the revenue cycle portion of the EMR transition. As a coordinated team, determine what processes, technology, and vendors will be used to manage each part of the revenue cycle process alignment and technology integration.
3.  Make revenue cycle management a priority during the transition
You need to know how revenue cycle processes will be affected by changing EMR technology before the implementation. Specifically, providers should know how the new EMR will affect claims management workflow, staff utilization, and speed of payment. To do so, be certain you understand how these processes will be affected:
• Eligibility verification
• Registration data quality assurance
• Pre-authorization and medical necessity management
• Pre-claim editing
• Medicare claims processing
• Secondary claims
• Claim workflow
• Remittance management
4. Keep an eye on your KPIs
There are several strong performance indicators that should be watched closely before, during, and after the EMR transition. Use them to establish your revenue cycle baselines before the EMR migration starts. Once the migration begins, determine the thresholds of variance for each KPI so that red flags are addressed immediately.
Service-to-Payment Velocity
How fast are you getting paid? A/R days is the industry standard metric for EMR measure. Increases in A/R days usually indicates a process problem, such as how fast claims are getting out the door—which could be related to the new EMR—versus delays on the payer side. Finding the root cause of your slowdown and having easy-to-interpret data to share with stakeholders in problem areas is critical to making timely improvements to keep cash moving at pre-migration rates.
Days Not Final Billed
DNFB is probably the best performance indicator because it shows how long it's taking to get a claim out the door. It's also the most likely KPI to light up early due to improper integration between the EMR and RCM systems. That's why it's crucial to establish integration points between the clinical and financial systems during the planning and configuration of the new EMR. Failure to do so might have a negative impact on the backbone revenue cycle process and cause DNFB to climb.
Charge Trends
An EMR implementation can profoundly impact clinical departments. This KPI will help you see any delays from clinical impacts and will help pinpoint which departments might not be submitting charges as quickly as before due to unfamiliarity or problems with the new EMR.
Denial Rates
Something is wrong when denials start to climb. Identifying the root cause early, and having the data to support appeals, can help get the affected processes back on track and the denial rate back in line. Establish alerts for timely filing thresholds to help ensure your team doesn't miss filing deadlines.
5. Choose the right partner
Don't go it alone. It's not like you do an EMR migration every day. More like once in a career. Few revenue cycle leaders have the experience required to lead this charge alone. The best way to confidently transition to a new EMR is to remember that clinical and financial systems are inseparable and must be aligned and integrated. Most organizations can't do this alone. It's crucial to find an experienced partner who understands the challenges providers and their revenue cycle leaders face in the transition to a new EMR. Ensure your revenue cycle partners are working together with your EMR vendor to help maintain payment velocity during and after your EMR transition. That's the best way to help ensure your EMR transition doesn't cost you twice.