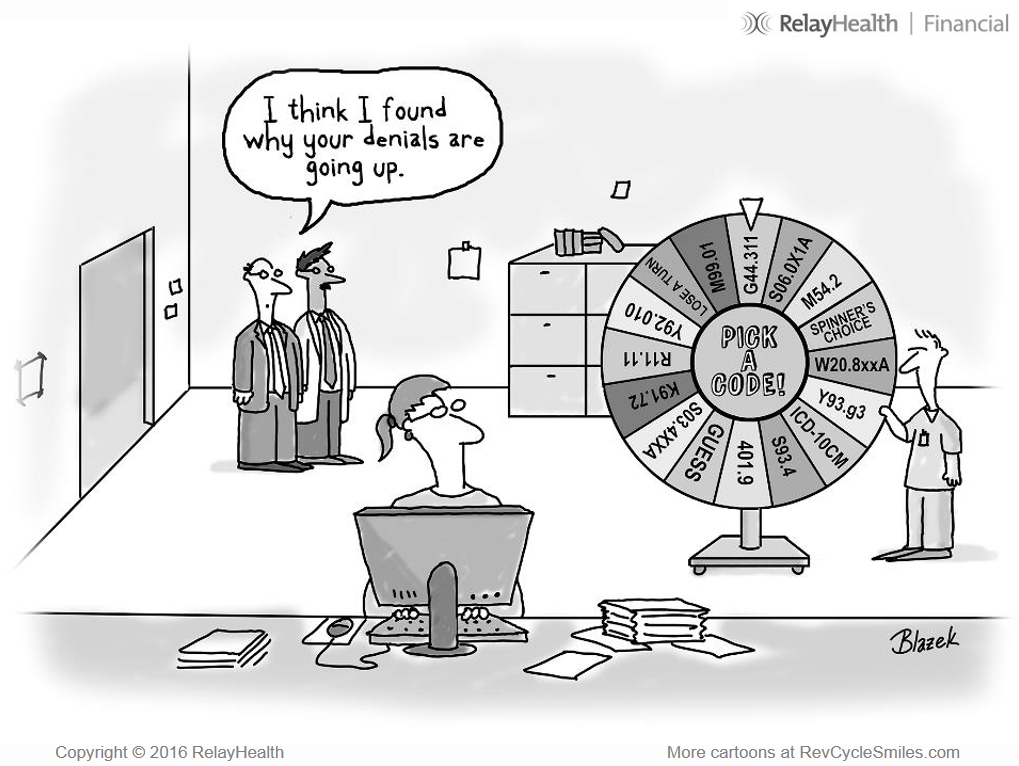 Of the $810 billion in claims processed by more than 2,400 hospitals and 630,000 providers using RelayHealth Financial clearinghouse, just 1.6% have been denied. This denial rate has remained unchanged since November and represents approximately $12.9 billion in denied claims since October 1st. The disclosed denial rate data from RelayHealth Financial is based on for more than 262 million claims processed between October 1, 2015 and February 15, 2016.  A low denial rate indicates a healthy cash flow which is critical to a provider's revenue cycle. 
"The good news is that we're not seeing a marked increase in claim denial rates, and there is heightened interest in denial management and prevention," said Marcy Tatsch, vice president and general manager of Reimbursement Solutions for RelayHealth Financial. "The bad news is that as many as 1 in 5 claims is still denied or delayed–which can mean a dip of as much as 3% in a hospital or health system's revenue stream2. While it's important to keep monitoring those KPIs that are monitored on RelayHealth Financial's Denials Dashboard, healthcare providers should now ramp up their broader denial prevention and management efforts."
Defining Denial Rate
Denial rate is defined as the original denial rate expressed as percentage of claim dollars that were initially denied for ICD impacted denial categories in relation to dollars billed on remitted claims. Denial rates displayed reflect only the denial categories of Authorization/Pre-Certification, Medical Coding, Medical Necessity, and Untimely Filing.
Highest denial rates by payers include:
– Missisippi Medicaid (59.7%)
– Washington Medicaid (10.5%)
– Florida Health Options HMO (8.2%)
– Great Lakes Health Plan (7.8%)
– Gateway Health Plan -Medicaid PA (7.5%)
– Florida Blue Cross (7%)
– Michigan Medicaid (6.5%)
– Horizon NJ Health (6.4%)
– Blue Care Network (6.1%)
– South Carolina Medicaid (5.8%)
Days to Payment 
Days to Payment is the number of days from statement through date until payment is received from the payer (excludes all self-pay including patient responsibility portion of claim) for primary claims only. Payers who had the highest days to payment include: 
| Days to Payment | Payer Name |
| --- | --- |
| | GEORGIA MEDICAID |
| | VETERANS ADMINISTRATION FEE BASIS PROGRAMS |
| | NEW JERSEY MEDICAID |
| | KAISER PERMANENTE of COLORADO |
| | SOUTH CAROLINA MEDICAID |
| | LOUISIANA MEDICAID |
| | UNITED RESOURCES NETWORK |
| | KAISER PERMANENTE of GEORGIA |
| | ARKANSAS MEDICAID |
| | ARIZONA MEDICAID |
Payers who had the lowest days to payment include:
| Days to Payment | Payer Name |
| --- | --- |
| | MVP HEALTH PLANS of NEW YORK |
| | KAISER SELF FUNDED PLAN – HARRINGTON/FISERV |
| | FIRSTCARE (VALLEY BAPTIST HEALTH PLAN) |
| | COMMUNITY HEALTH CHOICE |
| | PHYSICIAN HEALTH PLAN of NORTHERN INDIANA – PHP |
| | PENNSYLVANIA FREEDOM BLUE MEDICARE ADVANTAGE |
| | INLAND EMPIRE HEALTH PLAN |
| | SUNSHINE STATE HEALTH PLAN |
| | PASSPORT HEALTH PLAN |
| | SUPERIOR HEALTH PLAN – TEXAS |
To help providers understand and navigate the challenges surrounding strategic denial prevention and management, RelayHealth Financial now offers an online resource: ReduceMyDenials.com. The site features a number of resources that focus on best practices and operational considerations, with links to case studies, white papers, and a webinar focused on helping providers reduce and manage denials.