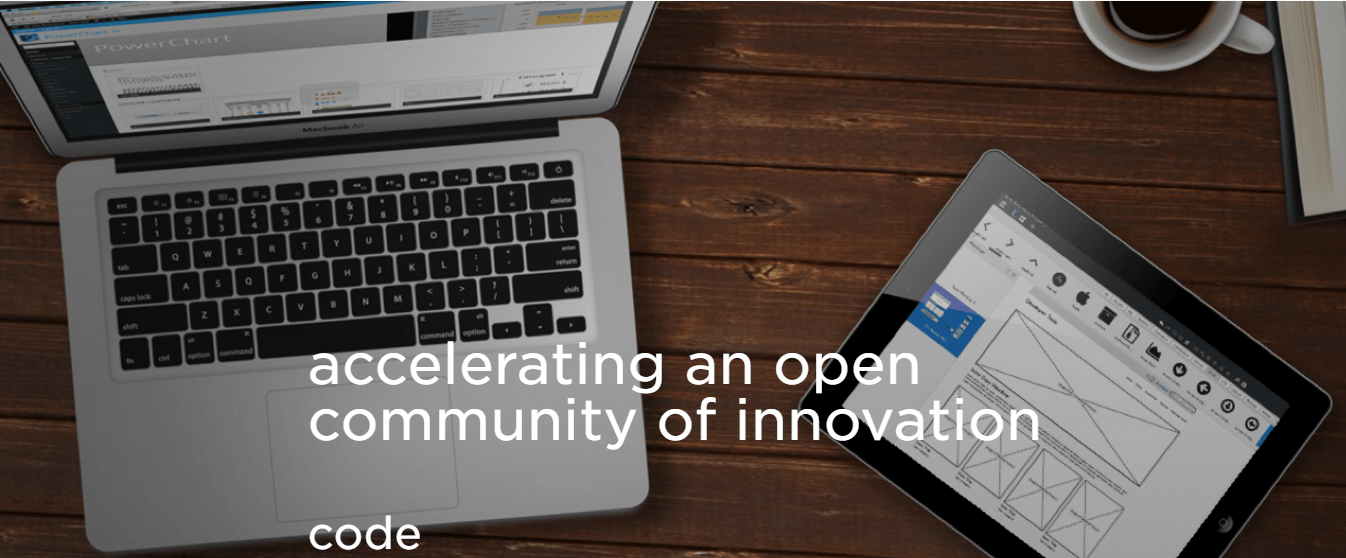 To help accelerate an open community of healthcare innovation, EHR giant Cerner has launched the Cerner Open Developer Experience (code_)to enhance collaboration with third-party and client developers on SMART® on FHIR® applications.  code_ is a digital experience designed to meet market expectations of open communications, robust API documentation, provide clearly defined guidelines and access to tools that enable innovative app development.
How It Works
Any developer can visit the new website, code.cerner.com, to start coding immediately with the SMART on FHIR tools in the Cerner open sandbox, research educational development tools and browse current apps that are available or in development. The site is mobile-friendly, so users can access it from a number of different devices.
SMART on FHIR apps run on top of the electronic health records, which enable physicians to access the "pluggable apps" directly within their workflow to more easily visualize, interact and transmit health data.
What is SMART & FHIR?
Substitutable Medical Applications and Reusable Technologies (SMART) creates application interoperability, where clinicians can substitute best of breed applications within the EHR. This is a win for developers, because now once an app is created with SMART, it can be used across a number of platforms. Innovative developers will be able to reach a broader market of potential users, while at the same time enabling clinicians to have a more robust offering.
Fast Health Interoperability Resources (FHIR) promises to be more convenient for developers. It is based on modern web-based API technology, which makes it easier for systems to exchange granular data elements that make up the patient's record rather than entire documents. Together, SMART and FHIR enable clinicians to access pluggable apps directly within their workflow.
Existing Apps and Partners
Fifteen new SMART on FHIR apps are currently in development or in production. Existing partners include:
EnrG|RheumTM by xG Health Solutions
EnrG|Rheum helps improve care for rheumatology patients. It extracts and analyzes data from the patient, the provider and the EHR, and then re-organizes it and presents it in a user-friendly and clinically relevant way. EnrG|Rheum displays graphs of disease activity and medication data over time, which can improve the quality and efficiency of encounter notes.
VisualDx® Clinical Decision Support App
Diagnostic clinical decision support system that has now expanded across general medicine.  As the leader in diagnostic accuracy, the software is proven to improve accuracy, save physicians' time, and enhance patient care.
Cardiac Risk
Cardiac Risk presents relevant patient vitals and lab measurements and the calculated Reynolds Risk Score, along with a succinct, patient-friendly explanation for each result. The widely used Reynolds Risk Score is used to estimate the 10-year cardiovascular risk of an individual. For patients and clinicians alike, this calculation is often reported in an esoteric, hard-to-read lab report.
RxCheck by RxREVUTM.
RxCheck is the world's first Prescription Decision Support (PDS) platform.  Integrated directly into the prescribing workflow, RxCheck surfaces patient-specific costs, adherence data, and P&T-approved medication protocols.
Pediatric Growth Chart
Provides a concise, minimal-click, interactive view of a child's growth over time.
Meducation
Meducation from within the Cerner EHR workflow, Meducation® uses a patient's SIG information to create intuitive patient-specific instructions and regimen summaries, at 5th-8th grade reading level, in 5 fonts and 22 languages.