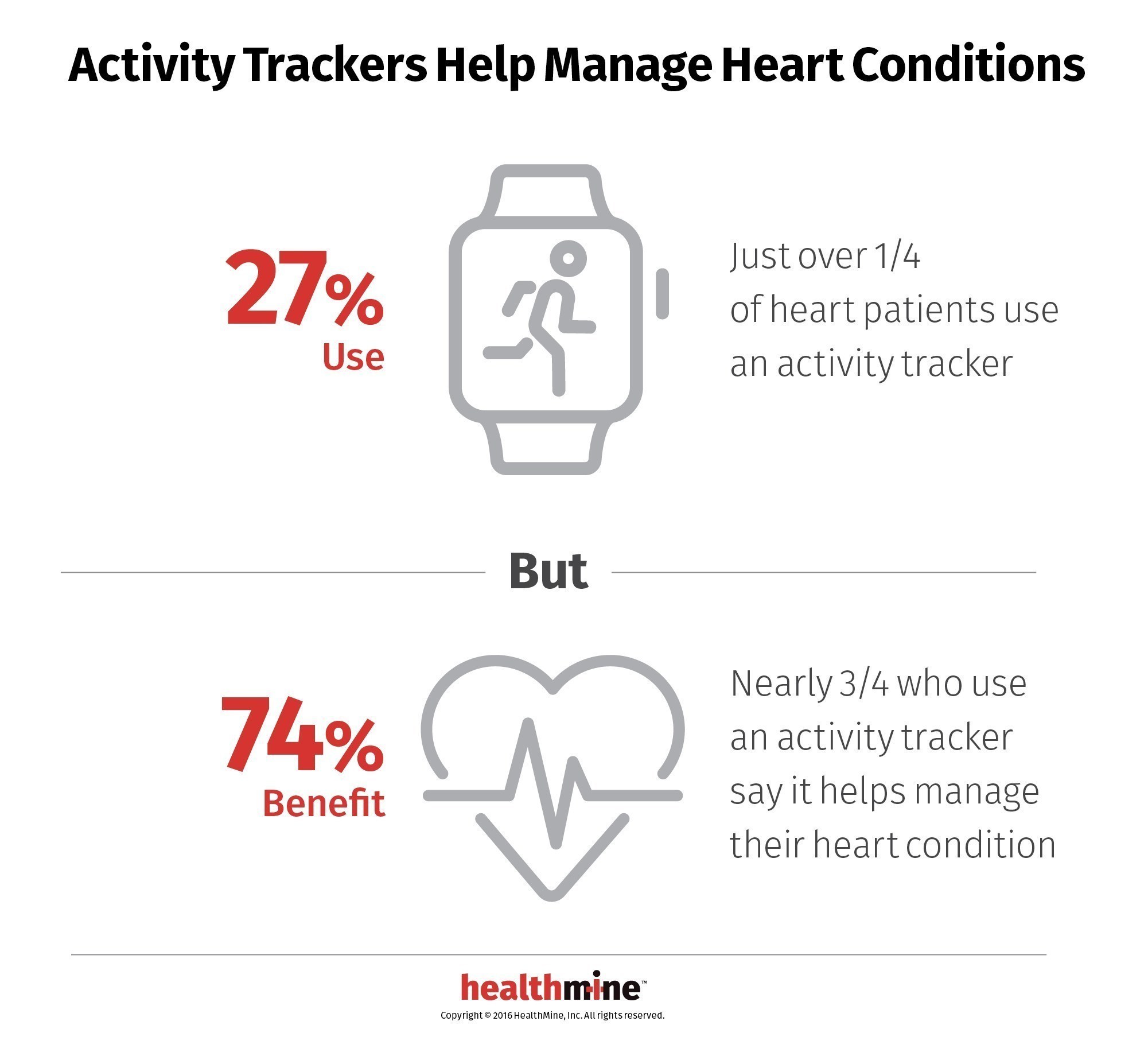 Only 27% of consumers with known heart disease and/or risk are using an activity trackers with 16% say they are using their tracker to specifically manage their heart condition/risk. Yet 74% of those who do use an activity tracker report the device is helping them cope with their heart condition, according to January HealthMine survey of 501 consumers with known heart disease and/or risk.
Overall, HealthMine found that 31% of those with a heart condition/risk are using some type of mobile health tool to manage their condition/risk. Here's what they are using:
31% of heart patients use mobile health tools to manage their condition

Mobile Tool

Percent Using to Manage Condition

Activity/fitness tracking device or app

50%

Blood pressure app

48%

Heart rate app

47%

Food/nutrition app

38%
The survey also revealed that 20% of respondents received a fitness or health-related gift for the holidays, and 10% say they were gifted a wearable activity tracker. As for the 69% of consumers with heart problems who aren't using mobile health tools to manage their condition/risk, 36% say they prefer "traditional" methods to manage their health, and 34% say they don't know which device/app to use. Another 20% say they don't own a mobile device, and 15% find mobile health tools too confusing.
According to the American Heart Association, 27% of Americans are currently living with some form of cardiovascular disease. 47% of Americans have at least one of the three key risk factors for heart conditions: high blood pressure, high cholesterol or smoking. For heart patients, utilizing mobile devices and apps can provide a convenient way to help track risk factors and disease, including tools for self-data collection, fitness, diet, and more.
"Millions of wearable fitness tracking devices will be incorporated into wellness programs over the next few years. But they need to tie into a larger, clinically-based strategy to help consumers know where they stand with their health, what they need to do and stay motivated to do it," said Bryce Williams, CEO and President of HealthMine.