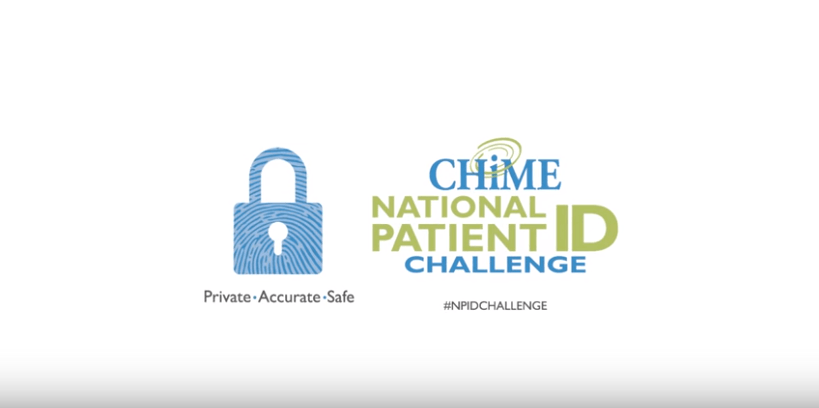 The College of Healthcare Information Management Executives (CHIME) today launched the CHIME National Patient ID Challenge, a $1 million crowdsourcing competition aimed at incentivizing new, early-stage, and experienced innovators to accelerate the creation and adoption of a solution for ensuring 100 percent accuracy in identifying patients in the U.S. For the challenge, CHIME has teamed with HeroX, co-founded in 2013 by XPRIZE CEO Peter Diamandis, to run the year-long competition.
The Problem
Imagine a scenario in which a patient goes to a doctor's office or a hospital and is misidentified or matched to the wrong medical record. Imagine a doctor making critical decisions based on someone else's medical history. Imagine if that patient is a loved one.Unfortunately, this scene plays itself out too often in today's healthcare environment — potentially as high as 20 percent of the time — largely because there's no universal way of accurately identifying a patient, regardless of where they seek care.
In the past, manual processes could reduce the accuracy gap that existed, but as EHRs become ubiquitous, the challenge takes on new dimensions. Additionally, CHIME data show that hospitals differ in how they identify patients. More than 60 percent of CHIME members use some form of a unique patient identifier to match patient data within their organizations, others rely on complicated algorithms. Nearly 20 percent of CHIME members surveyed in 2012 could attribute at least one adverse medical event to incorrect patient matching.
Accurate identification can greatly reduce the risk of preventable medical errors and significantly increase quality of care.  It can also drive out unnecessary costs by reducing inefficiency.  
"Healthcare faces some immense challenges," said Marc Probst, vice president and chief information officer, Intermountain Healthcare, Salt Lake City; and chair of the CHIME board of trustees. "As we digitize healthcare and patients move from one care setting to another, we need to ensure with 100 percent accuracy that we identify the right patient at the right time. Anything less than that increases the risk of a medical error and can add unnecessary costs to the healthcare system."
Probst noted that Intermountain Healthcare spends between $4 million and $5 million annually on technologies and processes to try to ensure proper patient identification. At the Mayo Clinic, each case of misidentification costs at least $1,200, according to the Office of the National Coordinator's 2014 report, "Patient Identification and Matching: Final Report."
CHIME National Patient ID Challenge Details
The challenge will enable the best solution for identifying patients to be developed and will provide all the stakeholders with the capability to start working toward implementing the solution once it is ready. This will result in a dramatic increase in safety and efficiency throughout the healthcare system.
CHIME is looking for the best plan, strategies and methodologies that will accomplish the following:
Easily and quickly identify patients

Achieve 100% accuracy in patient identification

Protect patient privacy

Protect patient identity

Achieve adoption by the vast majority of patients, providers, insurers, and other stakeholders

Scale to handle all patients in the U.S.
Challenge Timeline
The challenge is now open for innovators from around the world to submit solutions. In the spring, CHIME and HeroX will announce participants moving on to the Concept Blitz Round. Innovators will then further develop and refine their ideas as they prepare for judging and the Final Innovation Round. They will need to produce working prototypes of their designs. CHIME intends to announce the $1 million winner in February 2017 at the CHIME-HIMSS CIO Forum.
"Patient mismatching and our inability to accurately identify patients across the continuum of care has been an ongoing problem for the industry," said CHIME President and CEO Russell Branzell, FCHIME, CHCIO, who noted that federal law currently prevents the government from spending funds on a national patient identifier. "We deserve better. Our patients deserve better. We hope that this competition will bring forth a solution that ensures that we can identify patients the right way every single time. If we can achieve that, it will propel us further down the road of being able to effectively and efficiently exchange data between caregivers, improving patient safety and reducing healthcare costs."