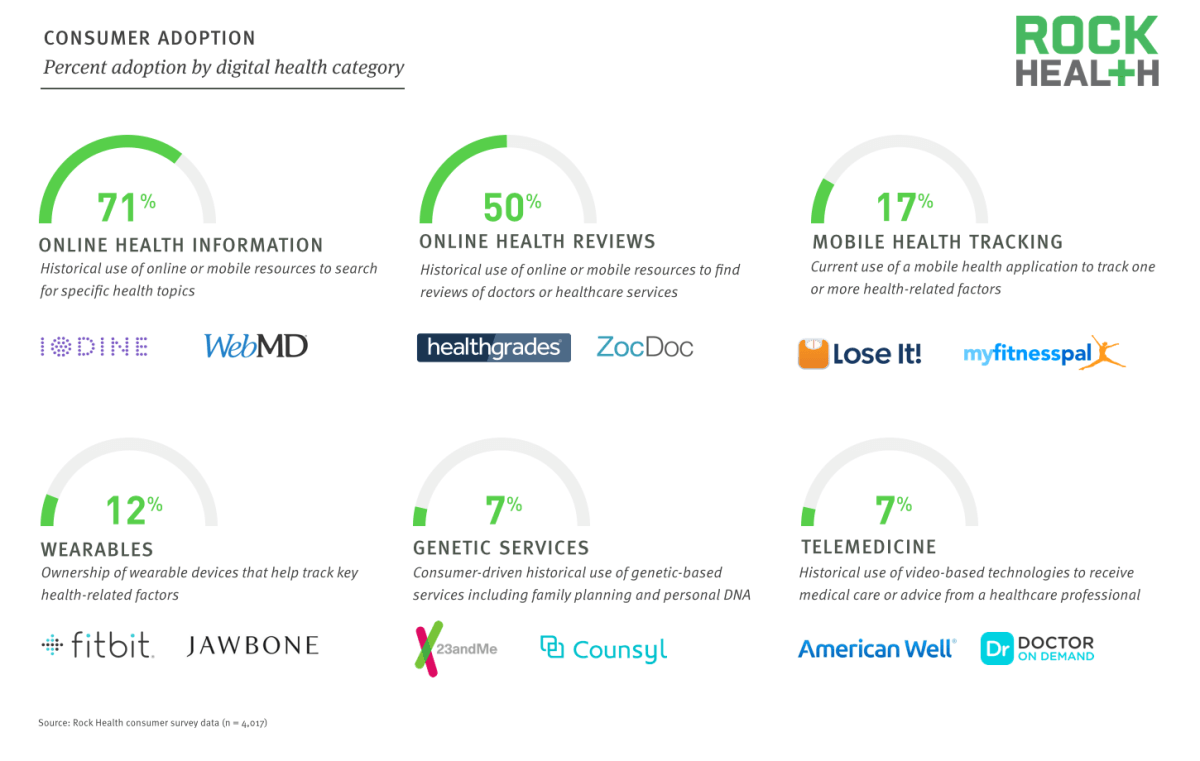 This week, Rock Health, a full-service venture fund dedicated to digital health released the findings from their national survey on the consumer adoption trends in digital health. The report, "Digital Health Consumer Adoption: 2015" produced by Teresa Wang and Malay Gandhi with help from Kati Dahl surveyed 4,000 consumers on their attitudes attitudes towards data privacy and sharing within the healthcare ecosystem.
The report identifies six overarching categories of digital health that operate witihn B2C market contexts: 
– Online Health Information  (e.g., WebMD)
– Online Health Reviews  (e.g., ZocDoc)
– Mobile Health Tracking (e.g., MyFitnessPal)
– Wearables (e.g., Fitbit)
– Genetic Services  (e.g., 23andMe)
– Telemedicine (e.g., Doctor on Demand)
Key findings of the report reveal:
1. Digital health still faces a steep climb up the adoption curve, with nearly half of consumers having used only one digital health technology or having not adopted any at all.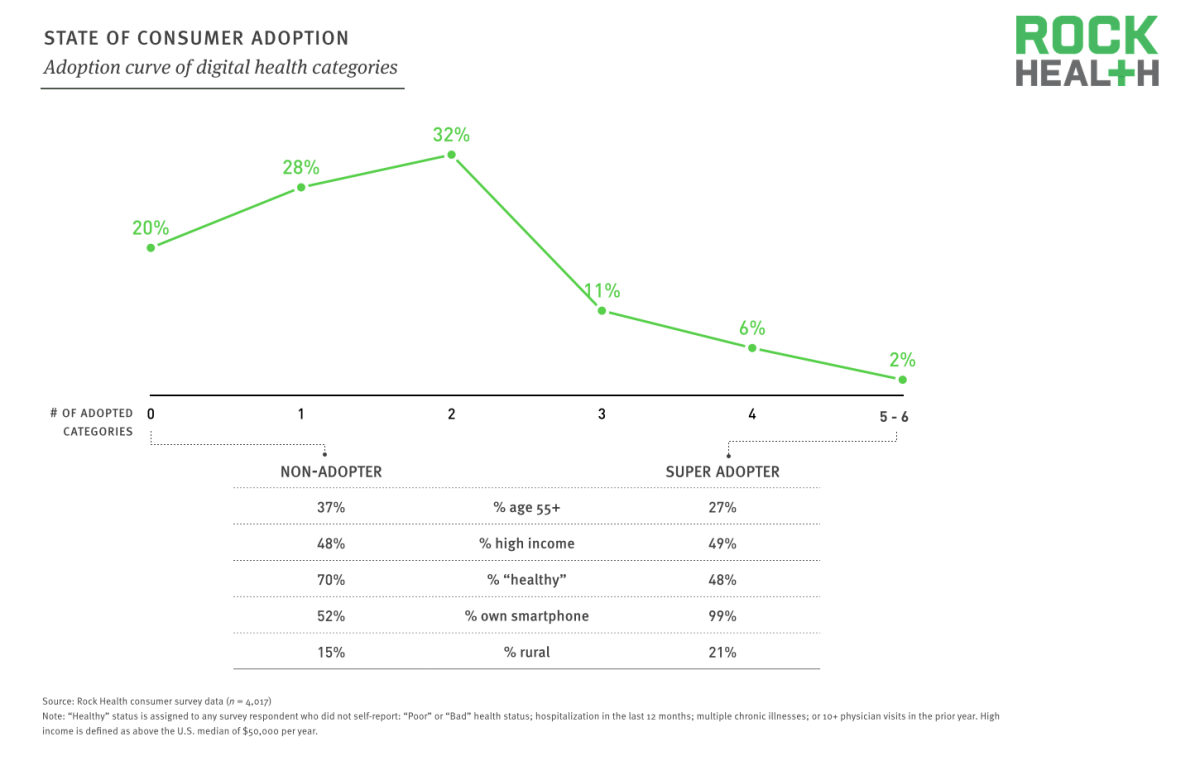 2. Searching online for health information is the most well-adopted digital health category, with 40% of those who search acting directly upon the information they find.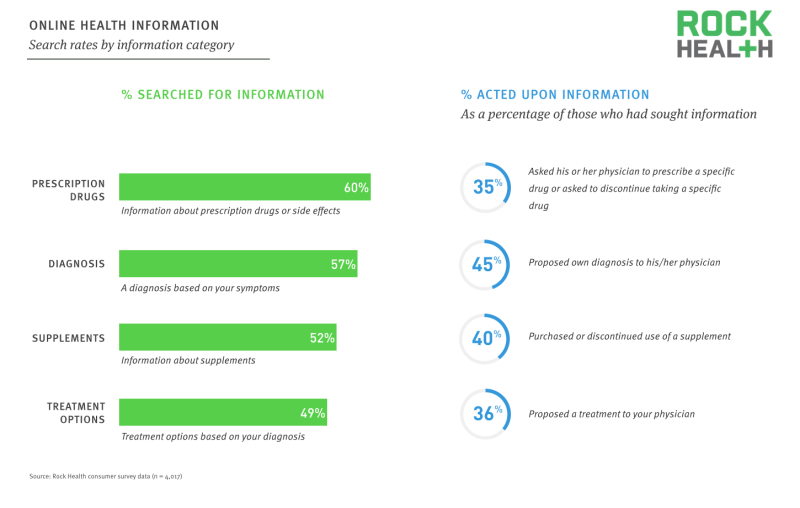 3. 71% of consumers have previously searched online for these types of information, with 6 out of 10 individuals searching for prescription drug information (the highest ranked category) and just under half searching for treatment options (the lowest). The report suggest that information websites still need significant work in order to garner trust from consumers. 
4. Nearly half of Americans go online to find reviews of physicians, focusing on customer comments and quality when making a selection. 
5. With the exception of physical activity, more consumers are currently tracking key health factors on paper or in their heads than with mobile applications.
6. Despite all the hype regarding mobile health apps, only a small percentage (17%) of consumers are tracking a key health factor in a mobile application. Respondents identified physical activity as the sole health factor that more consumers tracked in a mobile app than on paper or in their heads.
7. Consumers are most likely to buy wearable devices for themselves with the intention of becoming active and losing weight.
8. Lifetime ownership of wearables reached 12% and only three-quarters of owners reported received their wearable device in the last twelve months. Nearly two-thirds of individuals are purchasing wearables for themselves, with most citing the factors of being active or losing weight.
9. While consumer-driven adoption of genetic services is relatively low, satisfaction is high and many consumers are considering using these services in the future.
10. Usage of telemedicine is highest amongst the 35-54 age bracket across all mediums, with adopters reporting high satisfaction.
11. Telephone is the preferred medium for telemedicine across both urgent and non-urgent use cases, although video ranks higher amongst those who have previously used it.
12. Wearables and telemedicine are set to be the fastest growing digital health markets in the near-term, with many also considering tracking health on their phone.
13. While 52% of consumers strongly agree they are responsible for their own health, only 7% would say the same about their willingness to pay out-of-pocket for healthcare.
14. The strongest indicators of adoption are health status and consumer attitudes, with unhealthy, highly consumer-oriented individuals adopting at the fastest rate.
15. While consumers vehemently agree they should be in control of health data access, the majority are willing to share data for personal and public health, along with discounts.
16. Physicians remain at the center of data in the context of healthcare, with consumers more willing to share their information with them than anyone else. 
17. Consumers rank insurers second when it comes to being most aligned with their personal health interests and are generally willing to share health history (48% willing to share) and activity data (41%), although they are less willing to share genetic data (25%).
18. Only 18% are willing to share health data with technology companies, who rank above only the government in terms of alignment with personal health interests. Of tech companies, individuals are about half as likely to share their data with Facebook as they are with Google.