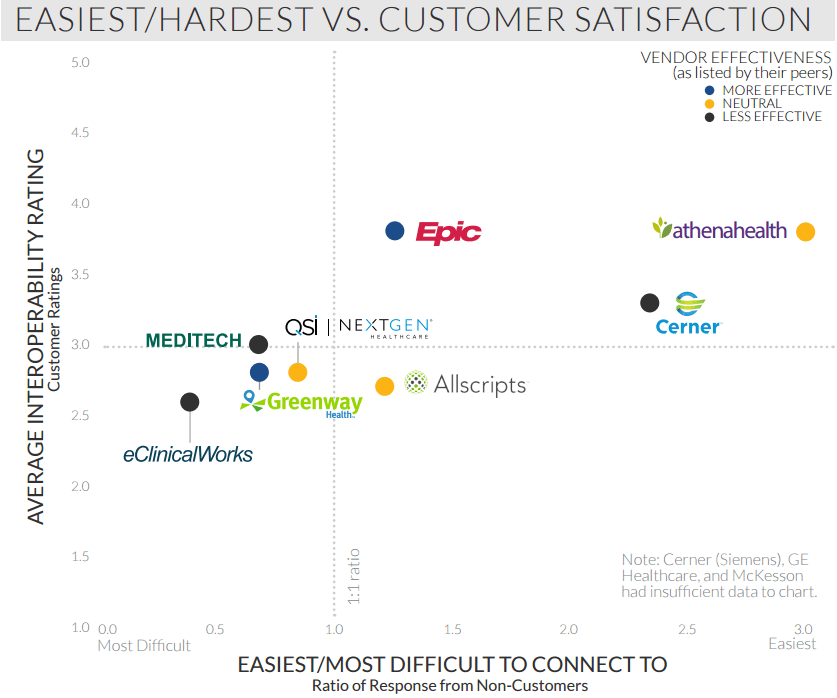 athenahealth and Epic leads the industry in overall interoperability, while eClinicalWorks, McKesson, GE, and NextGen are described as "interoperability laggards," according to recent findings in KLAS' inaugural interoperability report. The report, "Interoperability 2015: Are We Lifting Together?" highlights how provider organizations rate their EMR vendors in terms of how proactive and effective they are in sharing patient data outside their organization.
For the report, KLAS interviewed more than 240 providers across inpatient and ambulatory settings during a three-month period for this study. All participants identified barriers to interoperability. However, neither providers nor vendors mentioned technology as a missing ingredient, stating instead that lack of agreement on the use of standards and willingness to share information are more likely causes.
athenahealth Easiest to Connect To, Followed by Cerner and Epic
Participants identified athenahealth as the easiest to connect to, followed by Cerner and Epic. athenahealth was recognized as being able to easily deliver both simple and complex connections without passing on additional integration costs to its clients. Additionally, it KLAS recognized athena's ability to outside patient data into the clinician workfow in a convenient format. Non-athena customers report that athena's SaaS environment is easy to connect to, as they can connect to multiple practices with one interface. 
Epic's Care Everywhere customers are interconnected, enjoying the immediate benefits of exchanging patient data nationally. Epic's data sharing was recognized as solid via point-to-point and HIE connections to organizations with foreign EMRs. However, some non-customers voice frustration with Epic's strict adherence to self-imposed standards. Other vendors with similar interoperability capabilities and offerings have not yet seen the widespread adoption and appreciation that Epic has in addition to listing the vendors easiest to connect with, participants note those that are the most difficult. 
Cerner and non-Cerner customers report Cerner to be easy to connect to and effective at a broad range of complex connections. Clients rated Cerner lower for higher integration costs and the lack of a simple switch to turn on sharing with other Cerner clients. KLAS also found that reports from vendor peers of Cerner being less effective to work with are tied to software versions, costs, and licensing outside the CommonWell conversation. It is important to noate that no vendor brings a technology silver bullet to the fight, but attentive vendors focused on client success are recognized for their support.
For information about this report, visit http://www.klasresearch.com.