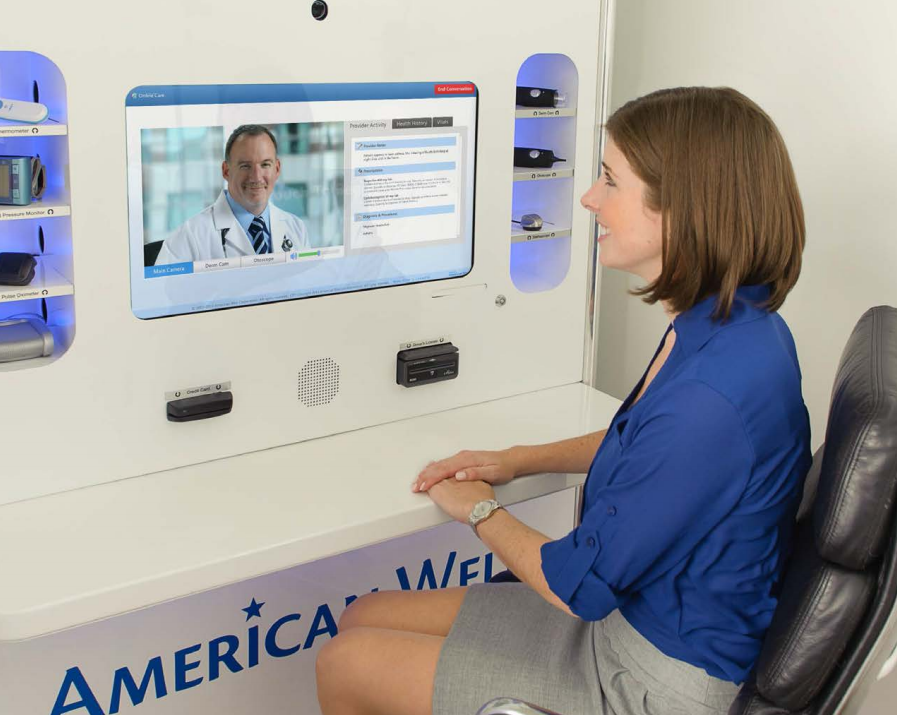 Telehealth kiosks are rapidly becoming a key part of national employer healthcare programs, retail healthcare, and health system outreach strategies, according to telehealth provider American Well. In fact, consultancy IHS projects the U.S. market for healthcare kiosks will rise from roughly 10,000 kiosks in 2015 to over 36,000 annually by 2020[i].
With American Well's telehealth kiosks – the industry's only kiosks that offer walk-in, unscheduled visits – patients anywhere can get immediate access to a U.S. board certified physician, dietitian, or behavioral health counselor. Kiosks save employers tens or even hundreds of thousands of dollars when compared with the cost of offering brick-and-mortar onsite clinics.  And kiosks give employees more convenient, onsite access to healthcare when they need it.
The top three benefits of using telehealth kiosks for large employers, retailers, and health systems include:
1) Healthcare access for employees located in manufacturing facilities and distribution centers. 
In sites where employees are on their feet at work and have no computer or internet on the job, kiosks play a vital role in ensuring equal access for all employees to innovative new telehealth services.  Shift and assembly workers who often have a difficult time taking off from work find the kiosks make it possible to get needed care.
"Large employer group customers see kiosks as a key part of their strategy to improve access to healthcare, manage costs, and enhance productivity," said John Jesser, LiveHealth Online general manager. "With a kiosk, depending on their health plan benefits, employees can see a doctor covered under their health plan without ever leaving the worksite, for a fraction of the cost involved in a worksite clinic."
2) Extending the value of onsite clinic staff
According to Mercer[ii], twenty-nine percent of employers with over 5,000 employees have onsite clinics. Yet onsite clinics can cost anywhere from $50,000 to nearly $700,000 annually to operate[iii] with full-time clinical staff, and typically can only serve employees in major locations.  At just $15,000-$60,000, telehealth kiosks can extend the reach of existing onsite clinic staff to small- and mid-sized locations as well.  In addition, onsite clinics staffed by nurses can immediately provide more comprehensive care by augmenting physical staff with a clinical team that includes online physicians and other provider types – all available through the kiosk experience.
3) Community outreach
American Well increasingly sees health plans and health systems extending their services into the community by placing American Well's telehealth kiosks in retail pharmacies, homeless shelters, supermarkets, and more public locations including community centers in neighborhoods where brick-and-mortar medical facilities are scarce. In addition to employers, American Well also sees many health systems using kiosks to extend the reach of their medical staff into surrounding communities and to triage overflow in busy city Emergency Rooms. 
"Health systems see many uses for telehealth kiosks," said Danielle Russella, president, customer solutions at American Well. "Rather than build out suburban urgent care facilities costing millions to build a staff, health systems are placing kiosks in retail centers and employer sites, allowing people to see physicians more quickly and conveniently."
For more information on American Well's telehealth kiosks for retailers, employers and health systems, please visit this link.
Sources
[i] "Telehealth & Remote Patient Monitoring", IHS Technology, July 31, 2015.
[ii]"Giving Worksite Clinics a New Look", Mercer, November 4, 2014.
[iii] "Purchasing High Performance Archive", The Commonwealth Fund, April 30, 2010.