11. Hometouch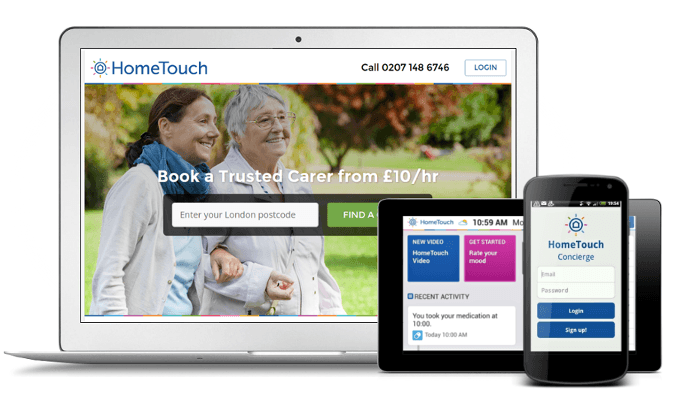 This software-as-a-service provider for the telehealth industry helps coordinate in-home caregiving by aggregating and verifying potential in-home caregivers. Think of it as a matchmaking service that allows the elderly to be cared for by people they have similar interests with. The tablet application also allows families to keep track of relatives and monitor their care.
Founded: 2012
Founder: Jamie Wilson
Category: App & Telehealth
Funding: $121.7k
Why you should pay attention – While the U.K. faces an aging population and an already over-burdened healthcare system, in-home caregiving has the greatest chance at reducing costs. The platform's career marketplace not only boosts the economy by providing local jobs, but also improves patients' quality of life allowing them choice in their limited circumstances.
12. Medopad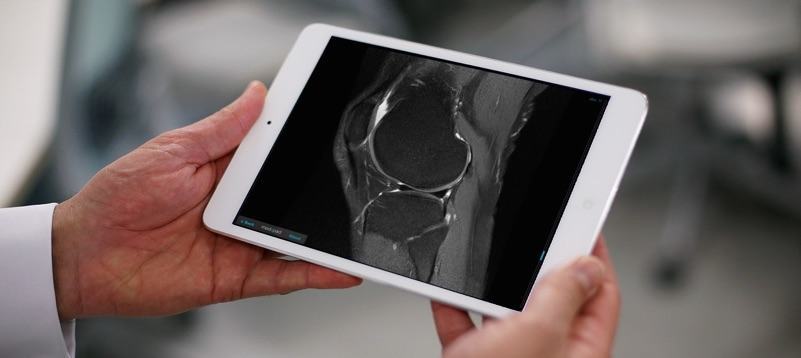 This mobile health platform automatically gathers data and securely delivers patient information – including medical records, lab results or images – directly to healthcare providers' fingertips. The platform also allows doctors to collaborate with each other as well as communicate with patients using any mobile device.
Founded: 2011
Founders: Dan Vàhdat & Rich Khatib
Category: App, Diagnostics & Patient Communication
Funding: $2.8 million
Why you should pay attention – Seamless integration with Apple HealthKit and Google Glass is just the cherry on top of this proprietary technology. Medopad was voted the Best Healthcare App 2014 by MEDICA.
13. MIRA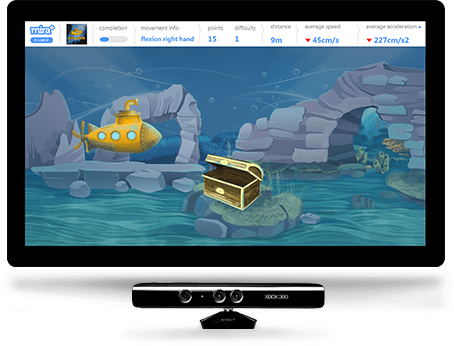 MIRA Rehab makes physiotherapy fun through gamification and uses Microsoft Kinect to track and monitor patients' progress. Programs are customizable by providers to target areas of focus and the data collected over time allows them to follow a patients' progression and provide valuable, timely feedback. Not only does gamification increase patient motivation, it encourages treatment compliance, one of the biggest challenges in the recovery process.
Founded: 2012
Founders: Alina Călin, Andrei Cantea, Liviu-Andrei Dascălu & Cosmin Mihaiu
Category: App, Diagnostics & Patient Empowerment
Funding: Undisclosed
Why you should pay attention – "Exergames' reduce the chances of re-injury, decrease recovery time, and can inform treatment processes overall. Currently targeting neurological and orthopedic issues, the technology has the potential to quickly address rehabilitation in other faculties due to its behavior-based therapy.
14. OJ Bio

A joint venture between Orla Protein Technologies and Japan Radio Company, OJ-Bio designs and produces diagnostic devices that can be used at home or at the point of care by patients or providers. Already used for identifying the influenza A & B viruses as well as the Respiratory Syncytial Virus, the company is developing tests for a number of other issues such as HIV and periodontal gum disease as it can analyze almost any bodily fluid.
Founded: 2009
Founders:  Unknown
Category: Diagnostics, Patient Empowerment & Technology
Funding: Undisclosed
Why you should pay attention – The public health ramifications for such a technology are immense as this technology can more accurately track and potentially slow the spread of disease. If the technology is sold at pharmacies or to smaller clinics with limited equipment, not only will the system's burdens decrease in terms of time, resources, and human personnel, but smaller practices may also become more profitable.
15. Skin Analytics
Skin Analytics has developed a proprietary smartphone camera attachment and application that can analyze and track the growth of moles and other signs of skin disease. With a focus on prevention, the app can send targeted alerts to users if their mole seems abnormal, creating an effective early warning and diagnosis system. It also helps users get an appointment with a doctor as well as schedule screenings.
Founded: 2012
Founders: Neil Daly
Category: App, Diagnostics & Technology
Funding: $772.9k
Why you should pay attention – If and when the detection technology is applied to other healthcare diagnostic processes, Skin Analytics can play an integral role in reducing costs by promoting earlier intervention – think upon the diagnoses of Sexually Transmitted Infections, for example. Additionally, this technology can be used in underdeveloped settings bringing care to rural areas when Wi-Fi is enabled.