Medical sensors are everywhere, and the market continues to boom. In 2012, the medical sensor market was already worth $8 billion, and biosensors contribute more than 60% of that total revenue, according to Markets and Markets. The trend is all over the world, with 42 percent of the market share coming from North America, 32 percent from Europe, and the rest filled out by Asia Pacific countries.
In 2015 alone, Pivotal reported that the consumer wearable sector is expected to grow by a whopping 290 percent, much of that driven by smartwatches and health and fitness trackers – and the Internet of Things in healthcare is expected to grow by another 59 percent each year through 2019.
There is no doubt medical sensors are the next big thing, and many companies are taking advantage of the fast-growing trends. In late 2014, several aspiring companies brought their best sensor ideas to compete in the Nokia Sensing XCHALLENGE, a competition that encourages startups to create the latest and greatest medical sensor technology. The fierce competition for a $525,000 grand prize enticed 90 of the best companies to bring their "A" game – here is the cream of the crop.
1. DMI

Also known as DNA Medicine Institute, this group based out of Cambridge, Massachusetts took home the grand prize with their "rHEALTH" system. The Reusable Handheld Electrolyte and Lab Technology for Humans system is a portable, compact device that uses a single drop of blood to perform hundreds of clinical lab tests, telling patients with gold-standard accuracy whether they have anything from the common cold to Ebola. DMI has a wide reach, focusing on global health, emergency and critical care, and space medicine. In fact, the rHEALTH sensor has undergone testing in lunar and zero gravity flights at the NASA space center in Houston, Texas – where it performed without fail.
2. Biovotion

This medical device company out of Switzerland focuses on wearable continuous monitoring, including the Vital Sign Monitoring (VSM) platform, which caught the attention of judges at the competition. The VSM is simply strapped to the upper arm, where it measures a wide variety of data as patients go about their day-to-day life. Measurements might include temperature, blood oxygenation, movement and activity, heart rate, and cutaneous blood perfusion and volume, among others. That data can then be uploaded to the cloud and viewed on a smartphone or computer. Thanks to the technology of VSM, Biovotion won one of the five Distinguished Awards, which includes a check for $120,000.
3. Eigen Lifescience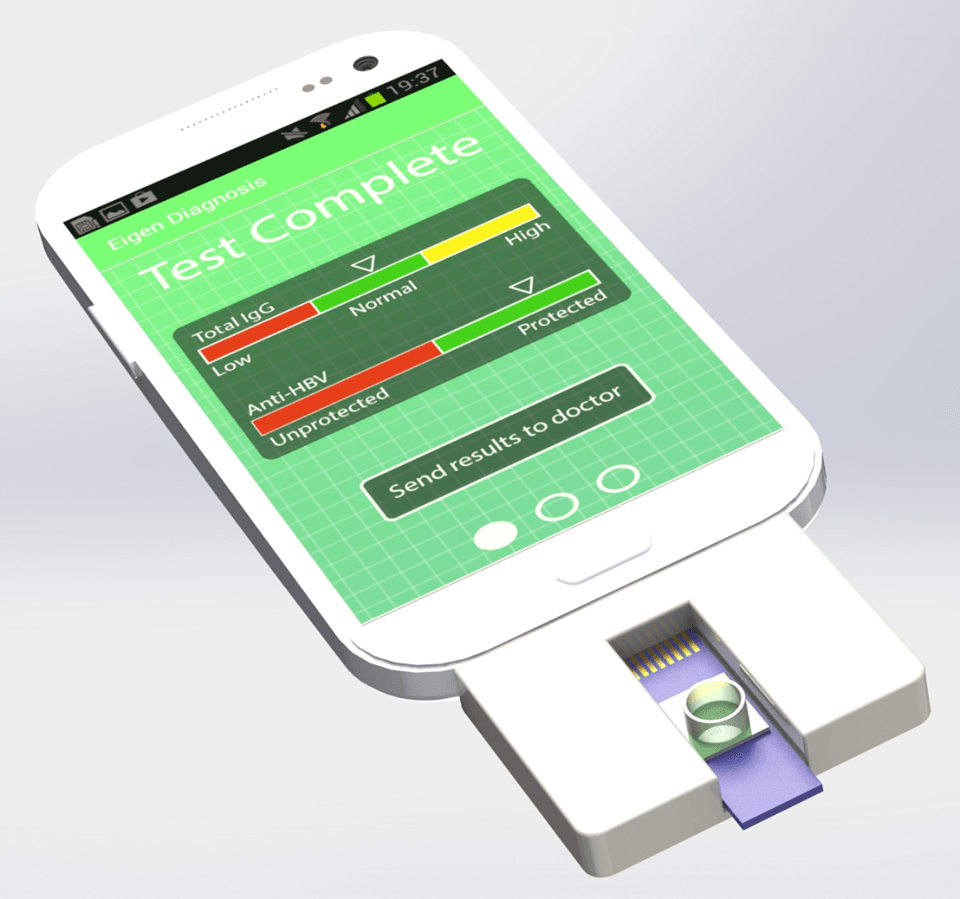 Four students and two faculty advisors from Stanford University came together to create the Eigen Lifescience team, which won the Distinguished Award. They presented the result of a year's worth of work: A Hepatitis B rapid blood test that can be analyzed in minutes using the microprocessor on a smartphone. Designed for use in developing countries, the test can pinpoint patients who need treatment the most, thus allocating services where they are most necessary – for instance, a child whose mother is infected with Hepatitis B must be treated within 12 hours. The experimental device might one day lead to testing for other problems, such as HIV, heart disease and more.
4. Endotronix Wireless Health Monitoring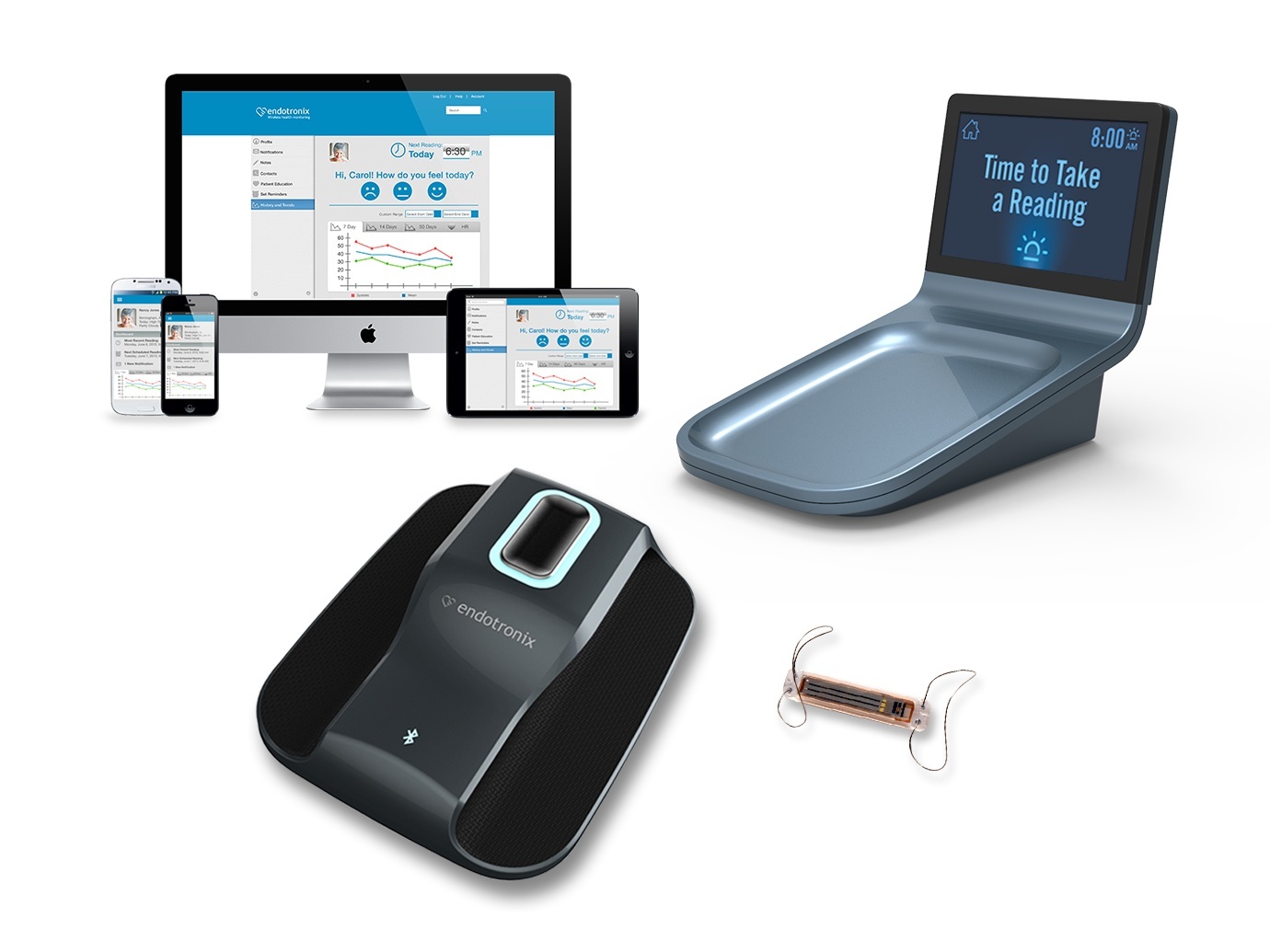 Founded in 2007 by a mechanical engineer and a cardiothoracic surgeon, Endotronix has patented a new type of wireless sensor reader. The experimental product is designed with a sensor that is implanted during a routine catheterization procedure, requires no leads or implanted batteries, and sends data to a secure web platform. The sensor is designed to improve the quality of life and medical outcomes, as well as lower costs for those who suffer from congestive heart failure and other cardiac ailments. The company's innovations led to the Distinguished Award at the sensing competition.
5. Golden Gopher Magnetic Biosensing

This winner of the Distinguished Award was created of researchers from the Mayo Clinic, University of Minnesota and several companies with interest in biosensors and medical research. The result of their hard work is the GMR biosensing system, a portable, low-cost, easy-to-use and accurate device that detects biomarkers in human serum and urine, as well as heavy metals in lake water. Known as Z-lab, this highly sensitive sensor is now in development for smaller, more portable models. Team leader Dr. Jian-Ping Wang and his students have co-founded three startups that focus on the technologies developed in his research laboratory.