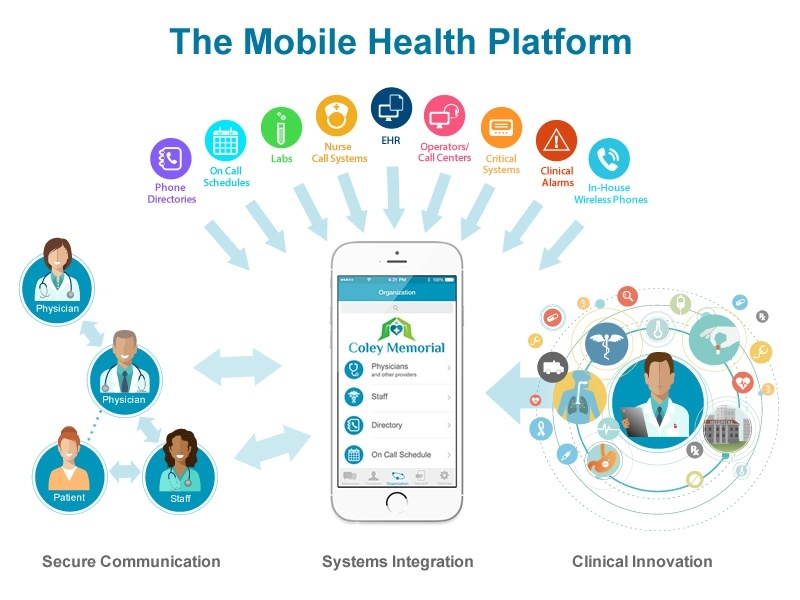 As more and more functionality is added to the smartphone, the fog surrounding mobile healthcare is starting to lift and what is emerging is the integrated mobile health platform. This includes a central hub where physicians, nurses and patients can access the necessary information to care for patients or stay healthy.
Smartphone operating systems like Apple and Android are giving more control to mobile engineers, resulting in the development of very smart mobile applications. These applications are highly secure while connecting to many different endpoints and communicating and organizing information between a variety of hospital systems.
Ultimately, the definition of a mobile health platform is a hub that receives information from all corners of a hospital system and organizes it in one place for the mobile end user to view. Whether it's securely texting with a physician, nurse or patient, receiving a laboratory result or exchanging patient information, the platform is at the center of it all.
 Hospital CIOs and their team will never be able to stay up-to-date on every emerging technology that could impact patient care, but with a mobile health platform, they don't have to. Implementing a mobile health platform gives a CIO the ability to integrate a new technology when they are ready and have an existing mobile endpoint to receive the information from an operator console, a pager, a medical device, active directory, EHR or a call scheduling system.
An effective mobile health platform has three pillars:
1. Enhanced secure texting and communication
2. Systems integration
3. Clinical innovation
In this sponsored white paper from DocHalo, you will learn how an ideal mobile health platform addresses these three pillars and includes built in flexibility so organizations can adopt new technology at their desired pace.