Today Deloitte announces Evergreen, a new approach to EHR implementation and maintenance designed to help reduce hospital system IT costs as health care moves to a value-based model more reliant on clinical and enterprise data. The solution is expected to help health systems save up to 30 percent on EHR operating costs by using a global staffing model and a standardized design that works to improve clinical optimization. 
According to Mitch Morris, principal, Deloitte Consulting LLP, and Deloitte's global health care leader, Evergreen's potential savings will enable providers to put more capital back into caring for their communities. "Evergreen offers an innovative approach to achieving the expected benefits of clinical and revenue management systems in a post-reform world," said Morris. "It can provide clinicians with the software applications they prefer while supporting the clinical and financial results that health systems are looking to achieve."  
Evergreen Overview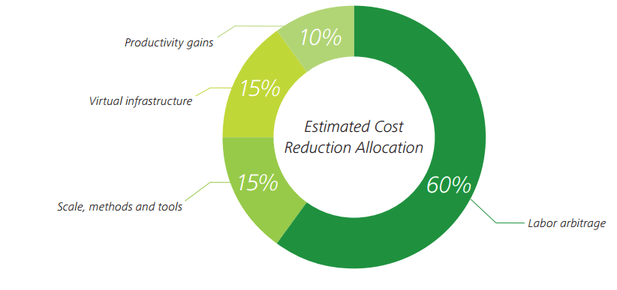 Deloitte's Evergreen solution provides high quality, measurable results in implementation, optimization and application management services. These are delivered through an ITIL aligned delivery framework and a continuous improvement process that is measured against defined service levels and AMS performance metrics, allowing you to better anticipate your IT spend for performance and value.
The Evergreen solution provides end-to-end EHR planning through round-the-clock support, enabling provider organizations to deliver enhanced quality of care, better patient experiences and lowered costs for your health systems along with substantial benefits:
– Reduced Cost: Reduced labor cost of 20–40% from what the cost would be with internal resources
– Improved Quality: Defined service level agreements (SLA), predictable performance, higher quality and satisfaction levels
– Increased Throughput: Accelerated delivery of fixes and enhancements
– Accelerated Transition: Reduced time from "Implementation to Support" 
EHR Implementation Approach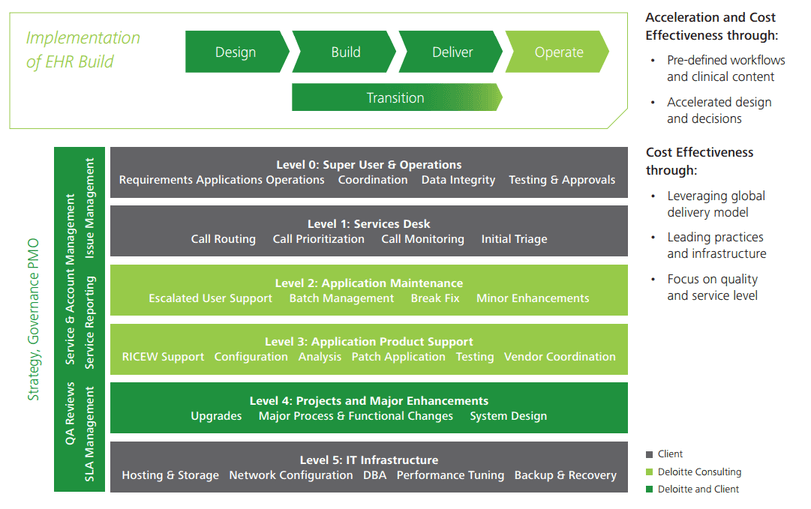 Evergreen is modeled after Deloitte's mature services approach developed for Catholic Health Initiatives' Epic deployment, and it builds upon Deloitte's extensive history in managing other application management services engagements. The integrated implementation and AMS solution is enhanced through a design, build, and operate approach to maximize cost reduction and generate an estimated 20–40% savings over the traditional approach.  
In addition to the core EHR benefits, Evergreen leverages Deloitte's advanced analytics and reporting capabilities, which can improve clinical performance by gleaning insights from clinical and financial data. It also wraps clinical transformation and workflow optimization into the approach. 
Catholic Health Initiatives is the first provider to implement the full Evergreen approach. The company said Evergreen is increasing its ability to capture, analyze and share information, which will help position the organization as a leader in the areas of evidence-based medicine and care coordination. 
"Evergreen is part of our vision to become a forerunner as health care moves to a value-based model," said Michael O'Rourke, chief information officer at CHI. "It will enhance our ability to deliver the right treatments to the right patients at the right time, with improved quality and reduced costs."
Target Clients
In addition to supporting large providers and academic health centers, Evergreen may especially benefit mid-sized health care systems looking for more EHR innovation and efficiency as they move to a new environment marked by declining reimbursements and a focus on quality outcomes.  
Morris commented that there is "tremendous" market potential for Evergreen. "Health care is an industry looking for tools and direction on how to make the transition to population health," he said. "We anticipate that providers in the U.S. and abroad will be very receptive to an approach that makes EHRs more relevant to their missions."